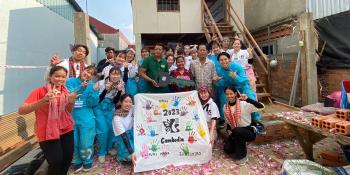 Habitat Young Leaders Build
Launched in 2012, Habitat for Humanity's Young Leaders Build is the largest youth movement in the Asia-Pacific region. The annual campaign brings together youth from across the region to support families in need of decent, affordable housing.

The campaign motivates young people to take the lead in building homes, raising awareness online through their social networks, and advocating for sustainable cities and communities.

Habitat Young Leaders Build is launched every year on December 5, which also marks International Volunteer Day. Typically, the multi-month campaign peaks in April with young people taking part in simultaneous volunteer activities — such as house builds, community facility repair, water, sanitation and hygiene projects, and awareness-raising sessions — across Asia-Pacific. Many also support the campaign online and raise funds to support Habitat's projects.

Youth supporters have been engaged through more than a dozen Habitat national organizations in Australia, Bangladesh, Cambodia, Fiji, Hong Kong, India, Indonesia, Japan, Myanmar, Nepal, New Zealand, Philippines, Singapore, South Korea, Sri Lanka, Thailand and Vietnam.

In support of Habitat's vision of a world where everyone has a decent place to live, young leaders:
speak out offline and online by sharing about the need for adequate housing in Asia-Pacific.
join the HYLB community online: https://bit.ly/HabitatYLB
organize creative fundraising activities that help future Habitat homeowners build sustainable homes and communities.
volunteer with Habitat to engage other young leaders in bringing attention to the systemic causes of the housing crisis.
partner with their friends and other youth organizations to strengthen young people's voices on housing issues.
More than 13,000 people from nine countries and one Special Administrative Region supported the 2023 campaign in the region. Twelve years since the Habitat Young Leaders Build began, over 17 million supporters have raised more than US$9 million, enabling almost 37,000 families to achieve the strength, stability and self-reliance they need to build better lives for themselves.

Under the theme of "Youth Volunteering for Development," young leaders will continue to contribute to sustainable development. As the campaign enters its 13th year, young people will be engaged through Home Equals, Habitat's global advocacy campaign for equitable access to adequate housing in informal settlements. We will also see young leaders implementing youth-led solutions that address housing needs in local communities. Such solutions include those proposed by the winners of the 2023 Youth Solutions Micro-grant, an initiative of the 2023 Asia-Pacific Youth Assembly

The 2024 Habitat Young Leaders Build will be launched on December 5, 2023, with social media activities aligned with International Volunteer Day. In January, young leaders will get to meet and learn from the 2023 Youth Solutions Micro-grant winners in a virtual session. They can also participate in a parade to speak out about the benefits of adequate housing. In February, teams of young people will take part in youth builds in Indonesia.

Join the Habitat Young Leaders Build community on Facebook bit.ly/HabitatYLB. Post on social media with the hashtag #HabitatYLB. Follow on Instagram @HabitatYLB and Twitter @HabitatYLB.