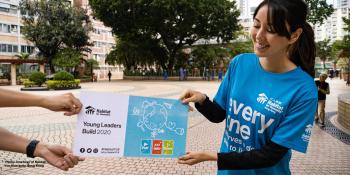 The 2020 Habitat for Humanity Young Leaders Build campaign was launched on December 5, 2019, International Volunteer Day, with a virtual flag-passing activity that began in New Zealand and ended in India.
The campaign brings together youth from across the Asia-Pacific region to support people and families in need of decent housing. The multi-month movement primes young people to take the lead and motivate their peers. Youth are called to be influencers and changemakers through building homes and communities, on a Habitat build site and/or online through their social networks.

Young leaders lend their support to various activities throughout the campaign that will culminate on April 25, 2020. They lead other youth in Asia and the Pacific to build a world where everyone has a decent place to live through:
Raising their voice offline and online, and sharing with their friends about the need for safe, decent housing in Asia-Pacific.
Joining the HYLB community online: https://bit.ly/HabitatYLB
Volunteering on builds and other Habitat events in various locations across Asia-Pacific.
Organizing creative fundraising activities that help future Habitat homeowners build homes and sustainable communities.
Partnering with their friends and other youth organizations to strengthen young people's voice on housing issues.
Since the youth-focused campaign took off in 2012, young people have played an integral role in empowering families and individuals through housing. In March 2019, campus chapter members from Japan worked alongside future homeowners at the Asia Build in Myanmar and the Pacific Build in Fiji respectively. This was the second time that the special builds were organized as part of the campaign.

The eighth Habitat Young Leaders Build culminated in April 2019 with thousands of young people taking part in simultaneous activities across the Asia-Pacific region. These included house construction, school cleaning, fundraising events, and advocating for decent housing on social media.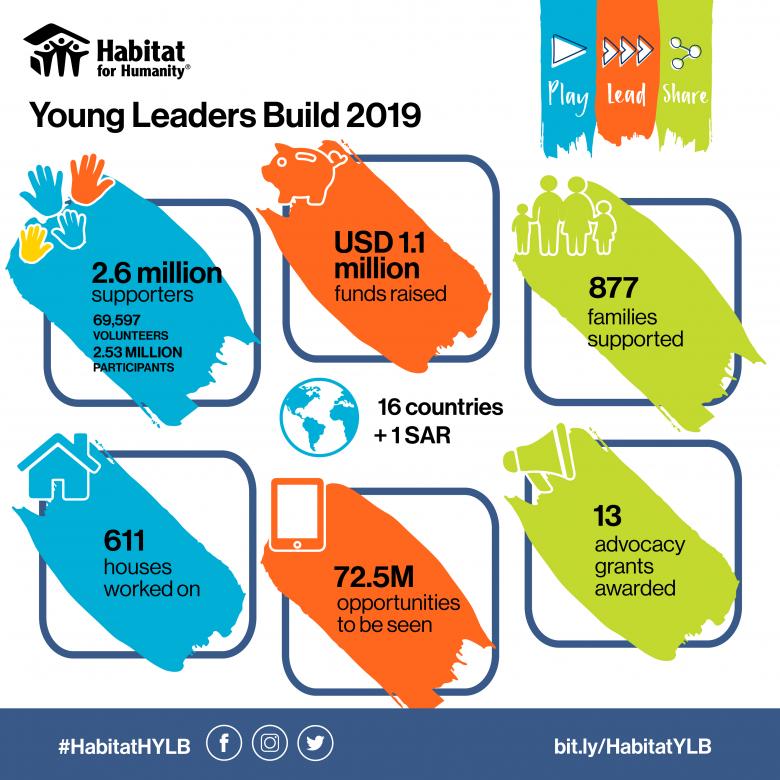 The 2019 campaign saw over 2.6 million supporters from 16 countries and one Special Administrative Region in the Asia-Pacific region. Since 2012, over 15.1 million Habitat Young Leaders Build supporters have raised US$8.6 million in funds to help build houses and supported more than 30,200 families to achieve the strength, stability and self-reliance they need to build better lives for themselves.
Join the Habitat Young Leaders Build community on Facebook bit.ly/HabitatYLB. Post on social media with the hashtag #HabitatYLB. Follow on Instagram @HabitatYLB.