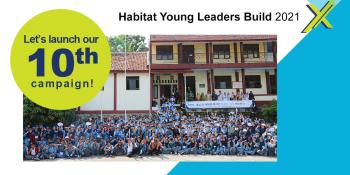 The 2021 Habitat for Humanity Young Leaders Build campaign was launched on December 5, 2020, International Volunteer Day. Through a virtual activity, past campaign supporters shared their experiences of helping families build strength and stability through shelter.

Celebrating a decade of youth volunteerism and advocacy in 2021, the multi-month campaign galvanizes young leaders across the Asia-Pacific region to amplify the extent of the housing crisis. Young people will also help raise funds in support of Habitat for Humanity's global fundraising campaign.

The youth are called to be leaders, motivators, influencers and changemakers through building homes and communities, on a Habitat build site and/or online through their social networks. The multi-month campaign will culminate on April 24, 2021.

The ongoing COVID-19 pandemic has laid bare the extent of the housing crisis. Millions of families are already struggling in unhealthy homes or living in hazardous areas, lacking access to clean water and safe sanitation. They are now joined by millions more who have lost their jobs and homes due to the coronavirus crisis. Disproportionately, young people are suffering severe effects of the pandemic ranging from lost jobs to family stress and other hardships.

In the new reality, as Habitat for Humanity adapts its programs and key initiatives such as the Young Leaders Build, the youth are needed more than ever to raise awareness and funds for housing — the first line of defense against the coronavirus. In a pivotal move, volunteers and participants are being engaged virtually through their local Habitat offices to help families improve their health and safety with a decent home.

Since the youth-focused campaign took off in 2012, young people have played an integral role in empowering families and individuals through housing. In February 2020, just before volunteer builds were suspended as a result of the pandemic, a Global Village team from Japan worked alongside future homeowners at the Asia Build in Myanmar. This was the third time that the special builds were organized as part of the Habitat Young Leaders Build.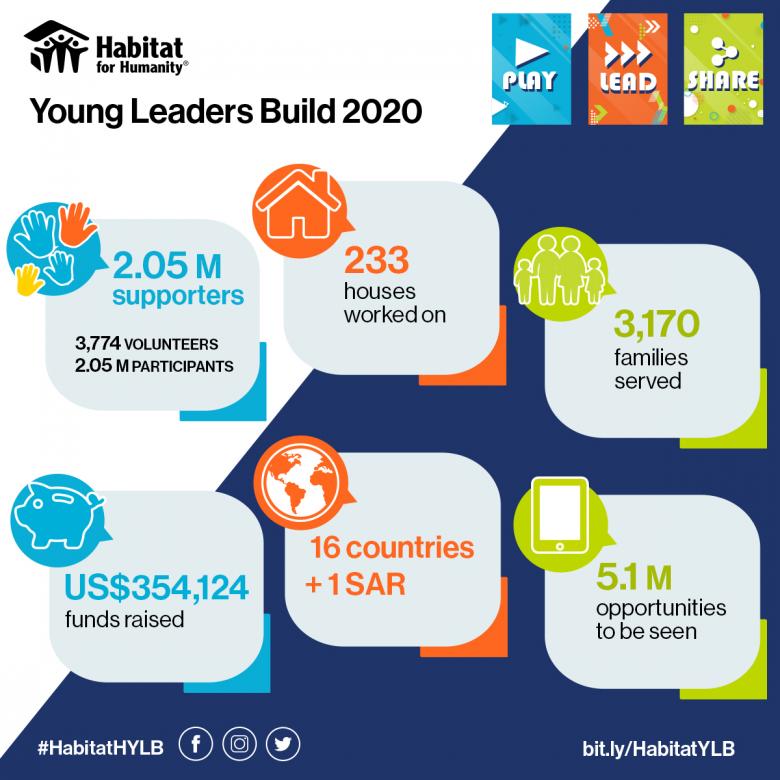 The 2020 campaign saw over 2.6 million supporters from 16 countries and one Special Administrative Region in the Asia-Pacific region. Since 2012, over 17 million Habitat Young Leaders Build supporters have raised close to US$9 million in funds to help build houses and supported more than 33,300 families to achieve the strength, stability and self-reliance they need to build better lives for themselves.

Join the Habitat Young Leaders Build community on Facebook bit.ly/HabitatYLB. Post on social media with the hashtag #HabitatYLB. Follow on Instagram @HabitatYLB.