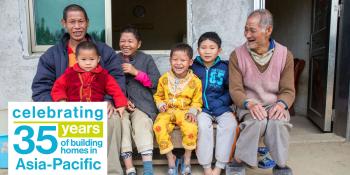 Habitat for Humanity began in the Asia-Pacific region by building homes in Khammam district, southern India in 1983. Venkulu was among the first 16 families who built Habitat homes in Khammam district, southern India. After repaying his mortgage in 2006, he could plan to give his grandchildren a good education. Since then, many more like Venkulu have created a better life for themselves and their families.
In the Asia-Pacific region, Habitat works in 17 countries and one Special Administrative Region as well as through partnerships in four other countries. More than 2.5 million people in this region have built or improved a place they can call home. Our support comes from generous donors, committed volunteers and passionate advocates.
More than three decades later, the Habitat story of building strength, stability and self-reliance through shelter continues to unfold. Zhimin from Guangzhou, China, recalled growing up in a crowded, damp and leaky house. His father built a new home with Habitat more than 10 years ago.
Now that he is a father, Zhimin plans to add another story to the house so that his daughters Xinyi, 8, and Youyou, 7 months, can have their own rooms. He said: "I feel very happy that my children are growing up in a safe and clean home. They don't have to face the tough life that I had when I was young."
Meet more families and volunteers as we share their stories in marking the 35th anniversary milestone in 2018.