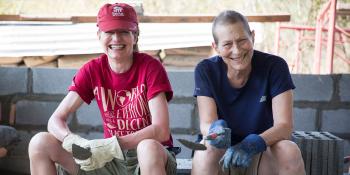 Volunteer Teams FAQ's
Asia-Pacific
Why Should I Go?
Volunteer teams offer a fantastic opportunity for "a holiday with a difference". The concentration of people, volunteers and others, for a short time, usually five days to two weeks, hugely accelerates the host affiliate's building schedule. The affiliate can provide more families with homes more quickly. It can move onto the next project more speedily.
Volunteers with building skills are most welcome. And so is everyone else. You only need to know how to hold a hammer, or even a paintbrush. You may be asked to organize refreshments.
The emphasis is not on what you can do, but on your availability and desire to work alongside a future homeowner who has obviously shown their need, and demonstrated their desire to partner with Habitat and our work within the community.
What Can I Expect?
Living and working with an affiliate is often a life-changing experience. Through your willingness to partner with people in need, often in other countries, you'll learn about a host community's customs, culture and economic circumstances.
You'll form a once-in-a-lifetime bond with other members of your team as you travel, live, work, eat and worship together, often in simple settings. As a participant, you'll experience giving of yourself in a new and diverse environment.
Volunteer team trips are different from usual tourist trips. Host Habitat affiliates offer teams an insight into their localities that normal tourists rarely witness.
Itineraries are balanced with plenty of work, and plenty of recreational activities and free time.
Traveling and working in unfamiliar places, often overseas, is challenging as well as rewarding. Plans change and work may progress more slowly than expected. Participants need to have the right mind-set: a flexible attitude and commitment to their team leader and fellow team members.
You will find relationships with team members and the host community more meaningful and lasting than another nail hammered or another brick put into place.
What Will It Cost?
The cost of joining a volunteer team varies, of course, on the area visited, the host affiliate and the length of the trip.
Each participant makes a donation to the host Habitat national office in addition to covering their own travel, living and sightseeing costs.
Many participants cover all of their costs themselves, others, such as youngsters and students, engage in fund-raising campaigns. As participants contact family, friends, colleges, churches, civic clubs and others, they raise awareness about Habitat's work as well as funds for their trip.
Different levels of accommodation, offering different levels of comfort at different prices, are normally available.
Who Is Involved?
Team members raise funds to contribute towards building houses in the community they visit and inspire others to action by sharing their experiences.
Team leaders volunteer to plan all aspects of the work and travel adventure and lead the team during the trip.
Homeowner families and host affiliates welcome team members into their communities and onto their work sites. Affiliate staff members serve as hosts and cultural guides for the team.
A local Habitat co-ordinator serves as a liaison between the host Habitat national office and the volunteer team.
How Can I Find Out More?
The Global Village Program operates in Asia-Pacific and throughout the world. Some countries and territories, such as Japan, Singapore and Hong Kong only send volunteer. Some only acts as hosts. Australia, Korea and the Philippines host and send volunteer teams.
For more details, contact your nearest Habitat national office or affiliate, or e-mail [email protected]