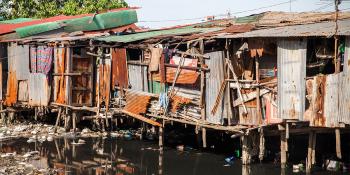 The need for decent housing
Asia-Pacific
Decent shelter is something we all need to thrive. Habitat for Humanity International believes a decent, affordable home helps people to create a better life for themselves and their families.
A decent place to live removes the barriers to opportunity, success and health that have been part of a family's life for years, if not generations. A Habitat home gives a family a strong foundation to build a better life and is a stabilizing force for the family, the neighborhood and the larger community. We work with like-minded partners who know that they are helping someone help themselves. For the fiscal year ended June 30, 2022, Habitat for Humanity has helped more than 7.1 million people, including nearly 2 million in Asia-Pacific, build or improve the place they call home.
The challenges of adequate, affordable housing are complex in the diverse Asia-Pacific region. According to the United Nations, some 400 million people, almost one in ten, live in extreme income poverty. A person living in Asia-Pacific is more prone to being struck by disasters compared to other regions in the world. A housing solution that makes sense in the Pacific Islands is very different to what works in a New Zealand suburb. Or a slum in Metro Manila.
With a little help, we all have the potential to stand on our own. Through shelter, we empower.