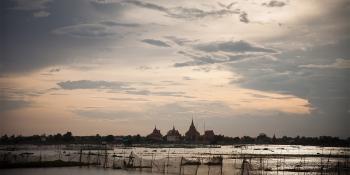 Serve in Other Ways
Asia-Pacific
Volunteer But Don't Build
Habitat for Humanity welcomes volunteers to serve in non-building activities.
Volunteers are invited to work in Habitat offices on short and long-term basis, to participate in major Habitat events and to serve in leadership roles such as being members of Habitat boards of directors.
Leadership
Individuals who volunteer to take leadership roles in their local Habitat office are especially vital to success of Habitat for Humanity's work. Whether serving formally on a board of directors or informally in an advisory capacity or making introductions to high-level officials and would-be donors and supporters, each contribution creates new opportunities for Habitat to help families in need of simple, decent homes. Check your local Habitat office for opportunities or [email protected].
Interns
Students can learn how Habitat for Humanity operates and gain valuable work experience by interning at a Habitat office for a few days or even several months. Contact [email protected] for details of current opportunities.
Longer-term volunteers
Habitat for Humanity offers long-term opportunities in offices around the world. About the International Volunteer Program.
Non-build volunteers
Habitat "blitz builds" and special events bring large numbers of volunteers together to build complete homes in a few days and highlight the need to tackle substandard housing. The best known is the annual Jimmy & Rosalynn Carter Work Project. Such events require non-building volunteers to help out in such roles as manning welcome desks, to supervising meal arrangements to handling safety issues. Check your local Habitat office for opportunities.