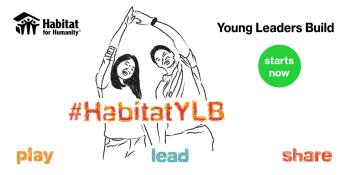 Habitat for Humanity's largest youth movement to mobilize 2.5 million supporters across Asia-Pacific
MANILA (Dec. 5, 2016) – Global housing organization Habitat for Humanity announces today the 2017 launch of its largest youth movement ─ Young Leaders Build ─ in the Asia-Pacific region. Organized for the sixth consecutive year, it is a campaign driven by dynamic and socially responsible youth to ensure decent housing for all in a region where one in eight people live in slums, according to the United Nations.
"The youth are not just the leaders of tomorrow but are already leading the way today," said Rick Hathaway, Asia-Pacific vice president of Habitat for Humanity International. "Habitat Young Leaders Build engages the younger generation in support of families who want to build better lives through shelter. The last campaign surpassed more than two million supporters, and this year we are aiming for even more."

Habitat supporters in Hong Kong are marking the start of the campaign with a special edition of a local initiative called "Project Home Works" where 200 volunteers will clean 40 homes of the elderly. Joining the Hong Kong volunteers is singer and Habitat ambassador Wilfred Lau. University students from 33 campus chapters in Japan will take part in two-day youth camps in the East and West of Japan. In India, Habitat Young Leaders Build kicks off with two Global Village volunteer builds in Bengaluru and Mumbai, and a meeting in Delhi. In eastern Nepal, popular Nepali rapper Nirnaya Shrestha will join the launch event which includes house building and mason training. An orientation and a volunteer build will be held in Panchkhal, in central Nepal. Two houses will be built in Bangladesh. Online supporters in Korea, Philippines and Singapore will be activated to post their photos or videos with the #HabitatYLB flag.
In the coming months, youth, celebrities, schools and corporate supporters will volunteer, raise funds and lend their voices to help families achieve the strength, stability and self-reliance they need to build better lives for themselves. Events planned include workshops, rallies, runs, volunteer trips, a youth forum, an advocacy grant program and a Twitter party.
The multi-month Young Leaders Build campaign will culminate on 22 April 2017 with thousands of young people taking part in simultaneous activities across Asia-Pacific. These include house building, school cleaning, fundraising events, and advocating for decent housing on social media.
The campaign in the past year (2016 campaign video link) saw a record 2,448,914 supporters from 16 countries and one Special Administrative Region in the Asia-Pacific region. Volunteers worked on 420 houses, and served 7,620 families. The campaign raised US$ 1.6 million to enable families to have a decent place to live.
Join the Habitat Young Leaders Build community on Facebook bit.ly/HabitatYLB. Post on social media with the hashtag #HabitatYLB. Follow on Instagram @HabitatYLB.