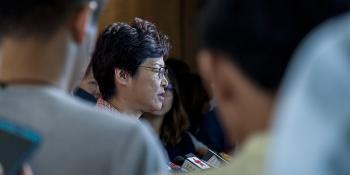 It is not a lack of land, but a lack of consensus: Hong Kong Chief Executive, keynote speaker at the opening of the Asia-Pacific Housing Forum.
HONG KONG (September 6, 2017) – At the opening plenary of the 6th Asia-Pacific Housing Forum, keynote speaker Chief Executive of Hong Kong Special Administrative Region, Carrie Lam, said: "Hong Kong is not short of land or the options to provide more land. What is lacking is a broad consensus on where the land should come from. To find more land, we must draw on the collective wisdom of society and recognize the need for compromises and give-and-take, in order to find a solution that benefits humanity as a whole."

She added: "Partnership is something that we should really promote more, especially in Hong Kong. When I look at some of the Habitat for Humanity projects in all over the world, it's always this spirit of partnership. One party is unlikely to come up with the best solution, but working together, this is what I mean by collective wisdom, then we could find a better solution."

The Housing Forum is a sector conference organized by Habitat for Humanity, with strategic support from Cities Alliance, the International Federation of Red Cross and Red Crescent Societies and UN-Habitat. The Forum gathers under one roof major stakeholders engaged in seeking solutions to affordable housing issues and promotes living in decent housing as a driver of economic growth. It welcomes all who share the passion for the need for decent housing and all voices that further the cause.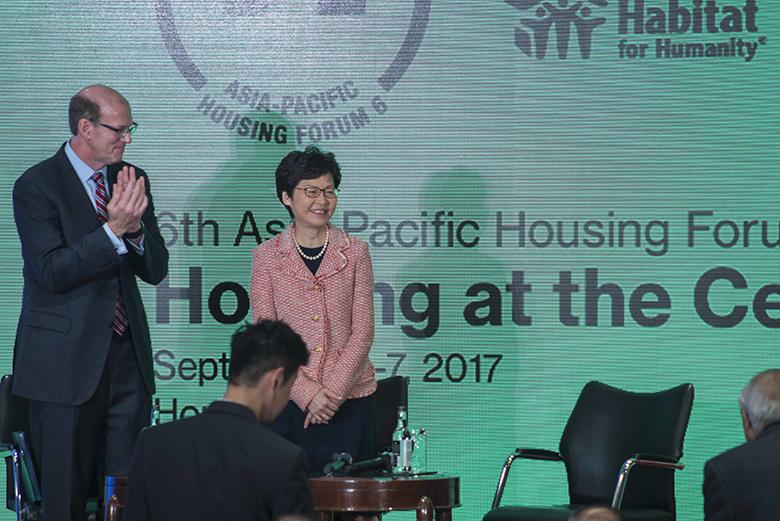 In his remarks at the opening plenary of the Forum, Jonathan Reckford, chief executive officer of Habitat for Humanity, called for stakeholders at all levels to work together. "Our goal is to help create an enabling environment and establish urban plans and policies that prioritize adequate and affordable housing, secure land tenure, and community-led development. These efforts will help foster sustainable cities where everyone has a decent place to live," he said.

Under the theme of 'Housing at the Center,' discussion tracks at the Asia-Pacific Housing Forum support current major global initiatives for poverty alleviation and sustainable development − the Sustainable Development Goals and New Urban Agenda − which for the first time address specific objectives for adequate, safe and affordable housing.

Four preliminary fora were held in Cambodia, India, the Philippines and Indonesia. These surfaced some recurring themes to be discussed during the main regional Housing Forum in Hong Kong. They are: creating accessible financing opportunities for affordable housing; incorporating climate change adaptation, disaster risk reduction and mitigation, and inexpensive but smart technological innovations into housing policy design; and the critical need to strengthen partnerships between government, the private sector and civil society.

Sponsors of the 6th Asia-Pacific Housing Forum are Aditya Birla Group, Ayala and Ayala Land, Bloomberg, Covestro, Ng Teng Fong Charitable Foundation, Hilti Foundation, Vertex, Isocore, Aavaas by Nebula, Cargill, PT Caturkarsa Megatunggal and Rajinder Kaur.