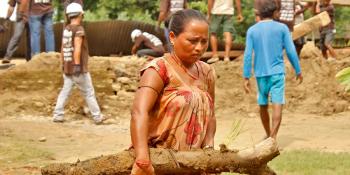 Habitat for Humanity renews call for funds to sustain long-term recovery efforts, after assisting 1,500 flood-affected families in South Asia
MANILA (October 2, 2017) ─ Habitat for Humanity has assisted over 1,500 families affected by massive floods in South Asia, as part of its emergency relief activities in the last month. In India, it has supported 1,100 families with humanitarian aid kits featuring shelter, household and hygiene items. Meanwhile, in Nepal, it has distributed emergency shelter kits to 400 families, and organized volunteers to clear mud and debris in affected communities. In Bangladesh, Habitat is conducting a needs assessment in flood-affected areas.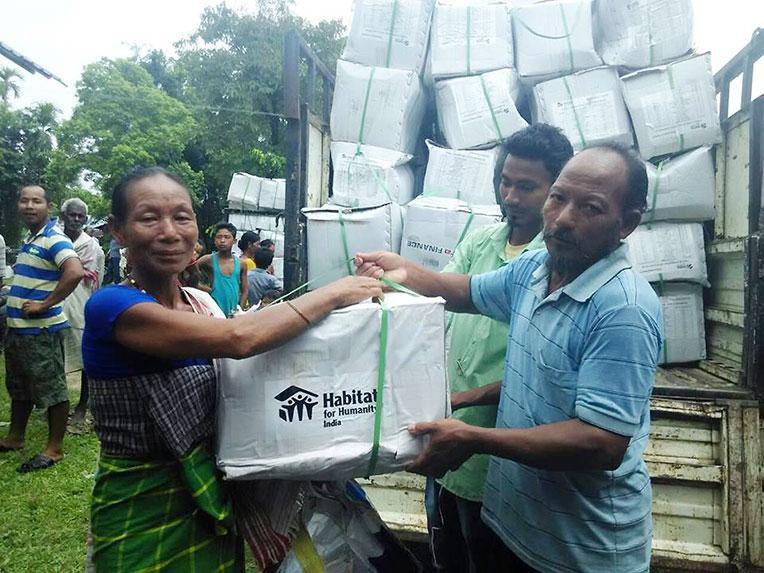 Six weeks after the start of the floods, Habitat for Humanity has announced a unified three-phase disaster response program for South Asia. It aims to reduce the vulnerability of 20,000 flood-affected families in Bangladesh, India and Nepal through long-term disaster recovery housing solutions that include addressing water, sanitation and hygiene needs.

"While the world is understandably caught up in the next big disaster, I'm making an appeal to keep our eyes on the 40 million people who have been affected by massive flooding in South Asia," said Rick Hathaway, Asia-Pacific vice president for Habitat for Humanity International. "We are thankful for the resources harnessed and the communities who have been trained to respond quickly during the emergency phase. Much more is needed as we take the next steps with the affected families on the long road to recovery. With your support, we can—and we will—be with them all the way."

Please donate to help flood-affected families in South Asia http://bit.ly/SouthAsiafloodappeal.

Anita's family is among those who have Habitat's support. On August 12, when the flood water that came into her house rose to nearly a meter high, Anita and her family of five started panicking and ran out. They managed to get to a safe spot by climbing up a bamboo ladder to the roof of a temple. "We only had something to eat the next day after people who came to distribute relief materials gave us some food. We have been living in a makeshift shelter made of the tarpaulin provided by Habitat," said Anita, 18, who lives with her parents and two sisters on the banks of the Singya River, Biratnagar city in the eastern part of Nepal.

Since July, severe monsoon rains have caused widespread flooding across South Asia, affecting 40 million people in Bangladesh, India, and Nepal.  More than 1,200 people are known to have died. The continuous flooding damaged more than 800,000 houses across the region, with tens of thousands of people still living in relief camps and temporary shelters.

Habitat for Humanity is renewing its call for donations to fund emergency relief, recovery and reconstruction efforts in South Asia. The amount of funds raised will determine Habitat's efforts  to continue in the next four months to provide 11,300 families with emergency shelter and water, sanitation and hygiene kits, orient 8,300 individuals on safe hygiene practices and mobilize 400 volunteers for house cleaning program. In the recovery phase, it will distribute transitional shelter to 3,300 families, provide shelter repair kits to 4,000 families to help them build a new house or repair an existing one, and train 600 individuals in construction. In the recovery phase, expected to last between 18 months and two years, Habitat for Humanity will assist 1,050 families in building core houses with a community-based approach and provide technical assistance for 2,000 families to repair their houses. It will also provide 100 communities in India with community-based disaster risk management training.

Donations to Habitat's South Asia Flood Appeal will go toward assisting thousands of families affected by the floods to rebuild their lives. To make a donation, visit http://bit.ly/SouthAsiafloodappeal.