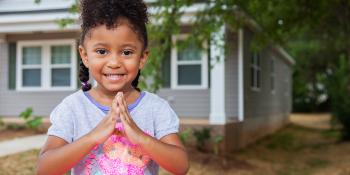 Churches
Churches partner with Habitat for Humanity in the Asia-Pacific Region
As a Christian-based organization Habitat for Humanity International invites churches and faith groups of every denomination to address the challenges of poverty housing in the Asia-Pacific region.
Churches help in ways that reflect the goals and emphases of their congregations. Many churches begin their partnership with Habitat out of a desire to help other people.
Ways Churches Can Partner
PRAY: Habitat's mission needs every type of support including the power of prayers. In the words of Millard Fuller, Habitat's late founder: "The bible tells us plainly that all things are possible, even the elimination of all substandard housing".
DAY-OF-PRAY: Each year, Habitat encourages congregations around the world to focus their prayers on those in need of decent shelter.
VOLUNTEER: Church builds deliver new homes and hope in their communities and overseas in Global Village trips. To find out about volunteer opportunities in the Asia-Pacific region, click here.
BUILD-ON-FAITH: One week each September churches around the world send teams into their communities and across the world to put faith into action by building, repairing and renovating homes.
DONATE: Congregations donate through regular or special collections and tithes, through sponsoring volunteer build teams
Benefits of Partnering
Put faith and love into action;
Build with, not do for God's people in need;
Gain a greater understanding of people of the same faith, different faiths or no religious affiliation;
Build community and fellowship within your church;
Experience spiritual growth and blessing through service to others; and
Demonstrate your congregation's commitment to social justice.