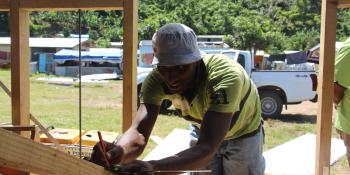 Habitat Fiji exceeds target for Cyclone Winston response
More funding needed for reconstruction in response to February's Cyclone Winston
MANILA (Nov. 3, 2016) ─ Supportive donors and dedicated volunteers and staff have enabled Habitat for Humanity Fiji to exceed its target of helping families affected by February's Cyclone Winston. Upon completion of the emergency phase of its response in mid-August, Habitat Fiji has enabled more than 7,000 affected families to rebuild their homes and lives. This surpassed the original target of assisting 5,000 families through the distribution of emergency shelter kits.

"With the materials donated by Habitat, we will start the ground work for our new house. We feel very happy and grateful to the Habitat team who thought of us and brought all these materials," said Michael Shah, a farmer and father of three from Nasoni Settlement in Tailevu, a two-and-a-half hour drive from the capital of Suva. The shelter repair kit given to the Shah family included timber, nails and corrugated iron roofing.
"Surpassing our target was only possible with the dedicated team of staff and volunteers and we're overwhelmed by the support, confidence and trust our donors have given us to effectively deliver the much needed supplies to families affected by Tropical Cyclone Winston," said Masi Latianara, national director of Habitat for Humanity Fiji. Such support ensured that 298 cyclone-affected communities in 11 provinces were assisted during the emergency phase.

Cyclone Winston, which struck Fiji on Feb. 20, 2016, was considered to be one of the worst disasters to hit the Pacific Island nation. More than 40 people were killed and over 31,000 houses were damaged or destroyed.
In addition to emergency shelter kits, Habitat assisted 80 communities with water, sanitation and hygiene services. This included the repair of water supply systems, maintenance of water tanks and pumps, and distribution of emergency sanitation supplies to families in severely affected areas.
Other items distributed included 500 solar lamps from the International Organization for Migration, 150 mosquito nets that were given out to new mothers, and 20 generators distributed to communities that lost electricity due to the storm.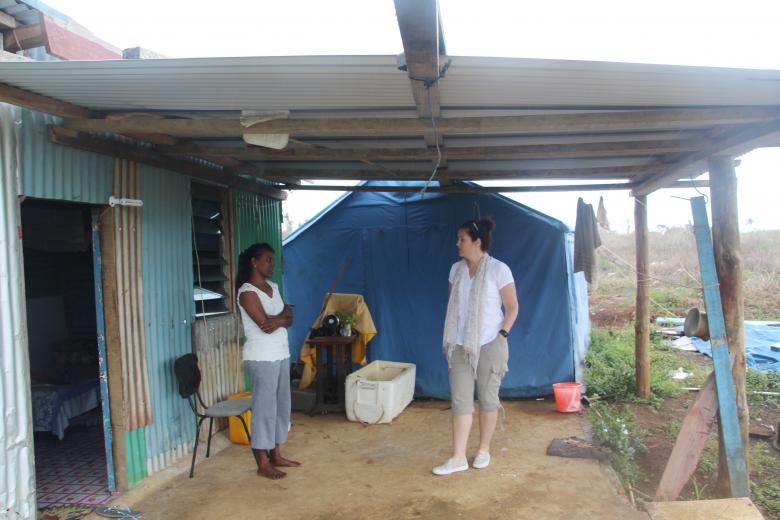 Donors for the emergency phase included the Fiji Community Development Programme, World Vision New Zealand and Pacific Timor Leste, the International Organization for Migration, the Adventist Development and Relief Agency Fiji, UNICEF, Child Fund Australia, Australian Aid, New Zealand Aid, the Government of the Hong Kong Special Administrative Region and Habitat for Humanity Australia, Habitat for Humanity New Zealand and Habitat for Humanity International.
As part of the rehabilitation phase, Habitat has begun rebuilding homes for cyclone-affected families in Viti Levu in September. Funding has been secured for 200 houses, while Habitat is seeking additional funding so that a total of 500 homes will be rebuilt.
On Aug. 25, Habitat Fiji launched a 'charette', a competition in response to the greater need for appropriate and affordable housing following Cyclone Winston. Entries submitted by five Fiji-based architectural firms were unveiled at an event in the capital Suva on Sept. 12. Habitat Fiji is having discussions with these firms on potential collaboration in future projects.
As a co-lead of the Shelter Cluster led by the Fijian government, Habitat Fiji was involved in developing "Build Back Safer" posters and booklets, which are being used to promote safer reconstruction of homes following the cyclone. These booklets are also being translated into Hindi and Itaukei, two other languages used in Fiji. Habitat is currently using these materials as part of the "Build Back Safer" training that is underway on the island of Koro.

In late November, Habitat Fiji will launch the "Build Back Safer" program in partnership with Australian Aid and New Zealand Aid. Guests are expected to include a Fijian government representative and the Australian and New Zealand heads of missions. They will join the "Build Back Safer" training for half a day, working alongside cyclone-affected families.
Habitat Fiji is seeking donations to help more families with the reconstruction process. Programs to be funded include housing construction, housing retrofits, and water, sanitation and hygiene programs. To donate, please go to http://www.bit.ly/HFH-Winston
Habitat Fiji had responded to disasters such as 2012's Cyclone Evan and 2010's Cyclone Tomas. In addition, Habitat Fiji works to improve communities' access to clean water and safe sanitation and mobilizes local youth volunteers to use their hands and voices to raise awareness of the need for decent housing. Since 1991, Habitat Fiji has worked with more than 28,600 people to build strength, stability and self-reliance through shelter.