MANILA (June 21, 2018) — The Asian Tour golf tournament and Thai Country Club have donated 250,000 baht (about US$8,000) to Habitat for Humanity Thailand in support of low-income families who are in need of safe and affordable housing. New Thailand Open champion Panuphol Pittayarat of Thailand and Paul Harris of the United States presented a check to the nonprofit housing organization at Thai Country Club in mid-June.
Thai Country Club led the way when they matched the funds raised from selling pro-am spots at the Thailand Open while the Asian Tour also showed their support to Habitat for Humanity—the Tour's Sustainable Development Partner—by topping up the donation.

"As Asian Tour golfers, we travel around the world to play golf and not many people are as fortunate as we are. When we learned that the Asian Tour has partnered with Habitat for Humanity, many of the players wanted to help," said Panuphol.

"I'm pleased to play a small role and I hope that this small gesture by the Asian Tour and Thai Country Club can help a family in Thailand to build a decent home," the Thai golfer added.

Panuphol was among a strong line up of Asian Tour stars at the golfing event with 13 players in the top 20 of the Habitat for Humanity Standings, the tournament's leaderboard. Habitat as a Sustainable Development Partner of Asian Tour 2018 lends its name to their golfers' season-long ranking.

The US$300,000 Thailand Open also marked the start of the new 2018/2019 Panasonic Swing series. The Panasonic Swing is based on an aggregate point ranking earned by players at selected tournaments in Asia. The top-three finishers in the Panasonic Swing final ranking will earn US$70,000, US$50,000 and US$30,000 respectively via a bonus pool reward scheme.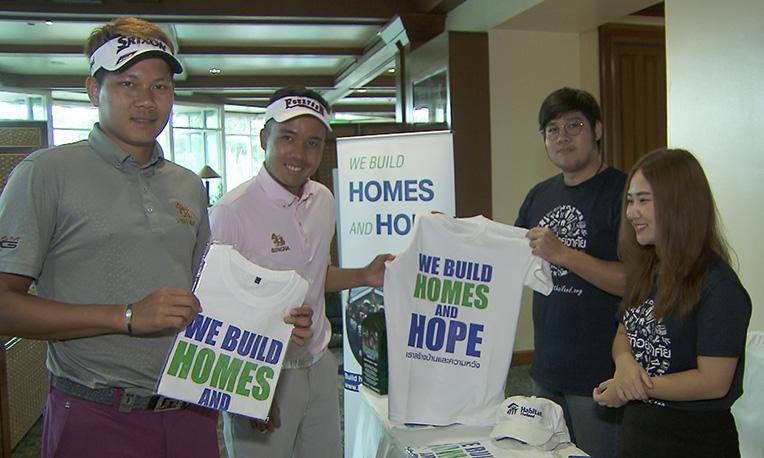 During the Thailand Open from June 7 to 10, Habitat for Humanity Thailand raised awareness of the need for decent housing and sold merchandise to raise funds for the vision of a world where everyone has a decent place to live.

Timothy Loke, CEO of Habitat for Humanity Thailand, welcomed the strong support. "Golf is a good platform for Habitat for Humanity Thailand to raise awareness and funds for our cause. A big thank you goes out to the Thai Country Club and the Asian Tour for sharing our vision and mission to build more affordable homes in Thailand."

"We look forward to working together with the Asian Tour and other strong advocates such as Thai Country Club, to spread our message and support Thai families who want to improve their lives through decent housing," said Loke.

General Manager of Thai Country Club John Blanch saluted the efforts of Habitat. "On behalf of the staff of Thai TGC, we are humbled by Habitat for Humanity's dedication to improve and provide decent housing to people in Thailand. We hope that this contribution will have long-term impact beyond helping a family have a good roof over their head."

Asian Tour Chief Executive Officer Josh Burack said more activities to support Habitat for Humanity will be organized at future Asian Tour events.

"The Asian Tour tournaments and our global media reach are the ideal platforms to help Habitat for Humanity spread international awareness to raise funds and attract more volunteers. Our talented players are very excited to lend their support and push the Habitat for Humanity mission. Our heartfelt gratitude also goes out to the Thai Country Club for their gracious effort to drive this charity initiative," said Burack.