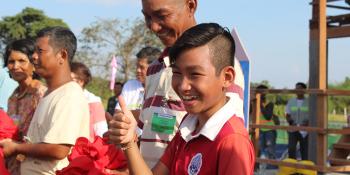 Habitat serves 4.8 million people in Asia-Pacific in record year
MANILA (November 22, 2018) — Habitat for Humanity marks 35 years of building and improving homes in the Asia-Pacific region with the announcement that it has served close to 4.8 million people this year. The figure is one of the highlights of Habitat for Humanity's 2018 annual report which shows how the leading housing nonprofit is addressing mounting needs for safe and decent shelter around the globe and in the Asia-Pacific region.
"Habitat for Humanity served four times as many people in the Asia-Pacific region this year, through collaboration with our excellent partners," said Rick Hathaway, Asia-Pacific vice president, Habitat for Humanity. "We formed coalitions with like-minded partners and we are facilitating more efficient and inclusive housing market systems to make affordable housing possible for millions more people in the region looking for a decent place that they can call home."

Hathaway added: "While house construction with the support of volunteers and donors remains the backbone of Habitat for Humanity, we recognize that new ways are needed to help even more people in need of decent shelter."

Through partnerships, Habitat brings together those with resources to join hands with others who need a little help. Habitat India plays a prominent role in a sanitation coalition "Sensitise to Sanitise" which served over 3.1 million individuals this year. Habitat's Terwilliger Center for Innovation in Shelter is striving to serve low-income families by improving housing market systems in India, catalyzing access to housing microfinance in the Philippines, and providing advisory services to microfinance institutions in eight Asia-Pacific countries.

Aishwarya and her family are among those who have a better place to live, thanks to small loans made possible by Habitat's Terwilliger Center. A loan of 190,000 Indian rupees (about US$2,600) allowed Aishwarya's grandfather to purchase the materials he needed to build a new house. Aishwarya now enjoys an improved concrete floor ready to be tiled and a roof that no longer contains asbestos.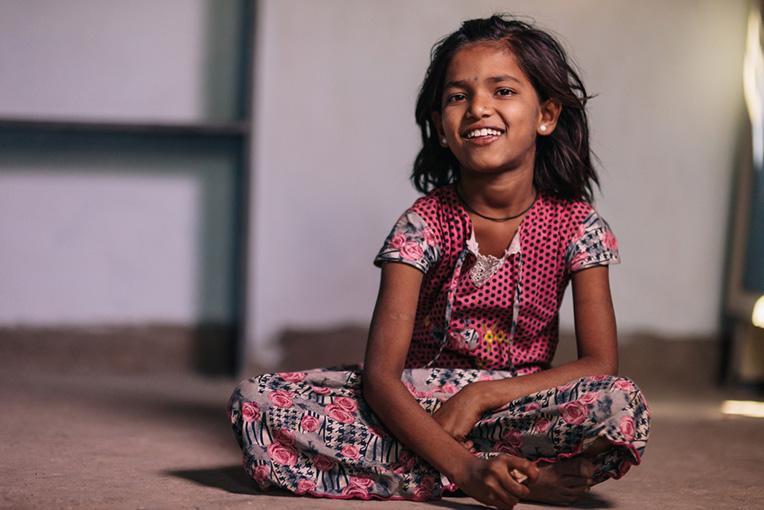 Serving disaster-prone countries in this part of the world provides opportunities to rebuild stronger homes and increase resilience of communities. Over the years, Habitat has responded to many disasters including major ones such as the 2004 Indian Ocean tsunami, the 2013 disasters of Typhoon Haiyan and Bohol earthquake, and the 2015 Nepal earthquake, to help more families get on the pathway to permanence.

This year, builds and other initiatives drew on the strength of 65,565 volunteers, who were mobilized by Habitat to advance the cause of decent housing around the region. Trainings equipped 49,782 people, providing them with knowledge and skills to build safe, affordable and resilient homes in their own communities.

In addition, about 50,000 people in New Zealand and 795 people in India now have the potential to improve their living conditions through policy and system change. The participation of 4.3 million people in Asia-Pacific highlighted the impact of the Habitat Young Leaders Build as the largest youth movement in the region dedicated to housing.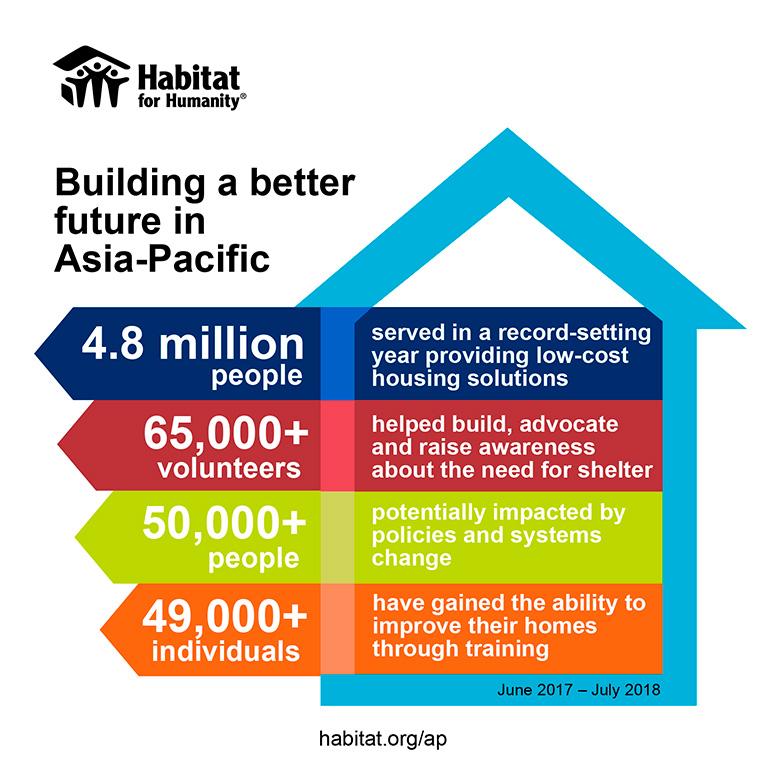 As part of Habitat's 35th anniversary celebrations, a video series entitled "Breaking Ground" was produced to showcase the collective
MOMENTS
(5 minutes) that unite
HANDS
(5 minutes),
HEARTS
(3 minutes), and
HOPES
(6 minutes) for the shared aspiration of housing for all.
A series of special builds involving close to 900 volunteers in eight countries was launched in 2018 to support the ongoing construction of 137 housing units to celebrate Habitat's 35 years of building strength, stability and self-reliance through shelter in the Asia-Pacific region. Last week, Cambodia hosted the penultimate Legacy Build for the year.
Since Habitat for Humanity began working in the Asia-Pacific region with the building of the first 16 homes in Khammam district, southern India, in 1983, it has expanded its footprint to 17 countries and one special administrative region.