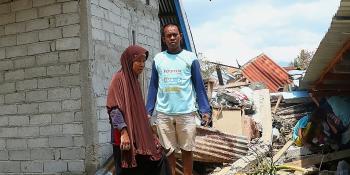 Help disaster-hit families in Indonesia
JAKARTA (Oct. 5, 2018) — In the aftermath of a 7.5-magnitude earthquake and tsunami that devastated Palu and nearby areas of Sulawesi island in Indonesia, Habitat for Humanity is responding to the relief and emergency shelter needs of disaster-affected families.
As search and rescue continues around the clock, government reports indicate a death toll of more than 1,500 and the number is expected to increase. The deadly earthquake and waters has destroyed more than 66,000 homes and displaced thousands of people from communities in Palu, Dongala, Pariti Mougong, Sigi and other areas.

Rick Hathaway, Asia-Pacific vice president of Habitat for Humanity, said: "Our thoughts and prayers are with the displaced communities and families who lost their homes and loved ones. It is heartbreaking to see once thriving communities now reduced to rubble. During this difficult time, we want to support the people of Indonesia, help them meet their immediate needs and their move towards recovery and building more resilient homes in the future."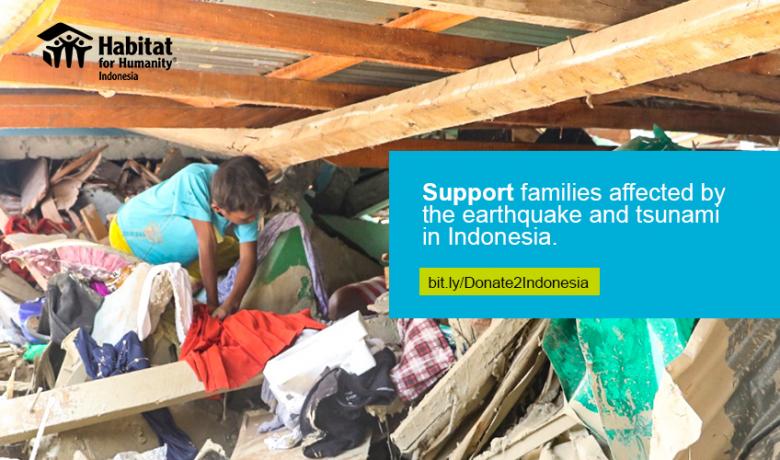 A small team from Habitat for Humanity is conducting assessments in the hard-hit areas of Palu and Dongala to check on the extent of damages and determine a response plan. Right now, the urgent need is to provide those affected with basic essentials, including emergency shelter kits to help them cope with the devastating impact of the disaster.
The Sulawesi earthquake and tsunami struck less than two months after a series of strong earthquakes, including a magnitude-7.0 earthquake, hit Lombok island in August. Organizations, including Habitat for Humanity, are now working doubly hard together with partners from the humanitarian sector, businesses, government agencies, local communities, volunteers and supporters to respond to both disasters. 
Habitat for Humanity has been working together with partners in Indonesia for more than 20 years. During the 2006 Yogyakarta earthquake and the 2004 Indian Ocean tsunami, Habitat Indonesia's response supported more than 8,000 families, helping them rebuild their homes and start anew. When responding to earthquakes, tsunamis, typhoons, floods and other natural calamities, Habitat for Humanity is in it for the long haul, working with disaster-affected communities from the start. The long-term solutions include mobilizing volunteers to help communities with rubble and debris clearing before working with families to build stronger homes that are less vulnerable to future disasters.
To support Habitat for Humanity Indonesia's disaster response efforts, please donate online through our give2habitat website with this link bit.ly/Donate2Indonesia.