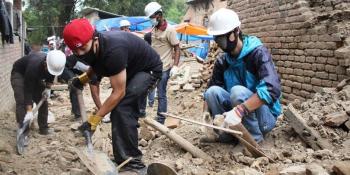 Perú como experiencia de éxito
Instead of reeling from shock, Nepali young leaders sprang to action in the wake of the devastating earthquakes in April and May 2015. They readily worked with Habitat for Humanity Nepal in its initial response by clearing rubble and distributing temporary shelter kits while young engineering graduates helped to assess houses' structural safety.
Those volunteers were among thousands of young people who have contributed to Habitat for Humanity's largest youth-focused campaign. Marking its eighth year in 2019, the Habitat Young Leaders Build campaign continues to transform lives and communities through the youth who build homes, and raise funds and awareness of the need for affordable housing.

While some contribute their labor, others are using their voices to make a difference. Youth organization Ashraya Nepal, a winner of the 2018 advocacy grants under the Habitat Young Leaders Build campaign, did their part in rallying young people. With the results of research conducted among earthquake-affected households, youth volunteers mobilized by Ashraya Nepal taught a local community in Satyadevi village, Dhading district, to leverage policies to improve community resilience and gender equality. The volunteers also urged the local government to listen and respond to community members' questions regarding ongoing construction efforts. 

Among the recent grantees in 2019 is Rastriya Dalit Network Nepal. The youth group has proposed organizing a "youth parliament" in southeastern Province 2 to influence land, housing and disaster management policies to help vulnerable groups such as the Dalits.

During Habitat Nepal's multi-year response to the earthquakes, the youth supporters continued to support the cause of affordable housing through the Habitat Young Leaders Build. Student Hari Krishna Doudel was among volunteers who helped Habitat in the demolition of a damaged house and clearing the land in order to help a family rebuild their home. Hari Krishna, a member of a local youth organization, said of his volunteer stint in 2015: "I'm doing a lot today. I have no complaints. We will do this for the community. If any volunteer work is needed for the community, we will be ready to help."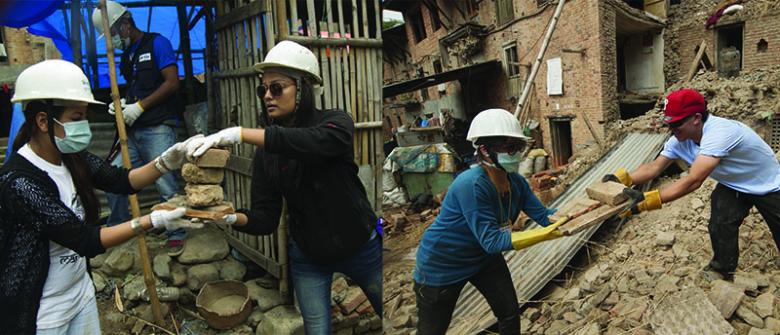 Others who freely gave of their own labor were Habitat Nepal's youth ambassadors Nirnaya Shrestha , a rapper and songwriter, and Reecha Sharma, an actress. Among the first to lend a hand, the ambassadors also inspired others to take action. 
While teenager Supriya Maskey admitted that she volunteered with Habitat Nepal because of Nirnaya, she wanted to be an example to other young people. "We are the future leaders of our country so we must work together to bring about a positive change," says Supriya. 
Supriya was among the first batch of Nepali youth to be trained under the Habitat Young Leaders Build's Leadership Academy in November 2017. The program not only develops participants' leadership skills but also empowers them to implement projects for sustainable homes and communities in their own neighborhoods. 
As the 2019 Young Leaders Build campaign peaks in April, Nepali trainers are spurring other youth to implement grassroots projects in their own communities. These projects aim to increase community members' awareness of safe shelter and strengthen their knowledge of disaster risk reduction.