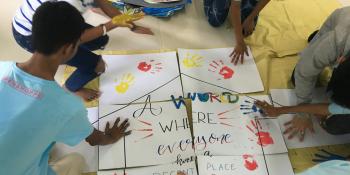 Portrait of a transformed community
In the Philippines, young people from different walks of life have found common ground in telling the story of a community's transformation.
Before 2012, Bistekville 1 in Payatas village, Quezon City, used to be an informal settlement atop a mountain of garbage. It is now a bustling neighborhood with secure homes and paved roads after Habitat for Humanity Philippines and the Quezon City government jointly upgraded the slum area.

Many of the informal settlers had worked on their own houses alongside Habitat volunteers. The buzz has since quietened down but the latent energy remains — in the young generation. Children living in Habitat homes led the formation of the Bistekville 1 Youth Organization. The youth group is among thousands of supporters who have enabled the Habitat Young Leaders Build, now in its eighth year, to transform lives and build communities.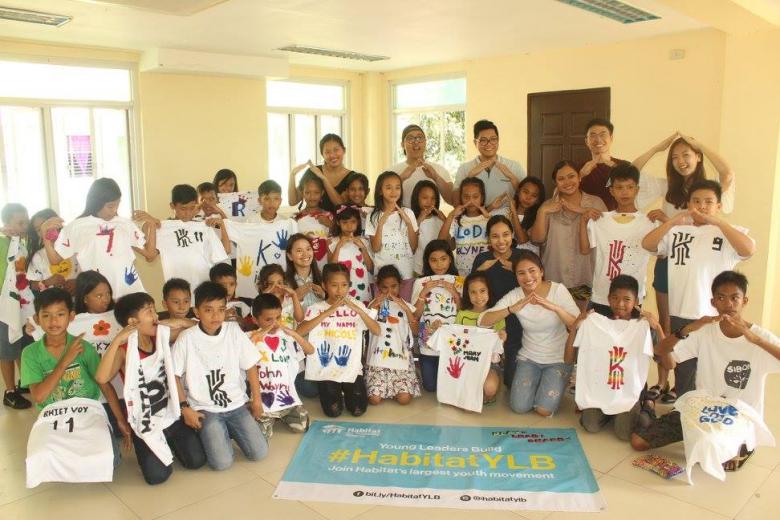 In 2018, the Habitat Young Leaders Build awarded advocacy grants to 12 winners that included the Bistekville 1 Youth Organization. With a grant of more than US$400, the youth created art about their slum-dwelling days. "We believe that this will draw the attention of people who work in Congress…Through art, we will create conversations within their ranks," says Peter Joshua F. Forndozo, the youth organization's president.

The following year, in 2019, the youth group plans to display their art in a park in front of the Philippines' House of Representatives with the aim of educating the public about housing laws.

While the young artists draw their inspiration from the community they live in, Habitat's volunteers such as university student Agatha Ramos tell of changed lives based on their interactions with the homeowners.

In a blog post written for Habitat Philippines, Agatha recounted her visit to a Habitat homeowner in Bistekville 1. Norma, whom Agatha called "Ate" or sister, had to relocate to the community after the former's home was destroyed during Typhoon Ketsana (local name: Ondoy) nearly a decade ago.

Agatha says: "In the tragedy of 2009, Ate Norma found herself scrambling to pick up the pieces of their lives. Now, years later, she continues to move forward, armed with enough hope and drive to create a better future for her and her family."