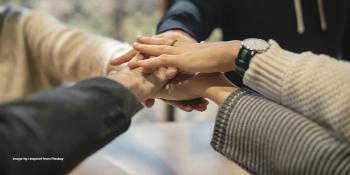 Way to go
Join us at the 2019 Asia-Pacific Housing Forum and find out how we can make a collective impact.
BANGKOK (April 5, 2019) — After organizing six biennial housing forums with a total of about 5,000 participants, Habitat for Humanity is more convinced than ever that multi-sector collaboration is the way to go. The theme for this year's Asia-Pacific Housing Forum is "Powering collaboration for housing impact". The conference will take place from September 16 to 19 in Bangkok, Thailand.
"This year, we want to drive our collective impact on housing to the next level through the synergy of partnerships and collaboration, to truly influence the way public, private and civil society sectors address housing challenges at the local and regional levels," said Rick Hathaway, Vice President for Asia-Pacific, Habitat for Humanity.
The four-day conference is expected to draw more than 400 participants from the region and around the world. In the lead up to the regional conference in Thailand, six preliminary events will be held in Bangladesh, New Zealand, Cambodia, Hong Kong, India and the Philippines from April to July.

Habitat's latest and previous partner organizations for the housing forum include the Hilti Foundation, the World Bank, Arup, the University of New South Wales, UN-Habitat, the International Federation of Red Cross and Red Crescent Societies, Cities Alliance and the Wharton School of the University of Pennsylvania.

The seventh Asia-Pacific Housing Forum will feature four tracks:
Impact to the max: Through impact investing and market-based solutions, businesses are creating new opportunities for innovative partnerships. Companies can bring affordable housing solutions to scale even as they pursue the triple bottom line: positive impacts on both the society and the environment as well as good financial performance.
Promoting inclusion amidst rapid urbanization: Improving inclusive access to adequate and affordable housing is fundamental to achieving the Sustainable Development Goals by 2030 and successfully implementing the New Urban Agenda. The track will discuss housing and development challenges in urban and rural contexts, and appropriate local strategies and interventions.
Fostering resilient cities and communities: Amid increasing threats brought by climate change, there is a need to examine the issues and explore ways in which safe, secure housing can help communities mitigate disaster risks and build long-term resilience.
Responsive housing technologies: Advancement in technologies can benefit families in need of adequate, affordable housing by adding value to housing policies and interventions that serve the pressing needs of the most vulnerable people.
Look out for more information on speakers, interactive events and training courses at aphousingforum.org. Enjoy an "early bird" rate when you register now. Don't forget to sign up for the housing forum's newsletter for regular updates.