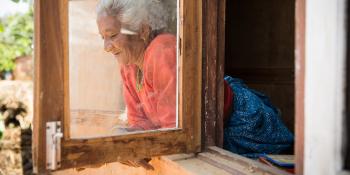 How we work
Asia-Pacific
Habitat for Humanity International builds, rehabilitates and repairs simple, decent houses with the help of homeowner (known as "partner") families, volunteer labor, and donations of money and materials. Often, skilled personnel such as masons and carpenters are employed for specialist jobs.
A new house can cost from as little as US$1,300 in some parts of Asia. Costs depend on location, labor, land and material costs, and ancillary development expenses.
Habitat houses are sold to home partner families at no profit and are financed through affordable long-term loans. Mortgage lengths vary from four to 30 years, though most are around six to eight years. Their monthly mortgage payments go into a local revolving fund to be used to build still more Habitat homes. In short, Habitat for Humanity is not a "giveaway" program.
In addition, home partners invest hundreds of hours of their own labor – "sweat equity" – into building their Habitat house and the houses of others.
Additional "muscle" for construction comes from volunteers from within the country or all over the world. Volunteers hail from corporations, churches, schools, among other organizations. The annual Jimmy & Rosalynn Carter Work Projects are major volunteer events. The 2009 JRCWP took place in five countries in the Mekong River region – Thailand, Vietnam, Cambodia, Laos and China's Sichuan province.
Habitat for Humanity's work in the region is accomplished by its Habitat Resource Centers, affiliates and partner organizations.
Habitat Resource Centers broaden the reach of Habitat's home-building programs in one or more of these principal services  construction services; skills training; disaster response and housing microfinance.
Affiliates are independent, locally-run, non-profit volunteer groups. They secure building sites, organize mortgage services as well as house construction using volunteers, among others.
Partner organizations contribute expertise and/or financial resources, and often volunteer labor. Other groups such as non-government organizations and government-linked bodies contribute services and facilities such as schools, water and sanitation access to communities where Habitat builds.
The work of the affiliates and resource centers in a country is coordinated and supported by legally independent national offices which are overseen by their own board of directors.
Habitat uses a variety of innovative approaches to funding and offers various ways for partner families to become Habitat homeowners.