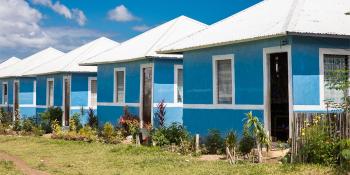 Habitat's Building Model
Every year, Habitat for Humanity works with tens of thousands of families to build new homes or rehabilitate or repair existing ones, as well as to access financial and technical assistance.
Rebuilding after Disasters
Habitat for Humanity has worldwide experience responding to natural and man-made disasters from hurricanes in the southern USA to the 2004 Indian Ocean tsunami and the 2010 earthquake which hit the Caribbean nation of Haiti.
Design and Construction
In the Asia-Pacific region, Habitat designs simple and durable houses using technology ranging from concrete interlocking block to steel frame to traditional bamboo, Habitat constructs houses according to local building standards, weather conditions and the family's needs
Building a Community
Often, when Habitat builds homes, other partners step in to provide water and sanitation facilities, educational and livelihood opportunities, among others.
Funding Habitat Houses
Other than the generosity of our donors and partners, our home partner families themselves provide an important source of funding. Through Save & Build and other housing microfinance schemes, Habitat partners build homes and assets of their own.
Blitz Builds and Special Events
Special builds which see homes being built over one to two weeks are ways to raise awareness of Habitat's cause and engage more volunteers. Non-build events such as the Under No Roof sleepover and Bare Your Sole charity walk serve to highlight the need for decent shelter and to eliminate poverty.