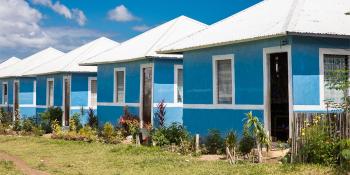 Habitat for Humanity partners with families in need of decent housing to build secure, affordable homes. Houses may be built in stages or rehabilitated with the families gaining access to housing loan products designed by financially inclusive institutions that have received advisory services from Habitat for Humanity.
Our work is made possible with the contributions of financial resources, expertise, services and volunteer labor from donors, partner organizations, volunteers and the families themselves. Potential homeowners invest hundreds of hours of their own labor — known as "sweat equity" — into building their Habitat house and the houses of others.

Habitat also partners with governments, corporations and non-profit organizations to increase families' access to adequate housing, clean water and safe sanitation, and secure land tenure.

Working in the world's most disaster-prone region has increased our capacity to support disaster risk reduction and response. To date, Habitat has helped more than 230,000 families in 52 countries through its disaster response work. In the Asia-Pacific region, we have provided shelter assistance to families following catastrophes such as the 2004 Indian Ocean tsunami and the 2008 earthquake in Sichuan, China. Recent responses included the 2017 flooding in South Asia, 2016 Cyclone Winston in Fiji, and the 2015 earthquake in Nepal.

From 2018, the Asia-Pacific region that used to be predominantly rural has more city dwellers than people living in rural areas. According to the United Nations, the region is home to more than 2.1 billion urban residents, or 60 per cent of the world's urban population. Habitat is committed to contributing to the United Nations Sustainable Development Goals of building sustainable, inclusive cities and communities by 2030. Our urban development programs include training in the Participatory Approach to Safe Shelter Awareness, slum upgrading and community revitalization.

Habitat for Humanity's work in the region is accomplished by national organizations in Australia, Bangladesh, Cambodia, Hong Kong, Fiji, India, Indonesia, Japan, Myanmar, Nepal, New Zealand, the Philippines, Singapore, South Korea, Sri Lanka, Thailand, and Vietnam. We also operate through partnerships in Mongolia, Timor-Leste, Samoa and Tonga.