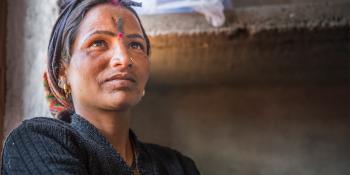 Special Reports on Habitat's Work
Asia-Pacific
Habitat for Humanity's Terwilliger Center for Innovation in Shelter features some clients of financial institutions including those from Cambodia who have improved their quality of life in a publication marking the fifth anniversary of the center's MicroBuild Fund.
Habitat for Humanity builds resilient homes through stronger community links.
Habitat for Humanity's Terwilliger Center for Innovation in Shelter has commissioned an impact assessment study of two microfinance institutions in South India. Home improvement loans are shown to have yielded benefits such as a sense of security and pride, and improved familial relations.
Since the devastating earthquakes in 2015, Habitat for Humanity has helped more than 43,700 families through various disaster response programs. Learn more about the long-term strategy to support recovery. 
Learn more in our 2015 State of Advocacy Report (PDF, 2.5MB) about how sound policy promotes safe, decent and affordable housing.
Asia-Pacific Housing Forum 5: Post-Event Report
The Report summarizes the main activities for the biennial forum, held from 1 to 4 September 2015, in Hong Kong, and at satellite locations in India and the Philippines.
From slums to sustainable communities: the transformative power of secure tenure
Produced in collaboration with Cities Alliance, the new issue paper by Habitat for Humanity addresses how security of tenure is critical to addressing the growth of urban slums, and offers recommendations for housing policy in order to transform slums into sustainable communities.
Opening the door to improved lives: tackling inadequate housing in Asia-Pacific
The latest report by Habitat for Humanity's Asia-Pacific office looks at eight major future trends affecting the housing sector, highlights challenges, and identifies opportunities. Published October 2014.
 
The Forum — a look at Habitat's new strategic plan
The quarterly publication assesses Habitat's impact in communities, sectors and societies. Nepal and Cambodia are among the case studies featured.
 
Asia-Pacific Housing Forum 4 Post-Event Report: Housing as a foundation for breaking the poverty cycle
The forum, with the theme 'Housing as a foundation for breaking the poverty cycle', achieved several outcomes.
 
Carter Work Project Special: Six Months Later. Making an Impact. Changing Lives
Half a year has passed since the 2009 Carter Work Project attracted thousands of volunteers to Habitat build sites across Southeast Asia and China. Read a special newsletter on what has happened to the families in those communities since then.(Published June 2010).
Emerging Stronger: Five Years After the Indian Ocean Tsunami
A comprehensive look at how Habitat for Humanity has helped some 23,500 families rebuild their lives in India, Indonesia, Sri Lanka and Thailand. The work continues. (Published January 2010)
KOICA, South Korea's leading government aid agency, joined with Habitat for Humanity Vietnam to build or renovate homes and improve water and sanitation services for more than 2,000 households in southern Vietnam. (Published 2009)
Poverty Housing in the Developing Nations of the Pacific Islands
How and why so many people in the developing nations of the Pacific live in poverty housing conditions - and what can be done to improve matters (Published April 2009)
Bangladesh Cyclone: Rebuilding After Cyclone Sidr
Cyclone Sidr brought misery to struggling families in one of the poorest countries of the world. Find out how Habitat for Humanity transformed lives through its transitional shelter strategy. (Published February 2009).
Pakistan Earthquake: Challenges and Innovations After the 2005 Earthquake
See how transitional shelters were erected, then dismantled and rebuilt into permanent homes; with the help of mobile saw mills and Korean volunteers in a remote corner of Pakistan. (August February 2008)
A Right to a Decent Home: mapping Poverty Housing in the Asia-Pacific region
A major review of the issues that keep millions of people living in slums and substandard housing and a look at a range of solutions (Published January 2007)