It is not only for convenience that Warti asked her clients to go to her place in rural Wringinanom, Gresik, a few hours away from the city of Surabaya in Indonesia. The 70-year-old massage therapist likes showing off her house. "It used to be an ugly house. Now, it's beautiful—the best house!" 
With Habitat's help, she replaced the bamboo walls of her house with concrete walls, repaired her leaky roof, added a bedroom and a bathroom, and cemented the earthen floor. Now that she has her own bathroom, she does not have to walk 10 minutes to her relative's house to use their bathroom. 
Warti started providing traditional massage therapy after becoming a widow 14 years ago. She gets an average of two customers per day and earns between 15,000 and 20,000 Indonesian rupiah (between US$1.13 and US$1.50) daily.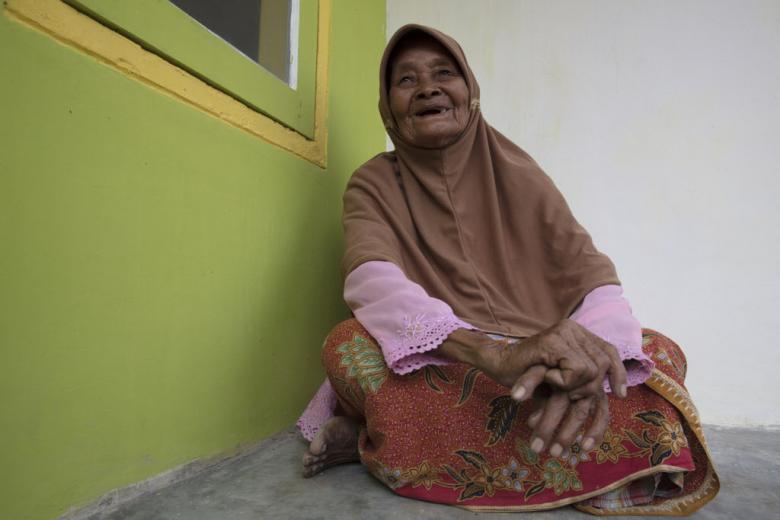 She used to walk up and down the village's hilly paths to get to her clients' homes. Now, her customers prefer to have their massage therapy in the living room of her house. "It's easier for me. It's more comfortable to move around in my own home. It saves me a lot of energy having to walk to my clients' houses," she said.
Her clients are not the only ones who are drawn to Warti's new house. Her 14-year-old granddaughter, Emma, now spends more time studying in Warti's spacious house. Occasionally, Emma also brings her friends for a visit.
Warti's wish for the future is simple—to give Emma a good education. If she is able to save more, she plans to improve and expand her kitchen. The kitchen represents the heart of Gresik village's communal culture, the place where visitors are received and social events held.
"I am fine now. I am thankful to God for this house. When this house was first built, I couldn't believe it was mine. Now I do," she said. "I wish that all the people who helped build this house will receive a big blessing from God."
Warti is among those living in Kesamben Kulon village that is among the poorest in the area. At the recommendation of the local government, Habitat for Humanity Indonesia started working in the community of Wringinanom in October 2015. 
As of July 2017, Habitat Indonesia has already built 95 houses and 12 water facilities for the benefit of around 300 and 200 individuals, respectively.  In addition, Habitat Indonesia is implementing a community action plan in Kesamben Kulon, which includes training in waste management and maintaining a safe, healthy living environment. 

Find out more about Habitat's work and our supporters through our e-newsletter, Asia-Pacific Update. Subscribe now.