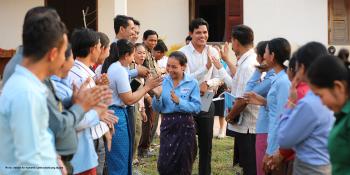 Are you a HabitatYLB Champion?
MANILA (Feb. 20, 2020) — Habitat for Humanity Young Leaders Build brings together youth from across the Asia-Pacific region to volunteer, raise funds and awareness, and speak up for families in need of safe, affordable housing. For almost a decade, the movement encourages young people to take the lead and motivate their peers to create societal changes by building homes and communities, on a Habitat build site and/or online through their social networks.
Through HabitatYLB Champions, we aim to further leverage the power of youth by mobilizing local volunteers where Habitat has a presence in Asia-Pacific. These young people will be empowered to contribute to the programs of local Habitat entities in fulfillment of organizational strategy.
We dare you
Each volunteer will have access to training materials and other non-financial resources to help them understand Habitat for Humanity's vision of a world where everyone has a decent place to live as well as its mission. They will also learn more about the Habitat Young Leaders Build, Habitat's work where they are located, and ways to engage and mobilize other supporters.

Each volunteer will serve for 30 days, ending on April 25, 2020, and complete the following tasks in order to be a certified HabitatYLB champion.
Organize 1 #HabitatYLB event through one of the following:
– Option 1: face-to-face fundraising for Habitat's mission on April 25; or
– Option 2: awareness raising seminar with at least 30 participants on April 25; or
– Option 3: mobilize at least eight other supporters to volunteer with their local Habitat offices within the period of the Habitat Young Leaders Build campaign.
Gather 30 pledges for the Asia-Pacific Youth Commitment to Housing and the New Urban Agenda.
Write one blog about housing and their volunteer experience.
Complete and submit the HabitatYLB activity report.
As of February 28, in consideration of the need to minimize the risk of the COVID-19 virus transmission among volunteers and in the communities Habitat serves, we encourage all interested volunteers to plan for online implementation of their events and activities.
All HabitatYLB Champions will receive certificates as well as recognition of their efforts on Habitat for Humanity's communications channels.

Who is eligible?
Between 18 and 30 years of age (born between 1990 and 2002)
Residing in Asia-Pacific locations where Habitat works:
Australia, Bangladesh, Cambodia, China, Fiji, Hong Kong, India, Indonesia, Japan, Korea, Myanmar, Nepal, New Zealand, Philippines, Singapore, Sri Lanka, Thailand and Vietnam.
Proficiency in spoken and written English
Good working knowledge of Sustainable Development Goal 11 of sustainable cities and communities
Commitment to the values and principles of Habitat for Humanity
Strong interpersonal and organizational skills
Prior experience of volunteering and/or working with Habitat for Humanity
What to submit
Interested young leaders must provide the following via this form
A personal statement, maximum 500 words, demonstrating:
– the applicant's rationale for applying;
– prior volunteering experience with Habitat for Humanity International and other nongovernmental organizations;
– innovative ideas that can be brought to Habitat Young Leaders Build.
HabitatYLB Champions application form with details of their proposed project/activity.
Two-minute (maximum) video presentation outlining why they should be part of the HabitatYLB Champions community.
Deadline for application: Friday, March 6, 2020.
How we select
All applications will be reviewed by the Habitat Young Leaders Build selection committee who will identify five candidates per Habitat entity in Asia-Pacific. These shortlisted candidates will be recommended for further review and final selection by the respective Habitat entity. A maximum of three candidates per location will be selected.
Timeline in 2020
February 21-March 6: submission of applications for HabitatYLB Champions 2020
March 9-13: initial screening by the Habitat Young Leaders Build selection committee and final selection by Habitat's entities in Asia-Pacific
March 16: announcement of selected applicants
March 17-April 25: training and appointment period
April 26-May 2: reporting and validation 
May 2020: announcement and recognition of successful HabitatYLB Champions 2020