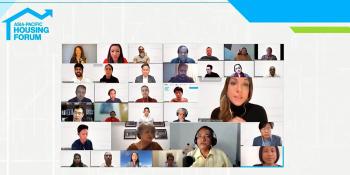 The eighth Asia-Pacific Housing Forum closes with a call to build forward better for greener, safer homes
MANILA (December 9, 2021) — The close of the eighth Asia-Pacific Housing Forum today signaled a beginning. Across public, private and people sectors, everyone who shares the vision for affordable and inclusive housing is called to collaborate, innovate and keep people at the center.

"The Asia-Pacific Housing Forum's main theme of 'building forward better through inclusive housing' means that each one of us, especially the most vulnerable families we serve through housing solutions, has a voice in the process and a role to play in increasing access to a decent place to live," said Luis Noda, Habitat for Humanity's Asia-Pacific vice president and one of the speakers at the forum. "We must center our actions on the needs of the people to truly build in a greener, safer, more resilient way."

More than 2,000 people registered for the biennial forum from December 7-9, 2021, that was held virtually for the first time. The event brought together industry leaders, innovators, policy experts, and various stakeholders to build more inclusive, healthy and resilient cities and communities. Organized by Habitat for Humanity and the European Union-funded SWITCH-Asia SCP Facility, the multisectoral event also aimed to inspire innovative, affordable housing technologies across the Asia-Pacific region.

Economic growth, and climate change adaptation were major cross-cutting themes for the forum. Participants had opportunities to engage with over 180 speakers and one another as well as to share best practices through 30 sessions organized under the four tracks. These are: Build resilient cities and communities; Innovative housing solutions and technologies; Advance sustainability in the housing sector; and Finance affordable housing. Three virtual side events — a training course on land tenure and land value capture, the third Youth Congress, and an Innovation Awards Grand Premiere — drew more than 900 participants.

In the lead-up to the eighth Asia-Pacific Housing Forum, several local housing forums were held.
Samoa (December 2): the country's first female prime minister Fiamē Naomi Mataʻafa gave the keynote address.
Fiji (November 29): participants at the hybrid event discussed market system difficulties and advancing sustainability in the housing sector.
Cambodia (November 26): about 220 participants including informal settlement residents took part in the forum. They focused on the role of communities as well as citywide mapping in building resilience in cities.
India (November 23-24): more than 700 people registered participants came together to collaborate and contribute to the Government of India's vision of "Housing for All."
Philippines (November 10-11): presidential candidates joined experts and leaders and shared how they would make housing a priority in their campaigns.
Indonesia (October 14): one of the sessions focused on the property industry as one of the drivers of Indonesia's economic growth.
Hong Kong (October 4): high profile speakers and experts addressed the intersection of housing and inclusion in a dynamic panel discussion.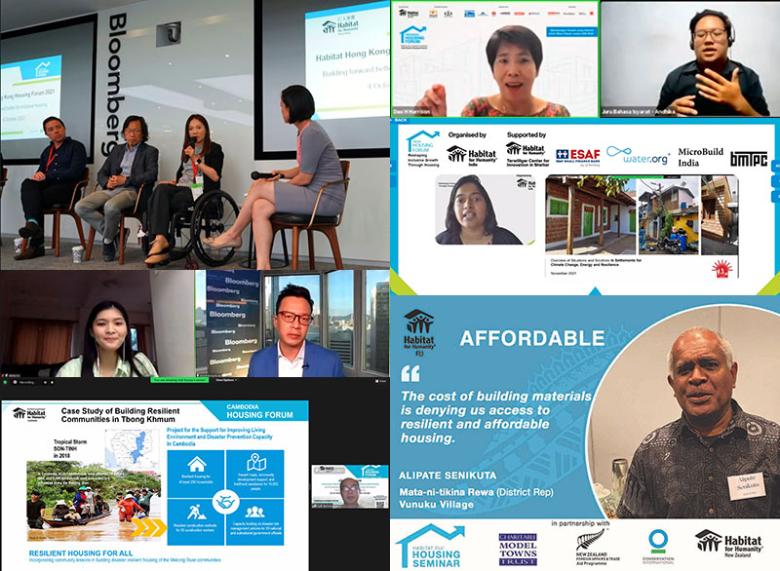 After eight housing forums that spanned more than a decade, the call to action remains loud and clear. In the opening plenary, Jonathan Reckford, chief executive officer of Habitat for Humanity International, emphasized the need to raise the priority of housing because it directly impacts many other social issues. In closing, he asked, "What steps can we take to build upon the knowledge and successes of each other so we can draw nearer to a world where everyone has a decent place in which to live?"

The eighth Asia-Pacific Housing Forum is supported by the Hilti Foundation, Whirlpool Corporation, Agence Francaise de Developpement, Ayala Corporation, Ayala Land, PT Caturkarsa, and Somfy Foundation. Other partners include Asia Development Bank, Cadasta Foundation, Cities Alliance, Lincoln Institute of Land Policy, Total Quality PR, United Nations' Economic and Social Commission for Asia and the Pacific, UN-Habitat, UN Major Group for Children & Youth, University of New South Wales, and the World Bank.

Visit the Asia-Pacific Housing Forum website www.aphousingforum.org for more information.