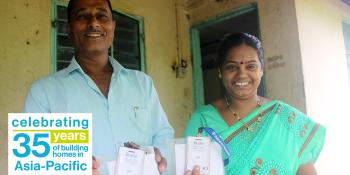 Imagine sharing a thatched mud hut with 11 people — one's husband and children, and in-laws and their families, cramped into three rooms and sharing a common toilet. Such was the life of Jayshri, 42, more than 10 years ago.
Her family's life began to change in 2006 when they were among the 100 families who built new homes with Habitat for Humanity India during the Jimmy & Rosalynn Carter Work Project .

For a week in October 2016, former U.S. President Jimmy Carter and his wife Rosalynn worked alongside the families and about 2,000 international and local volunteers to build homes in Patan village, Malavli town, Lonavala, Maharashtra state, western India. The volunteers included actors Brad Pitt from the U.S. and John Abraham from India.

After moving into a secure, affordable home, Jayshri has a different perspective on education. She had stopped school at the age of 14 while her husband Gabalu dropped out from school when he was 15. "Earlier we expected our children to just complete their basic education," she admits, given that she had limited opportunities.

"Both my daughters Kajal and Komal had the chance to go to college. My son Atul is currently enrolled in a college too. We really hope he will be able to finish his degree so he can get a job and start supporting the family," she says.

Jayshri's elder daughter Kajal, 22, completed her first year in college before dropping out to get married. She now lives in Pune with her husband.

Her younger daughter Komal, 20, has a diploma in electronics and telecommunication from Nutan Maharashtra Institute for Engineering and Technology, Talegaon, one of the top engineering institutions in Pune. While Komal is currently seeking a job, her parents are also keen for her to get married.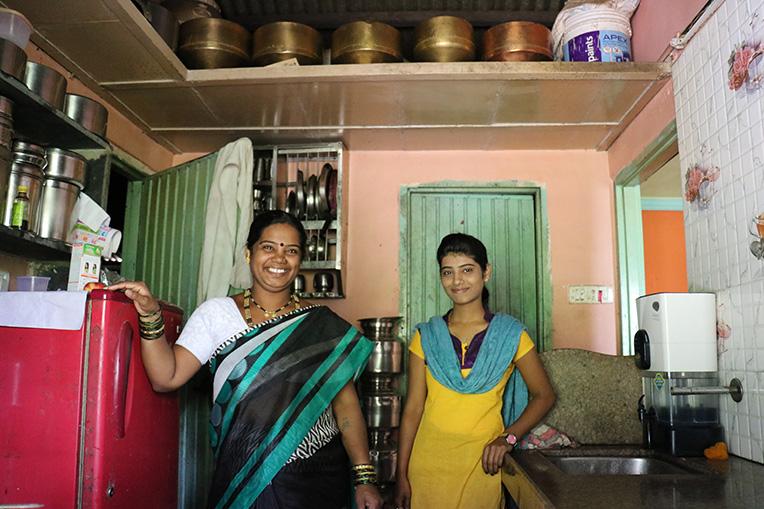 In addition to better educational opportunities for her children, Jayshri says her family's income has improved. The couple owns a small plot of land on which they cultivate rice. After the end of the farming season, Gabalu would take on odd jobs as an electrician in order to make ends meet. But he had to stop work as an electrician after undergoing a spinal operation, not long after his family settled into their Habitat home in Lonavala. Now the couple takes on gardening work in neighboring villages and has a more stable income when they are not farming.

"We still remember the volunteers who came to build with us," Jayshri reminisces. "They were very considerate about our needs. They used to ask us if we would like anything specific to be done for the house, and they took that into consideration. We would be more than happy to meet them again and invite them to our home."

Find out more about Habitat's work and our supporters through our e-newsletter, Asia-Pacific Update. Subscribe now.