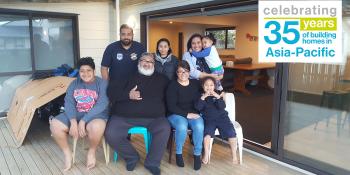 Allan and Alice began their journey as Habitat homeowners in New Zealand's North Island more than two decades ago. They started off with caring for others and they have continued to make a difference in their community.
As a young couple, they felt a strong call to leave their well-paid jobs for full-time youth work at very low pay. Shortly after their marriage, Allan and Alice moved into a cramped one-room apartment to save money. It was situated above a community center where Alice worked as the coordinator. "We had 1,000 people a month coming through our doors," she says. Allan ran youth programs in the local area, helping to empower at-risk young people. Although they loved what they were doing, their living conditions took a toll on the family's well-being.

Converted from a 19th century homestead, their home was cold, damp and made their family sick. Their son, Caleb, went through a stage of back-to-back ear infections as a young child — up to 21 times in one month. Their local doctor, was convinced that it was due to their unhealthy home. Unable to afford a more suitable home, the family began to lose hope of things improving and remained in their one-bedroom apartment for seven years.

Some time later their friend spoke to them about Habitat for Humanity and encouraged them to apply. Thankfully, their application was accepted. "I just knew in my heart that this opportunity was meant to be, but we left it in God's hands. It was out of our hands," Alice comments.

Their home was built during a high profile event in Auckland's Aotea Square in 1997. The build took place over four days with hundreds of volunteers working alongside the family. Their home was then moved to Otara, a suburb in the south of Auckland, where they now live.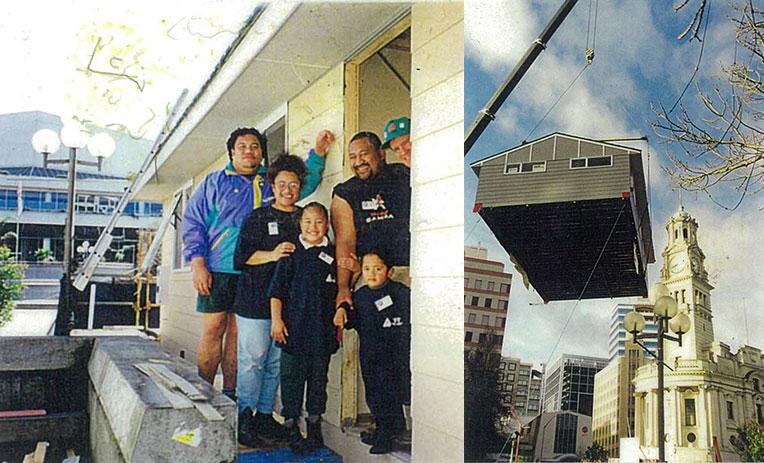 The family has benefited from living in a secure, stable home for more than two decades. Not long after moving in, Alice earned a teaching degree, making her the first Habitat homeowner in New Zealand to have a degree. She joined the local junior high school, becoming the first teacher of Polynesian descent at that time. Maintaining her passion for empowering young people, Alice coaches the school's rugby league team. Today, one of her former students is a professional rugby league player in Australia.

Later Allan completed his degree in social work and founded a number of youth centers and other ventures. He is a mentor to young men and volunteers his help in developing leadership in sports teams and running a boy's club. In November 2017, he received the Pacific Community Leadership Award for his dedication to the cause of at-risk youths and contribution to the community.

The couple's life has not been plain sailing but Allan and Alice, both aged 55, credit their strength as a family to their stable home environment. When their daughter Glorya became a mother at the age of 15, it was a huge shock for the family. With grace and dignity, they overcame this challenge by supporting Glorya and her then-boyfriend Logan to finish high school.

Today Glorya and Logan, both 30, are married with three children and another child is on the way. They both have secure, stable jobs and are active members in their community. Glorya works with vulnerable children in the Ministry of Social Development while Logan is employed by the Department of Immigration.

With Glorya's family living with them, Allan and Alice decided to renovate their home to accommodate their expanding family. "There's something about seeing your grandkids. It's beautiful. It encourages you; it lifts you up," Allan says with a smile.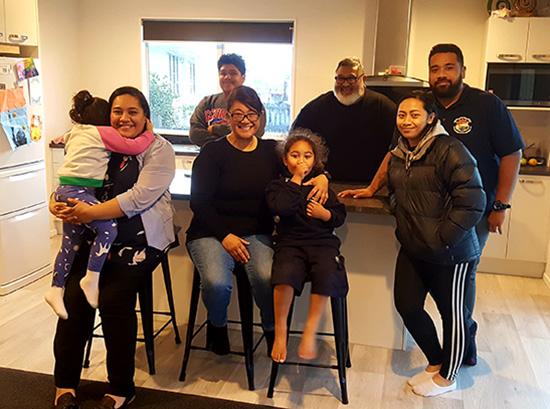 Allan's son Caleb, who lives with them, has followed in his father's footsteps. Caleb, 26, is now a youth worker with a charity focused on Pacific Islanders' health.

Reflecting on their life journey, Allan and Alice are filled with gratitude. They strongly believe that their home provided them with a platform to achieve great things. "It gives you that potential to dream and to dream big," says Allan. "The success stories since we have been here (are) due to the fact that we have a roof over our heads," Alice remarks.

Find out more about Habitat's work and our supporters through our e-newsletter, Asia-Pacific Update. Subscribe now.