Every hand that makes a difference
The European Union-funded "Homes not Houses" project in Sri Lanka provides support for livelihoods beyond masonry.

Thatsanamoorthy, 42, has always been good with his hands but epileptic episodes have left him struggling to use his talents to provide for his family. "I am a skilled mason, but it became dangerous for me to remain in the construction industry because of my illness," he said.In February 2017, through training provided under the European Union-funded "Homes not Houses" project in Sri Lanka, he was able to turn his sculpting hobby into a livelihood. The training was part of the flanking measures provided by Habitat's implementing partner, World Vision Sri Lanka.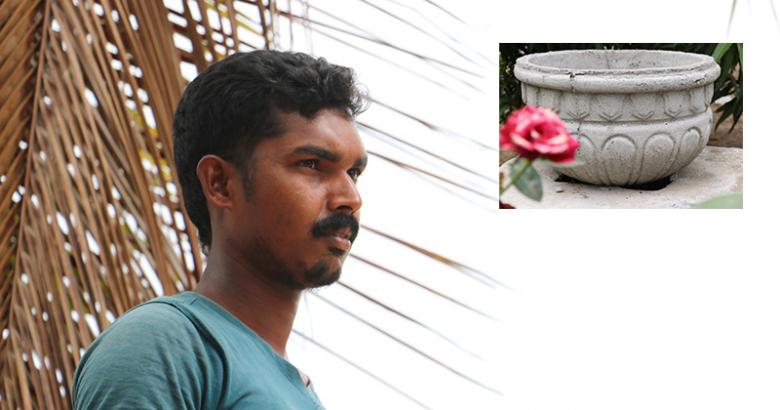 Thatsanamoorthy also received a small grant to buy molds and raw materials to start his own business at his home in Kokkadichcholai, Batticaloa, Eastern Province. Besides making ornate pottery and grills for businesses and homes, he also supplies nearby temples during religious festivals.

He is grateful that he can make a living while being safe and near his family. "I don't know what I would have done without the training and support I have received. I can now watch my daughter grow while earning an income too."

While Manoharan, 45, and Kandeepan, 39, have continued as masons, they have been able to upgrade their skills through Habitat's training in the use of compressed stabilized earth blocks, an appropriate construction material with a low carbon footprint. A feasibility study published by the European Union has cited compressed stabilized earth blocks as a low-carbon, low embodied energy solution for sustainable development.

"As a mason, I wanted to do everything with my own hands. I am so proud that I was able to lay every block, every tile, and install every frame and all doors and windows of our home," Kandeepan said. But nothing beats fulfilling his wife's wish. "Along with the grant from Habitat, I invested my own funds to build an extra space outside the kitchen for my wife. She likes the color blue and has always wanted a blue kitchen," he said.

With the support of Habitat Sri Lanka's technical officer, he was able to meet his personal construction deadline and his family moved into their new home in Killinochchi, Northern Province, in January 2021, considered an auspicious month of new beginnings.
For Manoharan, his sense of fulfilment came from building a home for his parents in their sunset years. After being displaced during Sri Lanka's decades-long civil war, his parents, Vairamuththu, 89, and Vairamuthi, 80, found it hard to build a life even after the conflict ended in 2009. Their property and important documents were either destroyed or could not be found and they depended on the government to provide temporary shelter.

"I spent nearly 10 years without much hope," his mother Vairamuthi said. She also struggled to care for his father Vairamuththu who was paralyzed after a stroke. Due to loss of contact and distance from other children, their only source of support is Manoharan who lives with them.

With the training that he received in 2018 under the "Homes not Houses" project, Manoharan could continue to build their home in Mullaitivu, Northern Province, amid the pandemic. After moving into their home in January 2021, Vairamuthi said, "We're very proud that our son is part of a new movement to save the environment. This is truly a very comfortable, clean and well-ventilated home. I thank the gods every day for providing us this comfort, after many years of hardships. At least, at the end of our lives, we can finally sleep well at night."

In addition to masonry training, Habitat Sri Lanka has provided livelihood opportunities to craftsmen, builders and workers. Thiyagalingam, 52, was one of the first individuals trained to operate block-producing machines in 2016 at the inception of the "Homes not Houses" project. For the last three years, he has been maintaining the machines in Habitat's yard that produces compressed stabilized earth blocks in Batticaloa, Eastern Province.

As a senior trainer with five years of experience, he provides orientation to new employees and works with technical officer Vinod, 27, who is responsible for checking the quality of the blocks produced at the yard. "I am particularly happy that this project has enabled people with disabilities to be engaged in income-generating employment," Thiyagalingam said.

Through the use of appropriate construction technology and materials in the "Homes not Houses" project, people in the community including women have gained an unique skill. That edge can help improve living standards, Thiyagalingam said. He added, "I am proud that I am among the first to promote appropriate construction technology in Sri Lanka's Eastern Province and I hope that the commercial use of CSEBs will continue and flood the market."