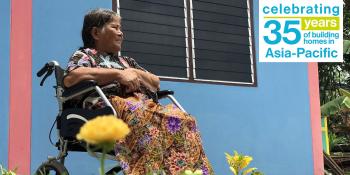 Cha-am, 60, lives in a one-story home with her daughter and two grandchildren in Bueng Cham O village, Nong Sua district, Pathum Thani province, Thailand. Cha-am was a factory worker before she had an accident that left her half-paralyzed and unable to walk. She also lost her husband in the accident.
She receives a monthly allowance of 800 baht (about US$24) for her disability from the government and depends on her daughter's income of 10,000 baht for other family expenses.

Cha-am and her family used to live in a cement-wood house before she moved into her new house that she built with Japanese volunteers and Habitat for Humanity Thailand. In her old house, a wardrobe served as a room divider. During the rainy season, the roof leaked and water used to flood the house up to knee level, so everyone got drenched.

Her new home has two rooms and one living hall and a toilet with a door. Her old house is now being used as a kitchen. Cha-am no longer worries about a leaky roof or that the roof would be blown away by the wind. Going about in her wheelchair, she enjoys cleaning her home and gardening.

"I feel secure as I have a roof over my head, doors with locks, and space for my grandchildren to study and play in the safety of our home," says Cha-am.

Her grandchildren have significantly improved their educational grades, according to Cha-am. Now they can play inside the house instead of going outdoors where they may be bitten by mosquitoes and poisonous insects.

"With this new house, I hope my grandchildren can chase their dreams and achieve their goals," says Cha-am.

Find out more about Habitat's work and our supporters through our e-newsletter, the Asia-Pacific Update. Subscribe now.