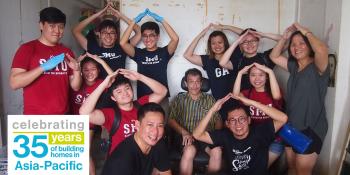 "How can a person be living in such a condition?" That was the question Thomas Lim asked himself when he first joined Project HomeWorks, a home clean-up and repair program by Habitat for Humanity Singapore.
In his initial volunteer experience, he recalled a household that left a particularly deep impression on him. An elderly woman who is blind lived with her two adult children who had mental health issues in a one-room rental apartment. In their cockroach-infested unit, the kitchen was covered with soot stains from years of cooking with charcoal.

Motivated by the son who pitched in, Thomas and other volunteers spent half a day cleaning up and had the satisfaction of seeing the apartment looking almost brand new. "The reason why I'm still doing it is because I love the 'before' and 'after' impact. And it's really much more fulfilling," says Thomas.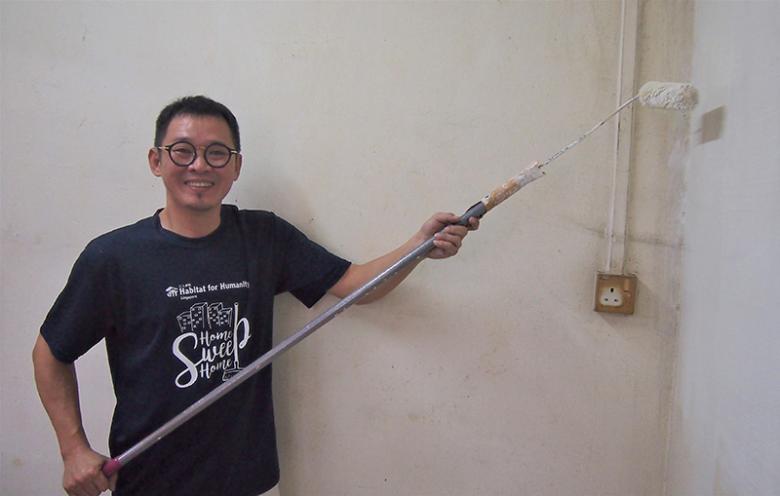 Volunteering has always been a part of Thomas' life. Before partnering with Habitat, he was working with other local charitable organizations to distribute food to low-income families, and befriending the elderly.

But he was also looking for something more impactful. "I went in without any expectation for the first HomeWorks session and from there onwards, I told myself they have my full commitment," says the 46-year-old who runs his own human resources company.

Four years later, Thomas is a HomeWorks Champion with almost 40 clean-up sessions under his belt. He helps to lead Project HomeWorks sessions alongside Habitat Singapore staff at least once a month while managing work and time with his two children.

Habitat for Humanity Singapore launched the Project HomeWorks program over a decade ago to improve the living conditions of the elderly, the sick and people with disabilities who are living in one-room flats all over the island. Volunteers are mobilized to clean up homes, make minor repairs and ensure facilities meet safety standards. Since 2006, more than 10,000 volunteers have participated in almost 2,000 home improvement sessions.

"Doing HomeWorks just keeps me grounded on what's going on, which we normally don't see in print or media. And this is a societal problem. We have to do our part to help out as much as we can," Thomas says, referring to the challenge that vulnerable groups such as the elderly face in maintaining their rental housing.

As a HomeWorks Champion, Thomas mentors and inspires youths through his close involvement with volunteer teams. "When I'm able to share my passion for community work with the youths and see them step up to volunteer on their own, that's a feeling that can't be matched.

"To be complete as a human being, I think we should at least learn the extent of how much we can give to whoever requires help. That's something that we have inculcated in our youths and they will think twice about taking things granted in the future," Thomas adds.

Find out more about Habitat's work and our supporters through our e-newsletter, the Asia-Pacific Update. Subscribe now.