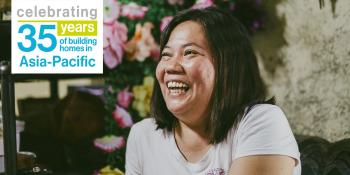 Joan has been caring for people for over two decades and she is only 37. She began with minding the kids in the community while their parents built their own homes alongside Habitat volunteers during the 1999 Jimmy & Rosalynn Carter Work Project. "Those kids have become parents, and now I take care of their children," says Joan who is a company nurse.
At home, she plans her father Juan's meals to reduce his pain from gout. She also provides free medical care to her neighbors in 82-household Pamana Habitat Village, in Bacolod City, Philippines.

"I'm the only trained nurse in this community so I take care of everyone. The neighbors ask me to help them with aches and pains. Pregnant women will ask for advice or assistance when they start their labor. Mothers ask me to help them keep up with their children's immunization schedules," says Joan.

She starting taking charge of the household when she was 10. Her father would leave her siblings in her care while he worked in the rice fields. Her mother was then employed overseas as a domestic helper.

"I had no time for play when I was a child because I was busy with chores. I fetched water from a deep well far from our house. I cooked," Joan says. "Life was hard. As a girl, there are things that would be easier to confide in a mother. I had no one back then."

Joan's family used to live in a hut that was made of plywood scraps, bamboo and galvanized iron. Typhoons repeatedly damaged or swept away their hut. After each disaster, her father rebuilt the hut with the same salvaged scraps. "Back then, I did not have any wishes or dreams. I was just thankful that we had food on the table."

In 1995, her family met Habitat volunteers who were looking out for land to build decent homes. Among those who visited the rice fields where Joan's old hut stood was Serah Grace who later helped to start Habitat for Humanity in Bacolod.

After three years, Grace and her fellow volunteers had a breakthrough when a generous Filipino family donated 3,000 square meters of land. The first-ever Habitat project then began in Negros Occidental province and Juan became the first Habitat homeowner in all of Bacolod.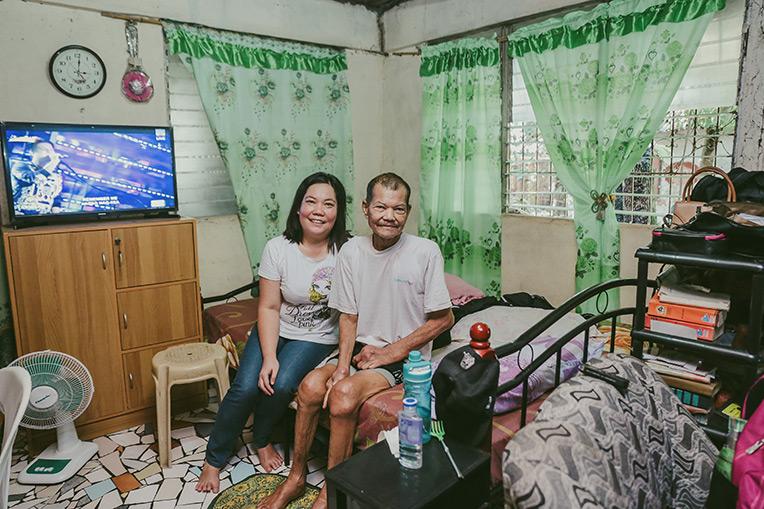 Juan, now 60, contributed hundreds of hours of 'sweat equity' or his own labor, mostly by cooking the meals for foreign volunteers who helped build his Habitat house. Joan helped to clean up after the volunteers were done for the day. "I was so shy at the time. I would sometimes refuse to go to school to avoid talking to the volunteers," Joan says with a laugh. "I overcame my shyness because the Habitat staff really coached me."

By the time preparations for the 1999 Carter Work Project — Habitat's signature volunteer event — began in 1998, Joan was more assured and became one of the village youth leaders. She led the children of other Habitat homeowners in presenting cultural performances for over 500 visitors during the weeklong build.

Following the Carter Work Project, Joan continued as a youth volunteer who helped Habitat build more homes in other communities in Negros Occidental. "Volunteering built my self-confidence. I gave testimonies to schools and went to politicians' offices to explain about Habitat and our projects, and to solicit donations. It was challenging being a youth leader because I was working with young scions of prominent families and it  was easy to doubt and ask, 'What can I give? I don't have money,'" Joan says. "What I can give is my service."

In the course of volunteering with Habitat, Joan met Peter File, a pastor who volunteered to build  houses in the Pamana Habitat Village. After learning of Joan's dream of becoming a nurse, the pastor and his friends raised money for Joan's education and eventual nursing board review and exams.

After living almost 23 years in their home, Joan has seen positive changes in her family's life. Her father Juan's gout condition is under control while her mother Luisa could afford to stop working as a domestic helper 15 years ago. Luisa gets a small allowance from sitting on the 'lupon' or the committee of the elderly that helps resolve disputes.

Joan's younger brother Goemer, 35, took leave from his job in Japan to get married. He also built a small house for his newly wed wife next to his parents' home. The youngest child Ellen, 32, works in a call center.

Joan has more wishes to fulfill — her parents' dream to see the Holy Land, and her desire to visit Kobe, Japan, as well as North Carolina, the United States, to personally thank the Habitat donors who helped change her life.

Growing up in a secure, stable home has made Joan more confident in life. She remains a caring person as she says her Habitat experience has fostered a lifelong passion for serving others and volunteering.