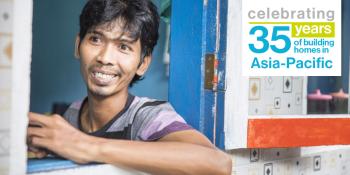 Cut out for a better future
The home of Habib and Jamila is their castle, especially for their two daughters whom they treat as princesses. Their Habitat house in Tegal Sari, an urban community in Surabaya city, western Indonesia, looks just as new as when the couple first moved in more than two years.  Decorative ceramic tiles have been laid over the green-and-blue wall of the house. In the bedroom, which has been painted a vibrant purple, the couple's baby daughter, Nazla, nestles in their bed.
It is for the sake of their daughters—baby Nazla and 10-year-old Naila—that Habib and Jamila continue to improve their home which used to be dirty, pest-infested and leaky. "I wanted to change everything about our old house, but I didn't have the money then to do anything," Habib said.

The change came when the community leaders recommended Habib and Jamila for Habitat Indonesia's urban housing development program. The couple built the house alongside volunteers, mainly from South Korea, who motivated them endlessly with their energy.

"After moving into this house, I feel like I am capable of fixing and improving things." Instead of being boastful, Habib was simply emphasizing his family's current financial stability. Habib has set up a barbershop in the living room. Since moving into the renovated house, he gets an average of eight customers daily, up from six customers previously. "I'm very happy because my income and my home are good, thanks to Habitat. My family is happy here."
 
His daughter Naila appreciates her parents' efforts. "My favorite place in our house is the bedroom because it is violet. I helped my father pick out the color. Our home is beautiful and comfortable. No more water leaks from the roof when rain pours," she said. The renovation also made it easier for her to help her mother clean the house and sweep the floor. The third grader is proud that she can now bring her friends over after school to play. Meanwhile, Habib and Jamila are saving money to fulfill Naila's wish to have her own bedroom.

Naila also hopes to become a doctor one day. Jamila and Habib are willing to work hard to provide for her dreams. "I want my family to have a better life. I want for us to be able to give Naila the highest level of education; to send her to university," Jamila said. Her husband agreed: "I just want my daughter to grow in spirituality, to be a better citizen of the community and to help other people. If she wants to become a doctor, we will support her education. I will always continue to remind her to study hard."
 

On their part, Habib and Jamila want to work hard and continue investing in their home. "At the end of the day, we want our children to always remember our house. Even when they are grown up, we hope that they can always come back home."

Since 2014, Habitat for Humanity Indonesia has worked with more than 5,000 individuals in Tegal Sari to improve their lives through decent housing and/or clean water and safe sanitation with the support of Korean donors.

Habitat Indonesia is also implementing a five-year community action plan. This includes rehabilitating the community's drainage system, setting up a waste management system and renovating community centers, schools and community toilets. Training in waste management and maintaining a safe, healthy living environment will be provided. In addition, Habitat Indonesia has supported school repairs and greening programs in the community.

Find out more about Habitat's work and our supporters through our e-newsletter, the Asia-Pacific Update. Subscribe now.