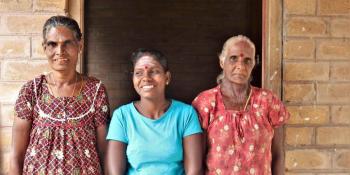 Through the European Union-funded "Homes not Houses" project, conflict-affected Sri Lankan families are able to cope in a time of pandemic and look to the future

As she recalls her years of displacement during Sri Lanka's civil war, Selvam, 32, wants to protect her 13-year-old daughter from such an experience. Selvam shared, "I had no privacy in the refugee camps and felt extremely vulnerable. I do not want my daughter to go through that." Her own mother Anandamma still bears the burnt marks on her body—a lasting reminder of the decades-long conflict.

Her family could finally put the past behind them now that they have a safe, secure home. As of January 2021, they are among 2,105 families who have partnered with Habitat Sri Lanka and World Vision Sri Lanka in the European Union-funded "Homes not Houses" project. A total of 2,366 homes are expected to be completed by mid-2021.

Over 45% of the homes were built with the use of appropriate construction technology and locally available materials such as compressed stabilized earth blocks. A feasibility study published by the European Union has cited compressed stabilized earth blocks as a low-carbon, low embodied energy solution for sustainable development.

Selvam and her extended family of six had moved into their new home in Maavadiyamman, Killinochchi district, Sri Lanka's Northern Province, in December 2019. They were able to safely and comfortably shelter in place following a three-month lockdown in March 2020. Built with compressed stabilized earth blocks, their home was cool, well-ventilated and spacious enough for the family to quarantine together and for Selvam's daughter Lavanya to have her own room. In addition, the children can better concentrate on their studies.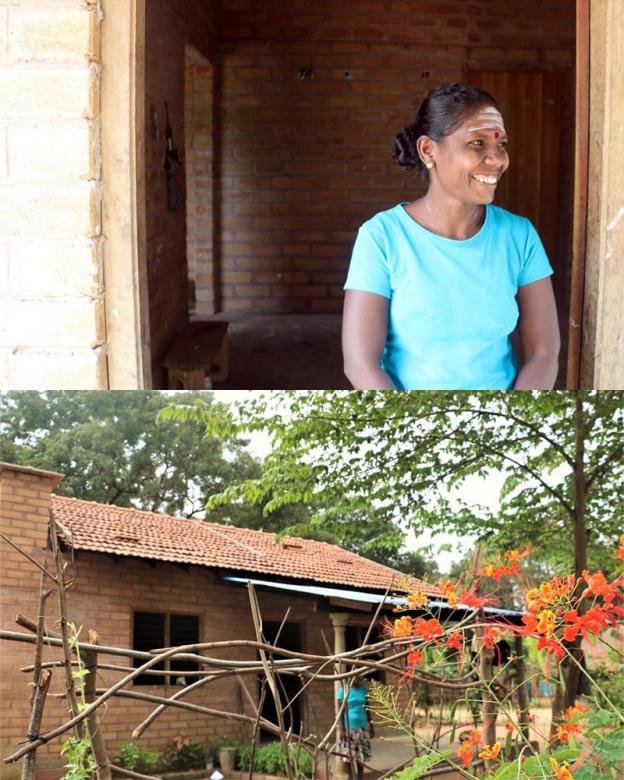 The economic fallout from Sri Lanka's first lockdown, which lasted three months till end-June, had affected daily wage workers like Selvam and her relatives. "During the COVID lockdown, my family and my in-laws lost income and were struggling for meals," she said. In August 2020, she received emergency financial assistance under the "Homes not Houses" project that enabled her to start a vegetable garden for her family's food supply.

A stable home has also helped improve familial relationships. "Miracles happened here!" Selvam said. "Ever since I moved into the new house, my mother and mother-in-law have become closer and they are now both supportive of me!"

Her mother-in-law Vadivelu, 60, was so impressed with Selvam's home that she also built her house using compressed stabilized earth blocks. "I have always wanted a big house as I have a big family and many grandchildren. I want all of them to be able to visit me and stay over," Vadivelu said. Her favorite part of her house is the front door for which she spent an additional 45,000 Sri Lankan rupees (US$225). "I want the front door to be made out of the best quality wood. The entrance to the house is very important; it should make a statement."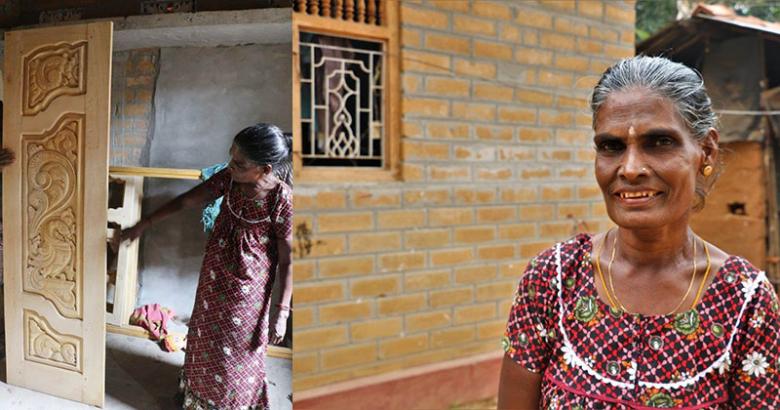 In another part of Killinochchi, Sivaluxmi, 60, had looked forward to having a stable home after a lifetime of fleeing from the civil war and struggling for survival after her husband's death.

She was in the midst of building her home when the Sri Lankan government declared a nationwide lockdown in March 2020 to curb the spread of the coronavirus. "I was frustrated that the pandemic slowed everything down," she said.

She did not have to the bear the anxiety alone because Habitat Sri Lanka's staff kept in touch with her to provide updates on the lockdown situation.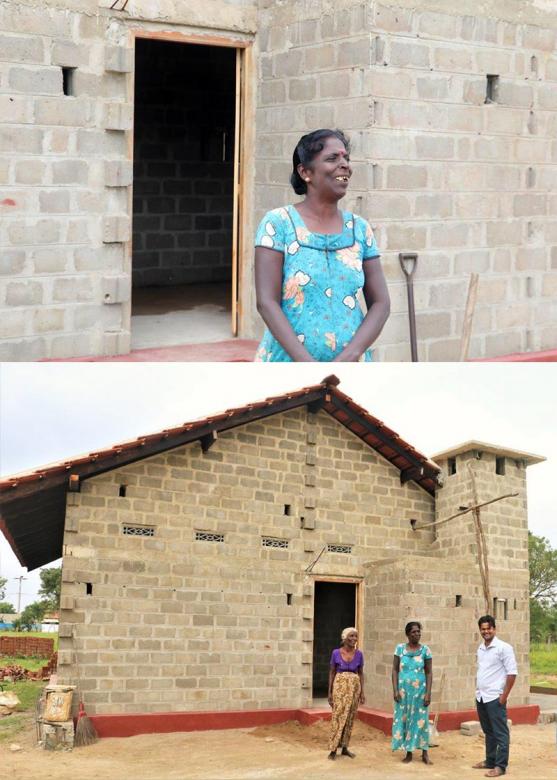 The project's homeowner-driven strategy, which enabled her to manage available resources and build at her own pace, helped Sivaluxmi and her family to cope. Having received masonry skills training from Habitat Sri Lanka, her only son Thananjan, 30, was able to accelerate the pace of construction of their home.

By January 2021, Sivaluxmi and her family were ready for the next phase in their lives. "Habitat made sure that I had a new home ready for moving in by this auspicious month," she said. "I have always wanted a stable home and a daughter. My son will be married soon and I am looking forward to welcoming a daughter into our home. I am grateful to the gods above for making my wishes come true, one by one."