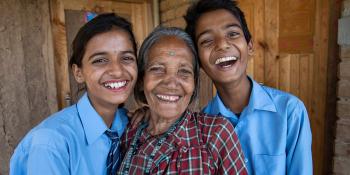 Homes, Communities, Hope + You
MANILA (July 27, 2020) — Amid the pandemic's unfolding dual crises, life has become even more challenging for many low-income families. Housing is the first line of defense against the coronavirus. Yet one in two people in the Asia-Pacific region lives in overcrowded slums, lacking access to water and sanitation. This region is also home to half the world's poor — living on US$1.90 or less a day — who risk falling over the edge into chronic poverty.
Habitat's response to the pandemic addresses both the health and economic fronts. Through its first global fundraising initiative, Homes, Communities, Hope + You, Habitat welcomes all supporters to help families weather the crises and communities to emerge stronger.

The campaign is anchored by four areas: healthy homes; access to secure shelter; housing market and economic recovery; and, advocacy for adequate, affordable housing.

"Housing conditions can literally mean the difference between life and death," said Jonathan Reckford, CEO of Habitat for Humanity International. "In any disaster, it is those with the least who are impacted the most. These are the families with whom Habitat partners. Now, more than ever, we need to make sure we are ready and able to answer the call."

In the Asia-Pacific region, Habitat has launched various initiatives to raise awareness, increase support, and establish partnerships with organizations and corporations. A brief round-up is as follows:
Healthy homes
Safety protocols for workers and future homeowners were implemented with the gradual resumption of construction activity in Cambodia from late May. Habitat Cambodia worked together with the local skilled workers to develop locally available personal protective equipment such as face shields fitted into construction helmets and reusable face masks when working onsite. Handwashing stations and disinfectants are also readily available on worksites.

In addition, future homeowners attend awareness-raising lessons on COVID-19 prevention, have their temperature taken regularly, assist Habitat in ensuring the new safety protocols are consistently practised by the skilled workers, and prevent unauthorized or non-essential visits to the worksite.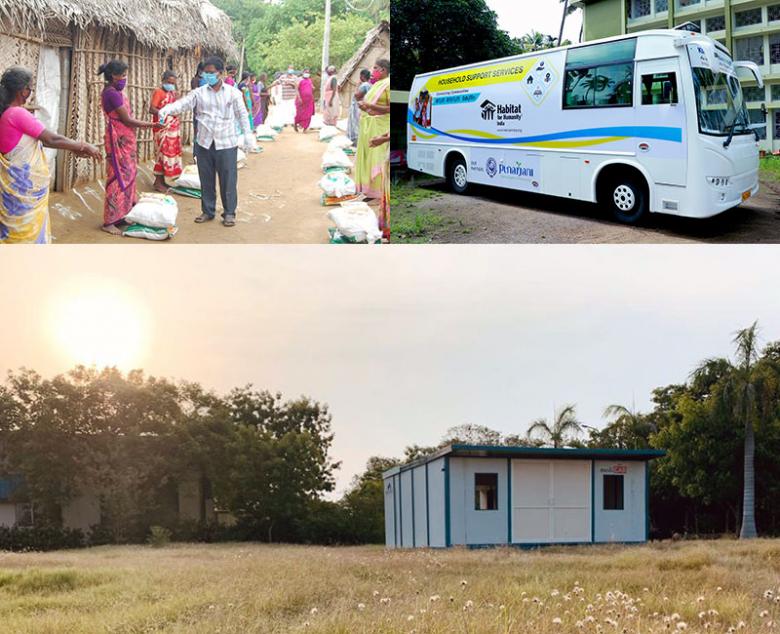 To reduce the transmission of COVID-19 in vulnerable communities, Habitat India has distributed over 192,500 hygiene as well as family essential kits, assisting more than 774,800 people as of July 20. It has also launched a mobile unit in Kerala state that offers more than 50 types of housing support services that aim to improve the housing conditions of about 300,000 people. Direct financial assistance such as cash transfers have been provided to over 24,200 families in India to enable them to stay in their homes.

With funding from Habitat's Terwilliger Center for Innovation in Shelter, Indian startup Modulus Housing has developed a mobile unit that serves as a temporary medical facility in Kerala. Modulus was among the startups that joined the Terwilliger Center's ShelterTech Accelerator program in 2019. Known as mediCAB, the 10-bed facility can be set up in two hours and is portable. The 10-bed micro hospital will be launched in partnership with Sree Chitra Tirunal Institute for Medical Sciences and Technology in Wayanad district, Kerala. After it is set up, the local government will assume operations of the facility.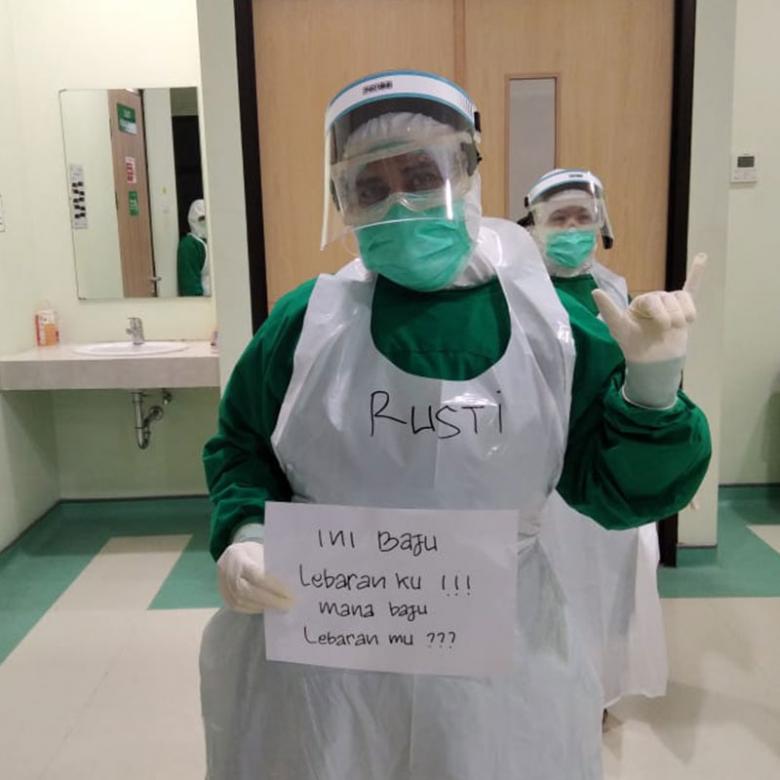 After Indonesia declared COVID-19 to be a national disaster on April 13, Habitat Indonesia launched a campaign to provide temporary accommodation for medical workers in the capital Jakarta and Surabaya. Although doctors, nurses, cleaning staff, among others, work hard to battle the pandemic, many could not have adequate rest as they avoided going home to keep their loved ones safe. To date, more than 1,600 medical workers have benefited from this initiative.
Advocacy
In May, an opinion piece published in Devex highlighted the challenges of preventing the spread of COVID-19 in resource-poor areas. The government, the private sector, financial institutions, and civil society need to collaborate to ensure everyone has a decent place to fight the pandemic, Enid Madarcos, Habitat's urban policy manager for Asia-Pacific, argued.
Meanwhile, Habitat India's managing director Rajan Samuel penned an article calling for decent shelter to be a bridge between lives and livelihoods during COVID-19.
Jessan Catre, country lead, Philippine Shelter Venture Lab, Habitat for Humanity's Terwilliger Center for Innovation in Shelter, highlighted an important segment in the housing market. In his piece for Thomson Reuters, he asserted informal housing markets can make or break a recovery from the pandemic and recommended key actions to keep low-income households at the center of governments' responses.
Between May and July, Habitat also organized a three-part "Our Homes, Our Health" webinar series in collaboration with Purdue University and Penn State University. Coming from different sectors, panelists tackled issues on the implementation of stay-at-home measures in the Global South; media advocacy; systemic and emerging risks on global health and housing; interdisciplinary frameworks for technical solutions; and mitigation strategies drawing on vulnerable groups' experiences.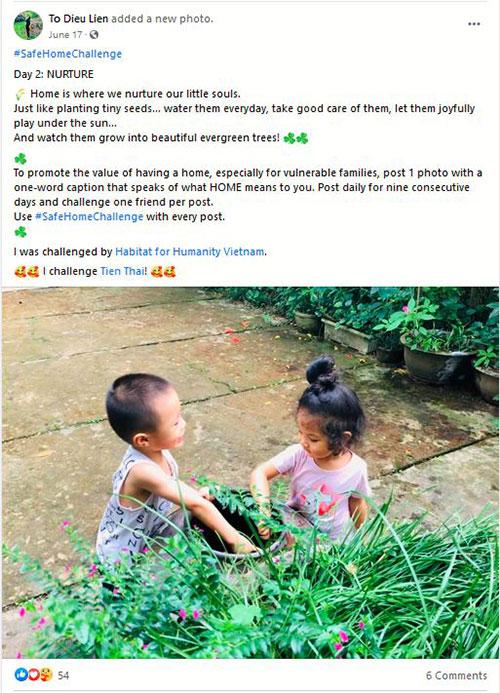 In June, the #SafeHomeChallenge campaign was launched to engage youth supporters in raising awareness of a safe home as the first line of defense against the coronavirus. By the end of June, there were more than 1,000 unique posts shared by individuals in 18 countries as well as Hong Kong. At least 1.46 million users have been reached on social media.

In addition, short video testimonials on Habitat's COVID-19 response around the world have been released. Among those featured were Habitat Nepal's architect Tripti Mahaseth as well as Habitat's Asia-Pacific operations director Anna Konotchick and senior manager for housing and land policy Rebecca Ochong.

For over 35 years, Habitat has been working to build homes, communities and hope. The need for safe, adequate housing that we work so hard to meet every day will only grow during the COVID-19 crisis. Now more than ever, we need you. Together, we can find our way forward.

We are grateful for all your support. To contribute financially, please visit habitat.org/donate. To find out more about Habitat's work in the Asia-Pacific region, please subscribe to our newsletter or visit habitat.org/asiapacific. Connect with us on Facebook, Twitter and Instagram.