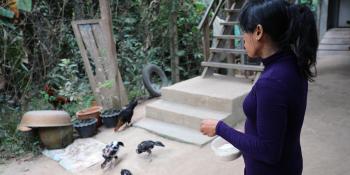 Kimchheng knows how tough it is to be a single parent on low income. "When my husband died, I went through many difficulties," the 40-year-old fruit seller recalls. "But I continue to stand tall."
She has been raising her son Tibe on her own since he was two years old. He is now 18 and they live in a house that Kimchheng helped build in 2017. Since then, she has found refuge in her home in times of sickness. She is also more ready to welcome visitors to her home in Kandal province, Cambodia. This was not the case in the past.

For more than a decade, they had lived in a small house with mud floor and a leaky roof. A light rain would turn the floor into a muddy puddle. When it rained heavily, water would seep in and rose knee-high. Both mother and son also suffered from diarrhea.

Kimchheng says: "In our old house, I felt fearful whenever I had to leave my son and our possessions behind to go to the market. The old house wasn't secure because we didn't have a proper door and the walls had holes."

Despite such living conditions, Kimchheng could not afford to build a new house. Most of her US$25 monthly earnings from selling fruit in a nearby market went to Tibe's education and their daily needs including food.

Her opportunity for change came when she partnered with Habitat for Humanity Cambodia to build a new home. Together with Habitat volunteers and local skilled workers, Kimchheng constructed a wooden house on stilts, in the traditional style.

She also learned about ways to improve her family's health through the water, sanitation and hygiene training by Habitat Cambodia. With access to grid electricity, she no longer has to use her motorbike's battery for power.

Kimchheng, who is living with AIDS, gets her medicine from the local health authorities. Her neighbors would bring her food whenever she is too sick to work. "With this house, we feel more secure. I don't have to worry about our belongings or about my son's safety," she explains. "When it rains, we know we're in a safe place."

Tibe has chosen to study English after school. Both mother and son smiled as they looked at each other. Kimchheng says: "Having our own home has eased my burden. I'm able to save money now so I could set up a fruit stall near our house. As for my son, he can focus on his studies. He can be a mechanic or an electrician."
Kimchheng and Tibe are among 578 vulnerable families who partnered with Habitat for Humanity Cambodia to build safe, decent homes in the "Chapadem Chivet Thmey" (Khmer for New Start, New Life) project in Phnom Penh and Kandal, Siem Reap and Battambang.

Homeowners also improved their awareness of water, sanitation and hygiene standards, learned about home maintenance, and received livelihood skills training. Funding support for the project that ended in June 2019 came from Australia's Department of Foreign Affairs and Trade through Habitat Australia.

Since 2003, Habitat Cambodia has enabled over 90,000 families to build strength, stability, and self-reliance through shelter. Find out more at habitatcambodia.org or follow facebook.com/HabitatCambodia1/