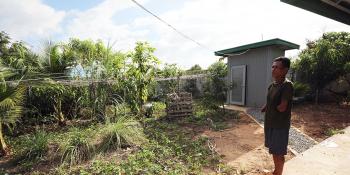 For more than 30 years, former soldier Bunthoeun — who lost both his arms in a landmine accident in 1986 — had to live with the fear of eviction while struggling to provide for his family. He relied on his monthly military pension of US$125 to bring up his eight children in Kandal province, Cambodia.
His family used to live in a small shack made up of rusty tin sheets and wood debris. "Aside from heavy rain that would seep through holes in the roof, what worried me the most was that our family could be evicted anytime since we don't own the place we were staying in."

When it wasn't raining, the heat would be too unbearable. "I could barely move around inside, but we had no place to go." Having to move several times, his children had never experienced living in a permanent home.

After his six sons and two daughters have grown up and found jobs in other provinces, Bunthoeun, 56, and his wife Samuth, 63, were able to have their own home.

In late 2018, staff of Habitat for Humanity Cambodia contributed their labor during a weeklong build in Veal Thmey village, Ponher Leu district. Buntheoun and his wife help to prepare the areas for washing up, meals and breaks and clean up the worksite each day. Buntheoun constantly checked with Habitat Cambodia's staff and skilled workers to see if he could help in other ways.

After the five-day build, Bunthoeun and his wife were able to move into their own home in September 2018. The house, which comes with a proper toilet, features the use of zinc in its roofing, walls and timber framing.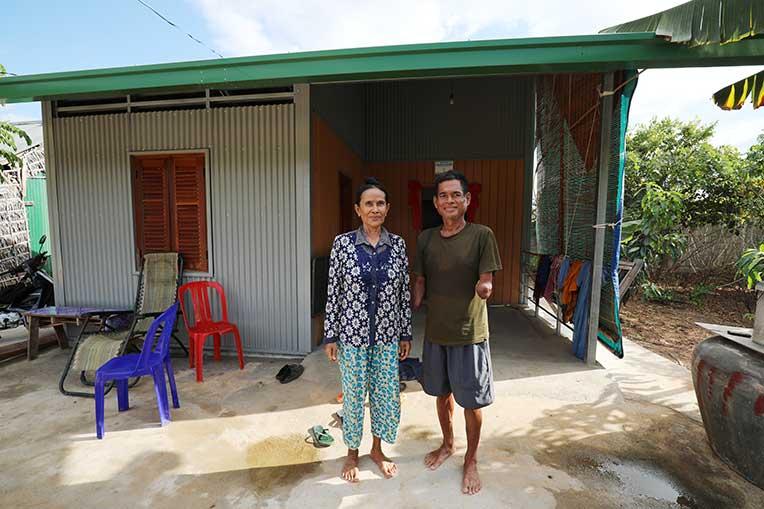 "It's easy for me to move around," says Bunthoeun as doors are easy to open in the spacious house. Now he could sit comfortably in front of his house, telling his visitors stories of his family and his days in the military. With more space to work at home, Samuth hopes to weave more baskets for a living and save some money.

After years of instability and hardship, Bunthoeun and Samuth have greater peace of mind and freedom. Settling down nicely, they have started growing ornamental plants to make their home more welcoming. They have also planted vegetables and fruit trees for food.
Since 2003, Buntheoun and Samuth are among more than 90,000 families who have joined hands with Habitat Cambodia and their partners to build better lives through decent homes and microfinance services. Visit habitatcambodia.org or follow facebook.com/HabitatCambodia1/ to find out more.