MANILA (Dec. 21, 2018) – With shouts of "jeiy yo" (meaning "hooray" in Khmer), lotus flower petals cascaded on Cambodian families and international volunteers during the Legacy Build in Oudong, Kandal province. The four families and 64 volunteers dedicated the houses that they worked on during the one-day build on November 13.
"I'm happy supporting the volunteers because I'm working on my own house," said Sophal. She helped volunteers from the U.S., Sri Lanka, Fiji and Singapore who were building walls by bringing them bricks and buckets of mortar.

The volunteers were part of a 64-strong contingent comprising Habitat's international board members and staff from headquarters and the regional office. The hilltop shrines could be seen in the distance as volunteers and families worked on the other houses. Some of them did painting of the exterior or window frames while others laid bricks or trimmed bamboo strips.

The Cambodian event was the culmination of a series of Legacy Builds to mark Habitat for Humanity's 35 anniversary in the Asia-Pacific region. The special builds aimed to inspire and galvanize more volunteers to build on the contributions of dedicated supporters such as former U.S. President Jimmy Carter and his wife Rosalynn.

Each year, the Carters give one week of their time to build with Habitat volunteers in the U.S. and other parts of the world. In the Asia-Pacific region, the Jimmy & Rosalynn Carter Work Project was held in the Philippines in 1999, Korea (2001), India (2006) and the Mekong region – Thailand, Cambodia, China (Sichuan province), Vietnam and Laos (2009).

By the end of 2018, the Legacy Builds have mobilized a total of 893 volunteers who built homes with 137 families in eight countries and raised over US$318,000.

The first Legacy Build kicked off in late July 2018 as part of Habitat for Humanity Korea's annual blitz build. About 200 local volunteers took part in the event that is held every year since Habitat Korea hosted the 2001 Jimmy & Rosalynn Carter Work Project. Since then, more than 20,000 local volunteers had helped build 674 houses through the Korea Blitz Build.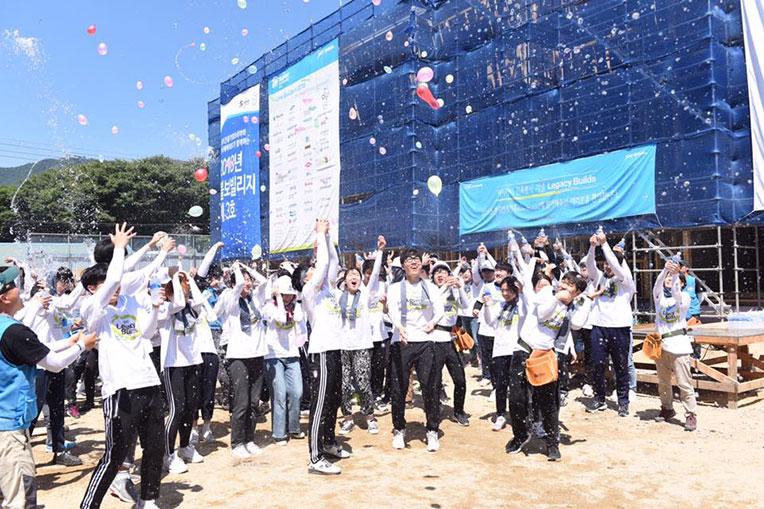 Habitat Nepal took over the baton from Korea when it hosted a week-long visit by 13 affiliate leaders from the U.S. The leaders learned about Habitat's work in Nepal and opportunities for support. They also joined Global Village volunteers from Credit Suisse and Great Britain to rebuild homes with five earthquake-affected families in Kavrepalanchok district. On the last day of the Legacy Build in Nepal from September 24 to 28, USAID Mission Director to Nepal, Amy Tohill-Stull, also contributed her labor.

Connie Lai, who led a Global Village volunteer team from Great Britain, says: "It is very rewarding to see communities where homes have been totally rebuilt with Habitat and how quickly Habitat has been able to respond. We are very happy to build a safe and decent home with Indra, our homeowner."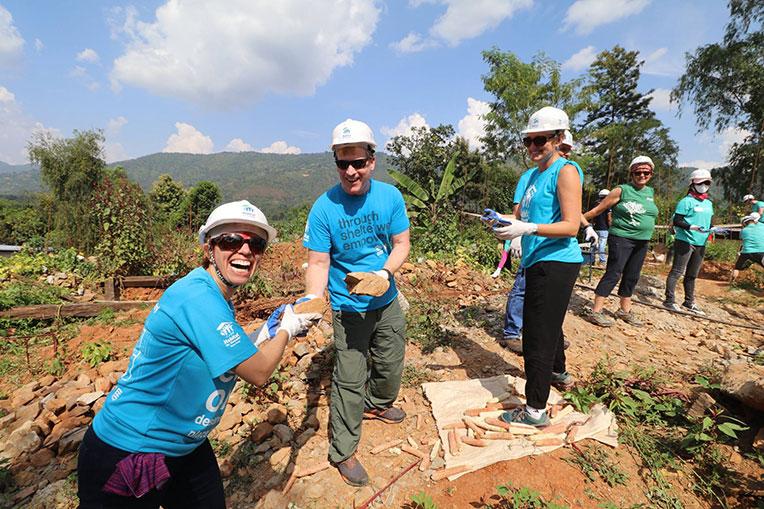 Other than Korea, Nepal and Cambodia, Legacy Builds were also held in India (October 26); Sichuan province, China (November 10 to 16); Thailand (November 12 to 16), the Philippines (October 26); Vietnam (part of Vietnam Big Build, November 5 to 9).

Habitat's celebrity ambassadors did their part in supporting the builds. In Korea, Lee Jae-ryong and his wife Yoo Ho-jung were among the blitz build volunteers. A few months later, Filipino actor Derek Ramsay worked alongside youth volunteers and members of the Katuwang, Pamana, and Bayanihan communities of the 1999 Carter Work Project to plant tree saplings and to paint houses.

Habitat homeowner Edwin from Pamana village said he wanted to serve the community in appreciation of the help he had received from others. He shared how he was able to raise five children and put them through college.

Find out more about Habitat's work and our supporters through our e-newsletter, the Asia-Pacific Update. Subscribe now.