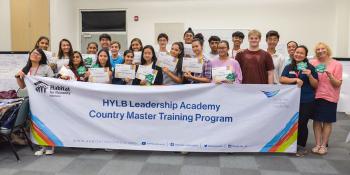 The Habitat Young Leaders Build's Leadership Academy and toolkit equip young people with self-leadership skills and enable them to better lead others.
Developed in partnership with the Center for Creative Leadership, the 10-module training includes two modules on sustainable communities as an introduction to the United Nations' Sustainable Development Goals. Participants also learn about the need for decent housing, and identify specific community actions and projects that support their community.

Since the Leadership Academy's launch in December 2017, more than 14,200 young people have gone through the training in Cambodia, India, Indonesia, Nepal, and the Philippines. A total of 380 youth are now certified volunteer facilitators. Bangladesh will be offering the training program in the coming months.

Trained youth leaders have implemented 169 community projects including proper waste disposal, health and hygiene promotion, library set-up, environmental sanitation, riverbank cleaning-up, fundraising, among others.