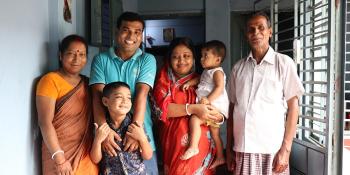 Ashish's life might have taken a different course if his parents had not built a new home with Habitat for Humanity Bangladesh. Without decent shelter, they would still be afraid whenever the weather turns bad. Ashish's young son would also have to do his homework on the bed, as his father had done for many years.

But a safe, secure home laid the foundation for a better life. "I was the unemployed son of a poor family. Today, I have social standing and a decent life. It was possible because of Habitat's support. My family and I will always be grateful," said Ashish who lives in Raghurampur Majhipara, a village in north-central Mymensingh district. 

He recalled that in 2000, nearly two decades ago, Habitat Bangladesh's staff were in his village to survey housing needs. His parents could not afford to repair their windowless bamboo house after it had been badly damaged by a storm. So they approached Habitat Bangladesh for help in rebuilding their home.

With the help of a kind neighbor, Ashish's parents were able to make a down payment of 3,000 taka (over US$35) for a five-year housing loan. Together with two other families, they became the first Habitat homeowners in Mymensingh.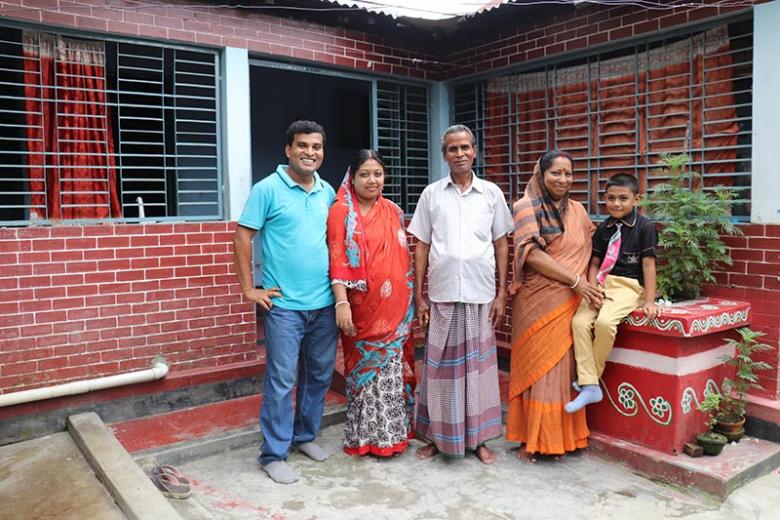 As Ashish was already 22, he and his parents each needed their own rooms. They took loans to provide the additional construction materials for building a 27-square-meter house that was bigger than Habitat's core houses in Bangladesh.

Although he wanted to be a doctor, he stopped his studies at the age of 16 after his grade 10 examinations. He gave private tuition to supplement his family's income. With the money he earned, Ashish was able to buy food and pay for household expenses. He could also afford new clothing for his parents for religious festivities.

When Habitat Bangladesh started building more homes in his community, Ashish's life began to change. To improve the rate of repayment, Ashish was hired by Habitat Bangladesh in 2001 to monitor and collect monthly repayments from families. In August 2005, he became a construction supervisor with Habitat when the new position was created.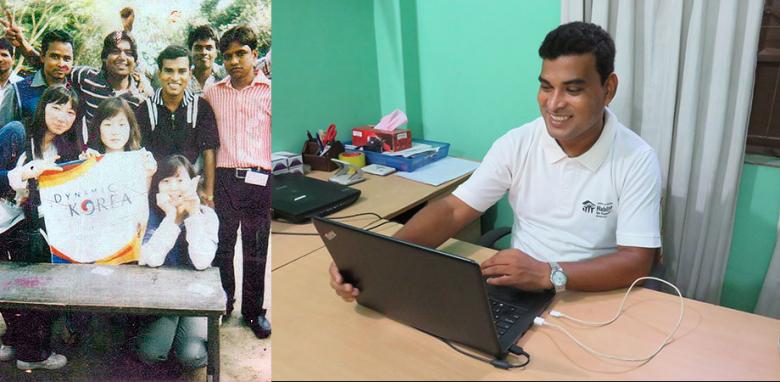 "That was a new beginning for me as I had a new meaning in life," Ashish recalls. With a stable job, he could repay the loans his family had taken to build a larger house and buy appliances and furniture on hire purchase.

He became the bread winner when his father Himangshu Chandra, who had typhoid, lost his source of income. "All the responsibilities of the household fell on my shoulders."

When Ashish turned 30, he delayed his arranged marriage so as to expand the house and install a tube well. He married Orchona in 2010 and they have two children Aditta and Rakhi, aged 7 and 2 respectively.

Despite having to provide for his family and caring for his mother who has health problems, he was able to further his education. In 1998, Ashish enrolled in a government polytechnic and completed a diploma course in engineering. Ten years later, he obtained his Bachelor's degree in social science. In 2018, he graduated with a Masters degree in development studies from a public university.

After two decades of involvement, Ashish identifies with the cause of secure, affordable housing. "I will continue to take personal responsibility for achieving the mission and vision of Habitat."