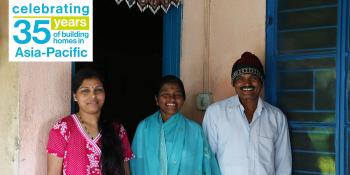 The year 2018 is a milestone for Habitat for Humanity as we celebrate 35 years of building homes in the Asia-Pacific region. It is also the 35th year that former U.S. President Jimmy Carter and his wife Rosalynn are working alongside Habitat volunteers at the annual flagship event named after them.
Malan's home is among the 4,290 homes that the Carters and more than 100,000 volunteers in 14 countries have built over more than three decades.

When one enters the home of Malan, the eye is drawn to the garlanded picture of her late son on the wall before the gaze turns to neatly stacked, glinting pots and pans in the next room.

She also has an album filled with pictures of the time when she was among 100 families building new homes at the 23rd Jimmy & Rosalynn Carter Work Project in Lonavala, India, in 2006. 

Malan, 51, used to live in a mud house on a hill near Lohagad Fort. Her old house was about 6 kilometers from the Carter Work Project site in Patan village, Malavli. During the monsoon season, her mud house would become wet and muddy from the rainwater that seeped in.

Where she used to live, her family was also far from any medical facilities. When her 16-year-old son Navnath fell ill many years ago, Malan could not take him to the doctor in time. She was devastated when her son died.

For several years after her son's death, Malan became depressed and found it increasingly difficult to leave the house. She had no steady source of income since she could not take on regular work.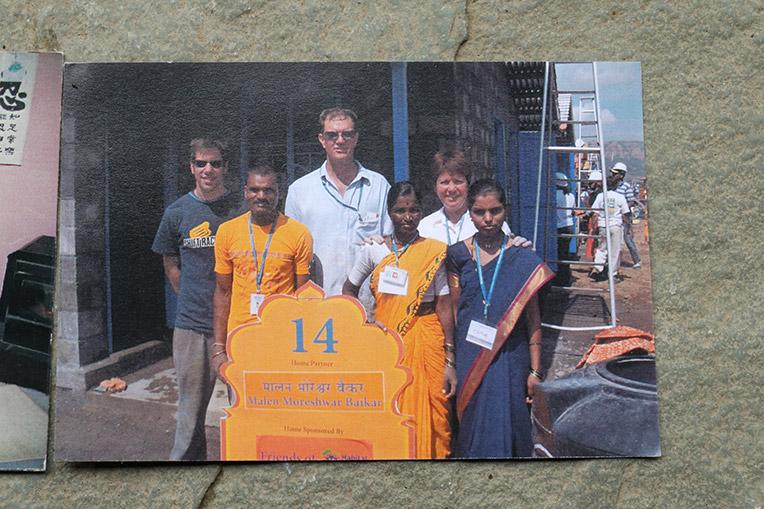 Almost 12 years ago, she learned about the Carter Work Project through her self-help group that partnered with Habitat for Humanity India for the special build. Together with her husband Moreshwar and her daughter Surekha, Malan joined other families who worked with 2,000 volunteers to build 100 homes.

Malan started tailoring clothes after moving into her new house. Now, both Malan and her husband work as daily wage laborers on nearby farms. They make ends meet by doing odd jobs outside the farming season. As they grow older, however, they find it difficult to work continuously.

Malan began to find new meaning in life when she took on a new role. As president of a newly formed community society, she was responsible for taking care of the needs of the families at the work project site. Gradually, she was able to come out of her depression. It helps that she is living in a community of Habitat homeowners with improved access to educational and medical facilities. 

As she proudly showed off the rooms and the toilet inside her house, Malan's eyes glistened with tears when she remembered her late son. She remarked: "Now, in this area, we are close to medical services."

At the 2018 Carter Work Project, a news article quoted Rosalynn Carter as saying she was  surprised to learn that a community was forming among future Habitat homeowners. In the case of the 2006 work project in India, strong, stable homes help build a strong, stable community. Malan has come a long way since her struggle with depression many years ago. Through shelter, we empower.

Find out more about Habitat's work and our supporters through our e-newsletter, Asia-Pacific Update. Subscribe now.