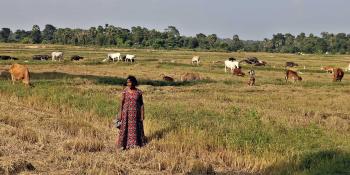 Look how far we have come
Through the EU-funded "Homes not Houses" project, Sri Lankan families are building better lives.
For people like Nalini's family who live off the land, the years of displacement during the decades-long civil war in Sri Lanka were particularly tough. "There were no shops nearby so everything had to be cultivated, grown and home-made. We lost all our assets during the war and my greatest worry was how to secure a good marriage for my daughter," she said.

During the war-torn years, they had to contend with the demands of the Tamil Tiger rebels. In addition, they had to manage their relationship with the majority Sinhalese community in the North Central Province that bordered their village. The opportunity for change came in 2017 when Nalini and her family were among the first in Sinnawattai village to build homes with compressed stabilized earth blocks. Despite various challenges including access to the remote village, 39 families in Sinnawattai partnered with Habitat for Humanity Sri Lanka under the European Union-funded "Homes not Houses" project.

Nalini and her husband Sivaprakasam, both 64, still work in the paddy field and tend their cows and goats. Now they can earn about 15,000-20,000 Sri Lankan rupees (US$75-100) a month, double their income before they built their own home.

From the original pair of goats that Nalini's family received as part of the project's livelihood program, the herd has grown to 50. With the support of Habitat, the couple has fulfilled their goal of providing their only daughter Vadivalagi with a respectable dowry consisting of 50 goats and a brighter future.

"The house and the goats enabled us to provide for my daughter when she got married. She and her husband are now happily settled in with us," Nalini said. "We only had a hut, and I still keep it behind our new home as a reminder of how far we have come. We have always made everything with our own hands, so building the house ourselves has brought me great satisfaction."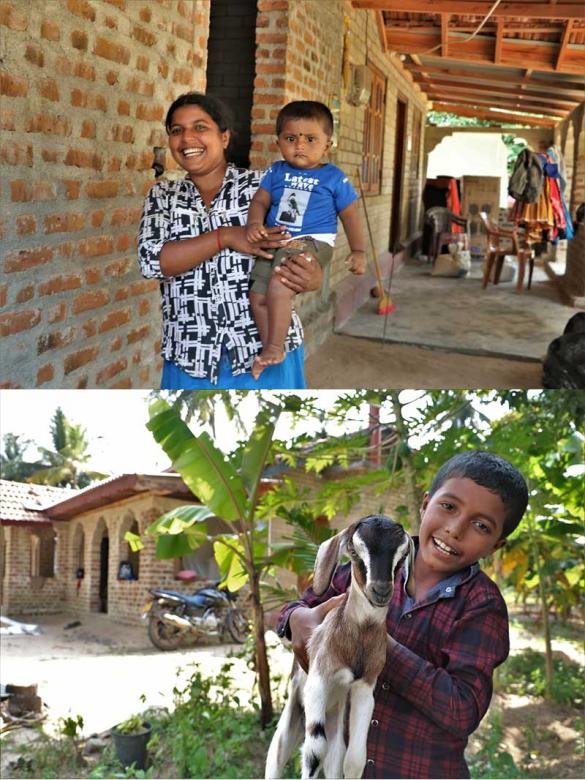 Beyond livelihood, Nalini's grandson Theekshan, 8, is also pleased. His favorite pastime is to play in the paddy field with his four-legged friend, a kid named Kannukutty. Speaking of her grandson, Nalini said, "He is very lucky. He never has to be dragged from one refugee camp to another like I had to with my daughter. He has his own room now."

In 2020, her family welcomed another grandson Thanushan. Living in a stable home, Nalini feels content and peaceful. She said, "My grandsons are now able to get an education. We get to spend time with them in our old age. I will never forget how things were and how things have changed for us as a family."

As of June 14, 2021, a total of 2,370 returnee families have built or repaired their homes with Habitat Sri Lanka in the multi-year "Homes not Houses" project that began in January 2016. In addition, more than 46,000 people benefited from the project's flanking measures implemented by Habitat's partner World Vision Lanka. Such measures included disaster risk reduction mapping, establishment of small and medium-sized enterprises, and other capacity development activities. To improve communities' resilience, culverts and roads were built, and flood water drainage systems were renovated.