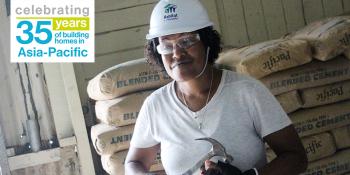 Maria, 34, comes from Namosi koro (village in Fijian) in Namosi province on the main island of Viti Levu. In a community where iTaukei or indigenous traditions are strong, the responsibility of building shelter lies squarely with the men. Her interest in carpentry in a male-dominated field was ignited because of a disaster.
Following 2016's Cyclone Winston, Habitat for Humanity Fiji hosted international volunteers who arrived to help in the rebuilding efforts. A year prior to the disaster, Maria had joined Habitat Fiji as a community development officer before moving on to host international volunteers under Global Village program. While out in the field, she noticed that most of the volunteers who helped to build homes were women who did not have any carpentry training.

Questions raced through her mind as she struggled to quell her interest in becoming a carpenter. "It would not have been acceptable to my family, let alone the community," says Maria. Her conversation with a young female volunteer from overseas cemented her desire. "She told me, 'we do have qualified and active (female) carpenters back home'," Maria adds.

Hearing the volunteer's response, Maria took the first step toward becoming the first female carpenter in her village. It was not easy, however, to gain acceptance. Maria was discouraged by men in the same field from continuing in her carpentry job. "As an iTaukei (indigenous) young woman, I was told I should observe cultural norms."

Refusing to give up, Maria pressed on. "Anything is possible if you have faith in what you believe," she says. All this time her family did not know what she actually did for a living except that she was working for Habitat for Humanity Fiji. Her secret was finally revealed when a Canadian volunteer team invited Maria's parents to a build where they saw her working. They took the news surprisingly well. "My parents saw it as an opportunity for change and prosperity in our community," she says.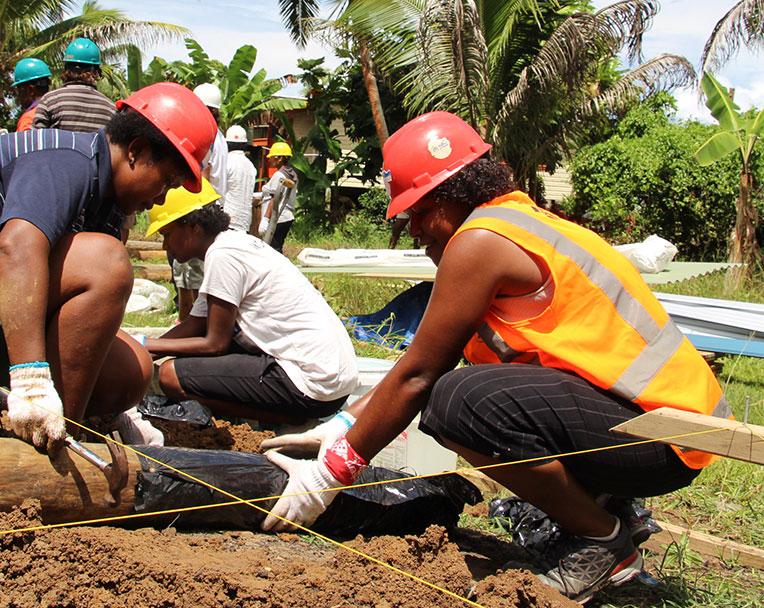 The opportunity came in July 2018 when Habitat Fiji launched the "Green Jobs for Women" program that was funded by the Asian Development Bank. The 18-week course prepared women to work in the construction field and included hands-on training in building homes.

Maria enrolled in an accreditation course for the Certificate II in Carpentry conducted by the Australia-Pacific Technical College under the ADB-funded program. Her batch included 20 women from diverse backgrounds, including wives and single mothers, who built 20 cyclone-resistant homes in various villages.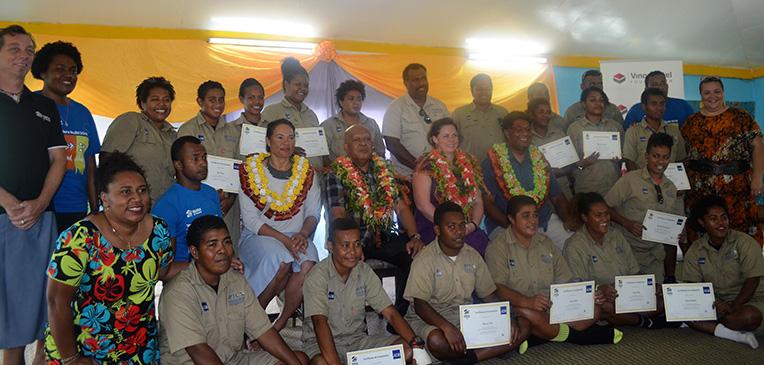 In December 2018, the trainees were awarded with the "Build Back Safer" certificates by Habitat Fiji. Dr. Josefa Koroivueta, Fiji's Permanent Secretary for Women and Poverty Alleviation, was the chief guest at the ceremony where the certificates were presented. He was quoted by local media as saying: "The training brings joy to families in need of shelter, roof and security. At the same time, it serves as a tool for these graduating women to build their livelihoods, build their resiliency and be empowered.

Maria was the first to blaze the trail in her village with many more young women set to follow in her footsteps. As Dr. Koroivueta put it, such progress by the women is encouraging. "It's good for the economy, and it's good for families, it's good for individuals and it can be a career, it can be a good income, a good wage, it just gets everything going."

Find out more about Habitat's work and our supporters through our e-newsletter, Asia-Pacific Update. Subscribe now.