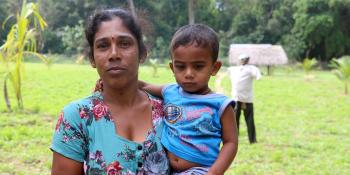 For my children's sake
Through the EU-funded "Homes not Houses" project, Sri Lankan families are building better lives.
Growing up during Sri Lanka's decades-long civil war, Jeyanthini had to move from one refugee camp to another. The lack of stability took a toll on her education. She had to drop out from school in the eighth grade. "All I wanted was to make sure my children would get a sound education," said Jeyanthini, 36. Since she has green fingers, she wished to have a big garden and a neat and safe home.

Jeyanthini fulfilled both her dreams by partnering with Habitat for Humanity Sri Lanka under the European Union-funded "Homes not Houses" project. She opted to build her house with eco-friendly compressed stabilized earth blocks or CSEBs after learning about the advantages of using such appropriate construction materials.

"We used to suffer in the scorching heat in our temporary shelter but this CSEB home is cool and comfortable. My youngest son sleeps in a hammock during the day without the fan," she said.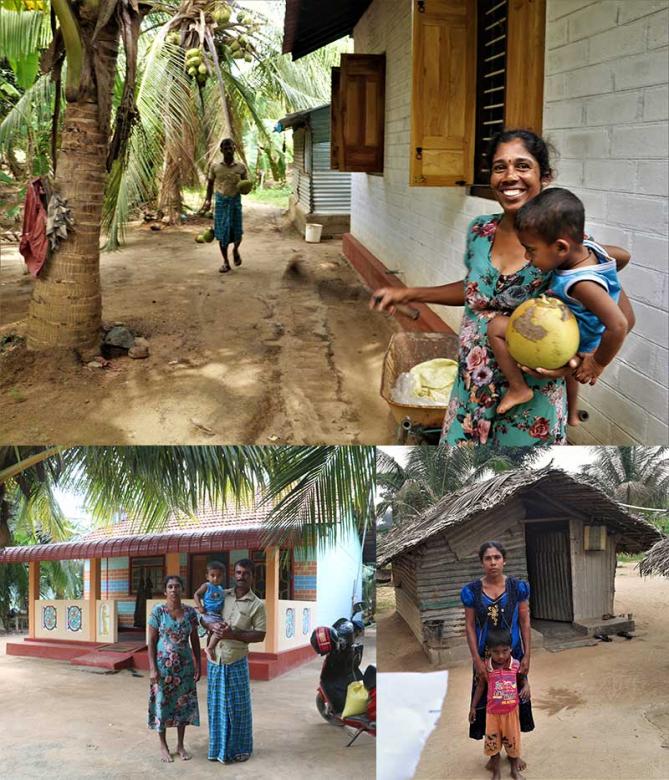 In addition to building a safe home with a door that can be locked, Jeyanthini's family received Habitat's support in installing a water pump to irrigate their three-acre farm. Chillis, peanuts, coconuts and long beans are grown. "We harvest nearly 500 coconuts per week and can easily make about 30,000 Sri Lankan rupees (about US$150) in profit alone. Earlier, we could only depend on my husband's income as a daily wage earner," she said.

With enough savings, her family could paint the walls in the pastel colors that Jeyanthini likes. Her older son, Thevipuram, 4, is in primary school and is doing well in math and science. She would wait for him to come home from school in the afternoon while rocking Satheeshan, 1, to sleep. "Ever since we moved into this home in 2018, we have been blessed with good health and good income."

As of June 14, 2021, a total of 2,370 returnee families have built or repaired their homes with Habitat Sri Lanka in the multi-year "Homes not Houses" project that began in January 2016. In addition, more than 46,000 people benefited from the project's flanking measures implemented by Habitat's partner World Vision Lanka. Such measures included disaster risk reduction mapping, establishment of small and medium-sized enterprises, and other capacity development activities. To improve communities' resilience, culverts and roads were built, and flood water drainage systems were renovated.