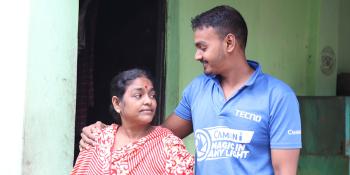 Growing up in a Habitat home in Bangladesh, Biddut is motivated to be as diligent as his parents and has set his sights on taking over the family's home-based business.
"I learned the value of hard work from my mother and my father who encouraged me to help in the store. I want to help my parents expand our business, raise my own family and care for my parents," says Biddut, 22, who is studying marketing in a local college.
His parents Bivu and Lalita operate a sundry goods store in their Habitat home that was built more than 18 years ago. Biddut and his parents live in Mymensingh district, north of Bangladesh's capital Dhaka. In the village of Raghurampur, their shop is a popular one-stop place for the community's basic needs. Customers range from mothers who buy ingredients for cooking, to children looking for snacks.

Biddut mans the store with his mother Lalita, 45, while his father Bivu, 55, goes to the local market every day to replenish supplies. When the business is good, they can earn up to 3,000 taka (about US$35) a day — more than 10 times the store's takings in the beginning.

She recalled setting up the store at a time when her husband Biddut lost his job in local bakery that had gone bankrupt. "Without this house I won't be able to raise my family and set up my business. This house has been a blessing and great support for us — helping us survive tough times as we work hard to have a better future," Lalita shares.

As their family gained stability, Lalita took another loan of 20,000 taka (over US$200) from a local cooperative to expand their home in January 2019. With more space, she could host her eldest daughter Bithi and her family when they visit. Bithi, 26, who has completed her master's degree, is now living in Mymensingh city after her marriage in 2018.

Lalita is proud that she could use the store's earnings to pay off the housing loan of 42,000 taka on her home after more than seven years. Her family was among the first few hundreds of families to build their homes with Habitat for Humanity Bangladesh when it started working in Mymensingh in 1999. Since then, 1,156 families in Mymensingh have worked with Habitat Bangladesh to build better lives through incremental home construction.