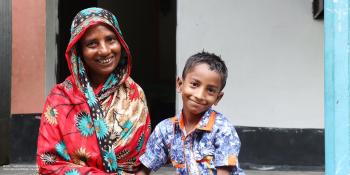 Rebuilding life after loss
At a young age, Aminul had experienced tragedy. He was four years old when his little sister died in a fire that broke out at home in north-central Bangladesh.
The fire was believed to have been caused by flames from an uncovered kerosene lamp. Their straw-and-jute house in Charpara village, Jamalpur district, was razed.

That night, Aminul's parents had gone out to fetch water from a neighbor's house. With the help of their neighbors, his parents managed to rescue him and his 13-year-old sister Safura who had multiple burns. Unfortunately, 1-year-old Sarufa could not be saved. Several years later, the family had to deal with further loss following the deaths of Aminul's father and Safura.

"I prayed to Allah to give me strength and support so Aminul could grow up and have an education, and do what Allah desires," said Samala when recounting what happened.

Aminul, now aged 10, is a grade 2 student in a local school. Asked about his ambition, he replied shyly: "Whatever Allah makes of me. I will do my best to help my mother."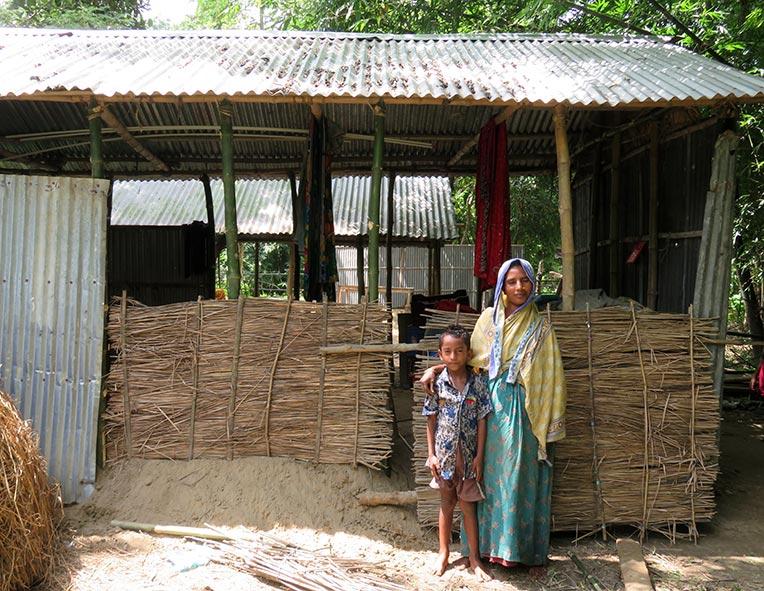 For several years after the fire, Samala and Aminul had stayed in a temporary shelter that was constructed with the 3,000 taka (US$35) financial assistance from the local government.

Made of tin sheet, jute stick, bamboo and straw, the shelter was built on the same spot where their old house stood. They got water from a shallow 14-meter-deep tube well but the supply was not reliable during summer. They used an open pit toilet with 'walls' made of polythene sheets held up by bamboo poles.

In September 2018, they partnered with Habitat for Humanity Bangladesh to rebuild a new home with safe sanitation in a project funded by the Korea International Cooperation Agency. Altogether, 41 families were supported under the partnership.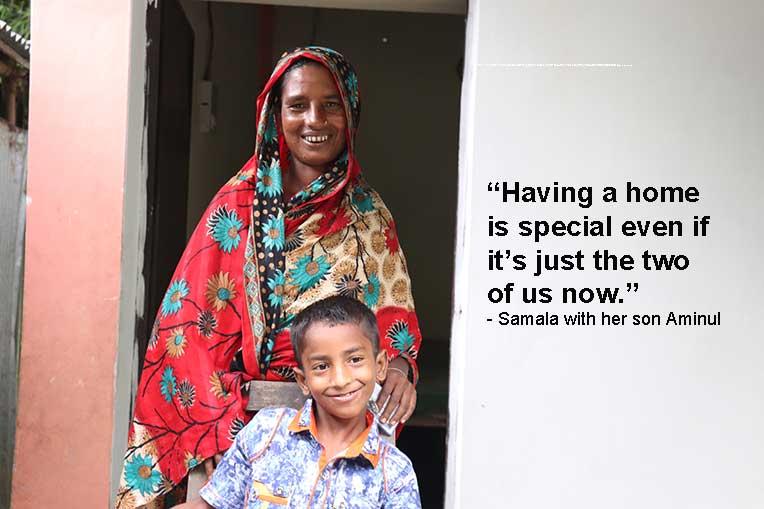 In their one-room Habitat home, the family gets electricity supply from the central government at a subsidized rate. Samala bought a ceiling fan that provides ventilation and relieves the summer heat. A fence has also been built around their house using the jute sticks from their temporary shelter.

With a greater awareness of fire risks, Samala now prepares food in a hut a few meters away from her house. There, she cooks meals consisting of rice, pumpkin, vegetable curry and dried fish. Occasionally, if she has more money, Aminul's favorite dish — chicken — will be served.

Samala earns an average of 200 taka a day when she can find work picking potatoes and fruit and from selling bananas. Although her earnings is meager, Samala is grateful. "Having a home is special even if it's just the two of us now. When Aminul grows up and has his own family, they will have this house even long after I'm gone."

Habitat for Humanity Bangladesh has been working with families like Samala's to build strength, stability and self-reliance through housing since 1999. Find out more at habitatbangladesh.org or connect via facebook.com/HabitatBD