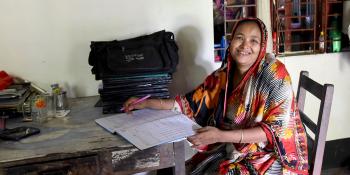 Sakina has come a long way since she was a young bride of 17. She took on the responsibility of providing for her family after her husband had a stroke in 2011. Now she earns about 3,500 Bangladeshi taka (US$40) a month as a community health worker in pregnancy and newborn care with a national development organization.
In the early days of her marriage, home was her parents-in-law's house in Bhandarikathi, a village in Barisal district, south-central Bangladesh. When her two brothers-in-laws started their own families after marriage, the house became more crowded.

Sakina and her husband Alomgir were able to have their own living quarters before their first child was born. The traditional house was given by her husband's family. It had bamboo pillars and walls made of elephant grass and corrugated galvanized iron sheets for its roof.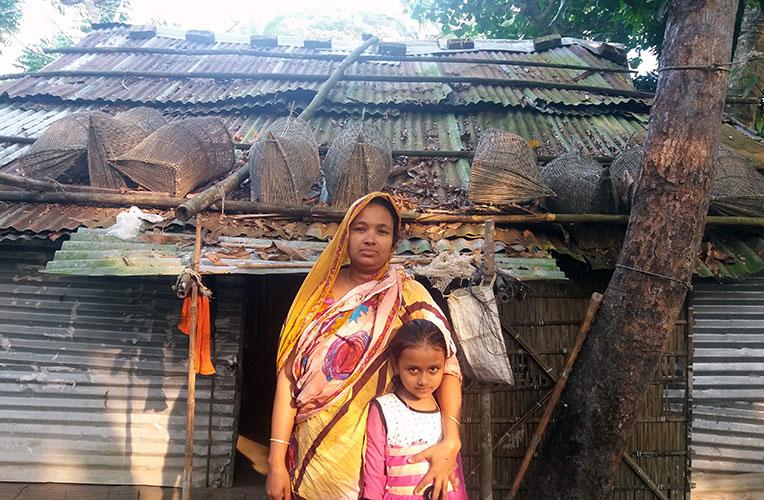 The family's income used to come from a tea stall that Alomgir ran in the local market. His business was doing well until he had a stroke and became partially paralyzed. Sakina struggled to pay for her husband's medical bills while caring for their son Rakib, then aged 10, and their one-year-old daughter Sadia.

After a relatively long period of treatment, Alomgir, 48, has recovered to a certain extent but he can neither exert strength nor work for too long. By making or repairing fishing nets, he can make about 400 to 500 taka (US$5-$6) a month.

Sakina recalls: "We had quite a nice home for several years. However, as time went by, our home became worn out, rusty and broken in several places. We needed to repair the old home very often, especially during the monsoon, to stay dry." During heavy rains, the couple had to cover all their belongings with polythene sheets and send their children to a neighbor's house for safety.

Alomgir would also get colds and coughs and he was not the only one. "With a damp floor, poor air and inadequate light, the house was unhealthy and our kids would get sick," says Sakina.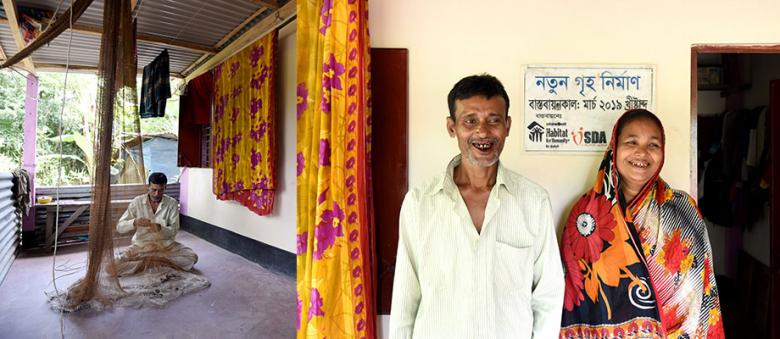 It was only after she became a Habitat homeowner in May 2019 that she could focus on the future. About three months after moving in, Sakina constructed a room at the back of the house for her son Rakib, now 19, who is studying sociology in a local college. Her daughter Sadia, 9, is a student in the third grade.

"This new home has improved our health and significantly reduced medical costs. My dream is for my kids to complete their education and be established in life," Sakina shares. "This house has given me the foundation to build a better life for my family," she says, adding that she is happy and confident about the future.

Sakina's family is among five families in Bakerganj upazila, Barishal district, who built homes under the partnership between Habitat Bangladesh and the Ahmad Family Fund. That project also supported a total of 40 home renovations and installation of three deep tube-wells. Since October 2017, the partnership has enabled more than 380 families in five districts to improve their lives through decent housing and adequate water and electricity access.

In two decades of working in Bangladesh, Habitat for Humanity has partnered with over 1,200 families to build strength, stability and self-reliance through shelter. Visit habitatbangladesh.org for more information or follow facebook.com/HabitatBD