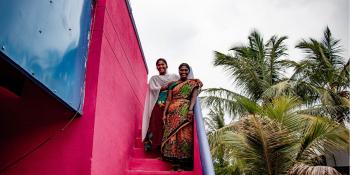 From surviving to thriving
In a year dominated by COVID-19, it may be easy to overlook disaster-affected families whose lives have been transformed through safe, secure housing. We share stories of two Habitat families in India who rebuilt their homes and lives following the 2004 Indian Ocean tsunami.

Mahadevi was at a local market on December 26, 2004, when she heard people talking about huge waves that were going to hit India's coastal areas. Worried about her three young children, she rushed to get home. "My children were safe but the tragedy had just begun," said Mahadevi, recounting the day when the Indian Ocean tsunami hit Killai village, Cuddalore district, Tamil Nadu state.

Her husband Mohan had gathered their children up and run out of the house before the waves hit. "We just ran and ran before the tsunami engulfed the whole village," said Mahadevi's daughter Praveena who was 6 years old when the disaster struck. "When we returned, all the houses were flattened."

The family of five took refuge in relief camps before moving to a transitional shelter. With the support of Habitat India and its partners, Mahadevi and her family was finally able to settle in into a secure, permanent home in 2006.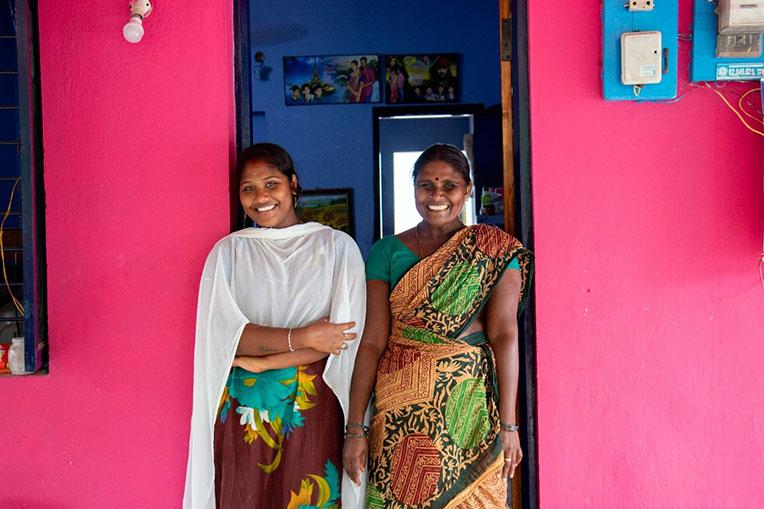 A decent home opened up new opportunities. Mahadevi said, "Fifteen years ago, we only thought about catching fish from the sea and selling them to make a living. For a long time in our lives, nothing changed beyond mere subsistence. A thatched roof was the best we could have hoped for.

"Our lives are not the same anymore. In the aftermath of this tragedy, things have turned out for the best. We now have a house that we call our own. My children have grown up and one has gotten married."

Praveena, the middle child, graduated from college with a major in science. In March 2020, she married Shiva, who is a fisherman. Pratap, the eldest son, followed in his father's footsteps to take up fishing full-time after completing the equivalent of high school. The youngest daughter Prasanna is a high school student.

The family has greatly improved their core house since moving into it in 2006. An additional bedroom and a new kitchen were built while the verandah was painted for Praveena's wedding.

Fisherman Nagarajan, who lives in Cuddalore district, could also recall the horrific day. "When the tsunami hit the village, we ran for our lives to get to higher ground. Our flimsy thatched houses could not withstand the towering waves. They were flattened to the ground. Twelve people from our small fishing village were lost."

In the aftermath, Nagarajan and his family of six joined many others in a relief camp. For a year, his family lived in a tent provided by a relief agency. Having their own home at last opened the door to positive changes.

"We were fishermen, barely making ends meet. Now, 15 years after the tsunami, our economic condition has vastly improved. For many years after the tsunami, we fished only in the backwater and rivers, too scared to venture out to the sea. With time, we started fishing in the high seas again," said Nagarajan.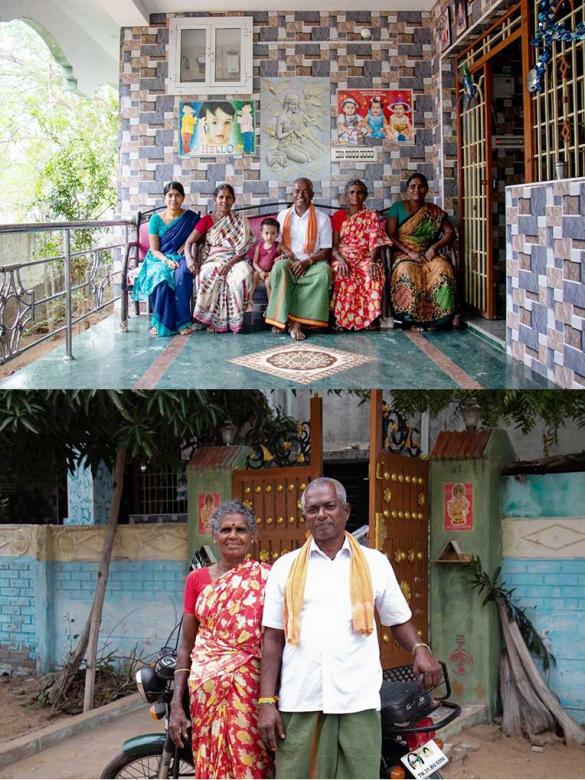 He added, "Thanks to Habitat who gave us the foundation to rebuild our lives, I could extend my house by building three more bedrooms, a hall and a kitchen." His sons Punaraja, Vedmungan and Manigandan are married with children. His youngest daughter Rasjeshwari had graduated from college in 2020.

Mahadevi and Nagarajan were among more than 11,000 tsunami-affected families who rebuilt their homes and lives as of September 2009 through Habitat India's response. In addition, Habitat India trained about 27,000 families on the country's east coast through disaster mitigation and preparedness programs.

The 2004 Indian Ocean tsunami was one of the worst disasters in recent history. More than 225,000 people died or disappeared and another 1 million people were displaced. Habitat for Humanity's overall response to the 2004 Indian Ocean tsunami has assisted about 22,500 families including those in Indonesia's Aceh province, Sri Lanka and Thailand.