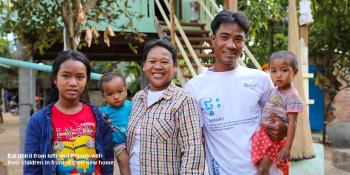 Be it families, volunteers or skilled workers, everyone contributed to the 2019 Cambodia Big Build in Siem Reap to create a brighter future.

SIEM REAP (January 31, 2020) — Two months after moving into her new home, Eat still dreams of the volunteers with whom she worked together at the 2019 Cambodia Big Build. She is not the only one with fond memories. "I still miss the Big Build event; I have lots of memories back then. We had a chance to meet and build our home with all the volunteers and Siem Reap's deputy governor," said another homeowner Chiep.
The bonds that were developed during the week-long special build continue as families create better lives in safe, secure homes. As Bernadette Bolo-Duthy, Habitat for Humanity Cambodia's national director, noted at the opening ceremony: "Aside from building homes, let's also remember to build relationships."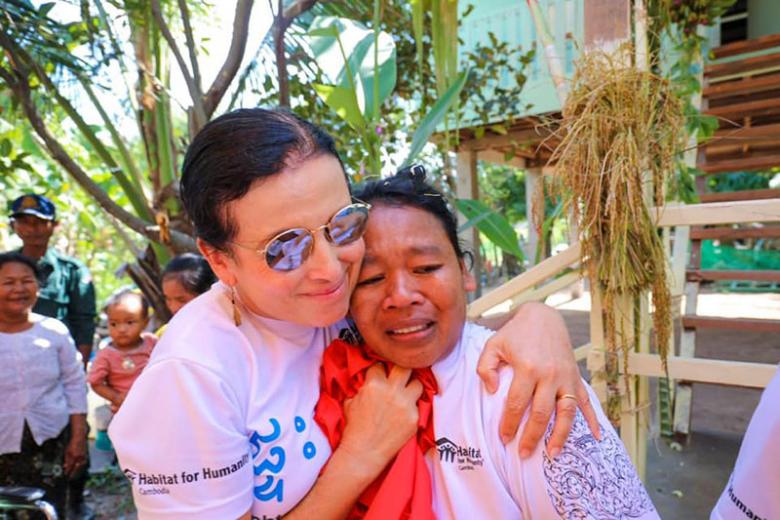 The 2019 Cambodia Big Build, held from November 17 to 22 in Siem Reap province, drew close to 100 volunteers from the United States, Canada, New Zealand, Hong Kong, Korea, Australia and Portugal. They worked alongside nine Cambodian families in building safe and decent housing in Sambour village, Pouk district. All the families had moved into their new homes on the last day of the build.

The volunteers' efforts were recognized by Ly Samrith, Siem Reap's deputy governor. By partnering with the families to build new homes, the volunteers were helping to reduce the future homeowners' living expenses, he said.

Siem Reap, in the northwest of Cambodia, attracts over 1 million tourists annually to the Angkor Archaeological Park. Nonetheless, it is among the poorest provinces in Cambodia, according to a 2011 government report. Habitat for Humanity has been working in Siem Reap since 2007 to improve the lives of about 20,000 families through affordable housing, clean water and safe sanitation.

Affordable housing is essential for the country's economic development, said Chea Sophara, Minister of Land Management, Urban Planning and Construction, at an industry event in December 2019. Based on the National Housing Policy adopted in 2014, Cambodia will need an additional 50,000 homes a year until 2030 to meet the demands of an increasing population, rural-to-urban migration, and counter the adverse effects of climate change.

Habitat Cambodia's Bernadette Bolo-Duthy said: "Working to improve the housing conditions of vulnerable families will in turn allow them to build their resilience against disasters, and help create an enabling environment that sets them up to develop further."

For new homeowner Sai, feeling safe and secure made a big difference. Her old thatched house had no door. "Before, whenever we heard strong rains and winds, my children and I would get out of the house and stay in the field in the rain until it stopped," said Sai, a 32-year-old laborer. Now she and her family can stay indoors when the weather gets worse. What's more, her daughter and her son can study comfortably at home. "Both are studying hard."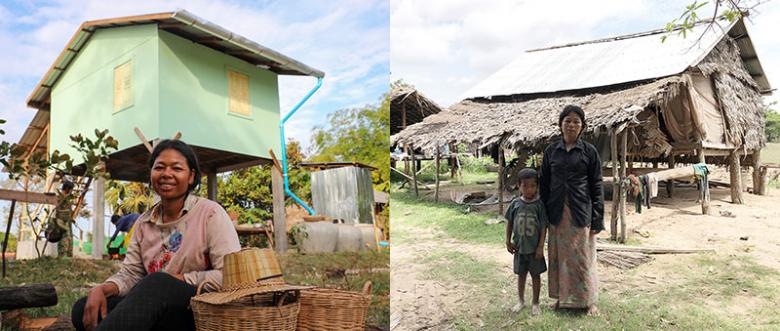 Ruk, 26, and Mom, 24, also worked on their homes together with volunteers. With their two children, they had lived with their relatives in a shanty in Sambour village with no access to their own toilet. They had to make their way through tall grasses surrounding their old house to relieve themselves. "Having a decent home with our own toilet makes us feel proud and secure. We no longer need to find work far away and leave our children just to save money for a house."

Earning an average of US$125 a month as laborers, Phlonh, 31, and his wife Eat, 30, had not dared to dream of a decent home. Most of their income is spent on food and their four children's education. The couple was happy and relieved when they found out that they were going to be future Habitat homeowners.

During the build, Phlonh worked hard alongside volunteers and skilled workers. He carried and hammered wooden posts in place, mixed mortar, and helped put up the corrugated iron roofing sheets. Taking a break from work, he looked at the house that was taking shape and smiled at his wife and his baby son in his arms. Phlonh shared: "We may not have finished school but we hope all four of our children would be able to pursue a higher education."

After moving in, Eat rated her new home highly. "It's the most comfortable time that we ever had...Our old house didn't even have proper 'closed' walls. I love this new house so much. It's really beautiful. We are no longer worried about rain and wind." As part of the training for homeowners, she learned about home maintenance and good hygiene. In addition, she gained livelihood skills in home gardening and livestock husbandry.

Another homeowner Phlen who is a construction worker also learned more building techniques, thanks to his participation in the Cambodia Big Build. "Without the help of Habitat and the volunteers, I don't think I will be able to save enough money for a proper home for my own family," said Phlen who earns about US$100 a month.

Other than having a decent home, his family has a proper toilet. "Before, we had to run to our neighbor's house to use the toilet, and it was really difficult, especially at night. I love every part of my new house."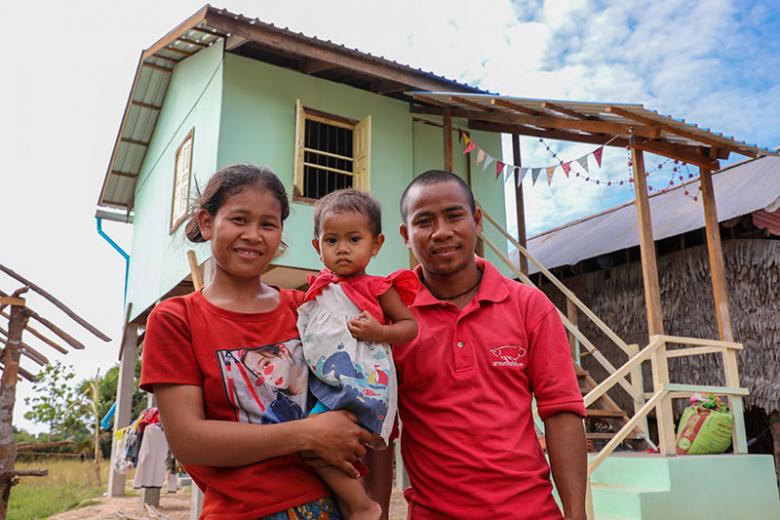 The homeowners' enthusiasm was matched by the volunteers' dedication. Amid the heat, team leader Olivia Wong encouraged her team mates, particularly first-timers, through light-hearted conversations.

"Aside from seeing the physical change in building houses, my experience in working with the community changes me as well. It helps me stay grounded and stay grateful for the life I have," said Olivia, a veteran Habitat volunteer since 2005. She also volunteered during the Cambodia Big Build in Battambang province in 2017. Currently, Olivia is chair of Habitat for Humanity Hong Kong's board.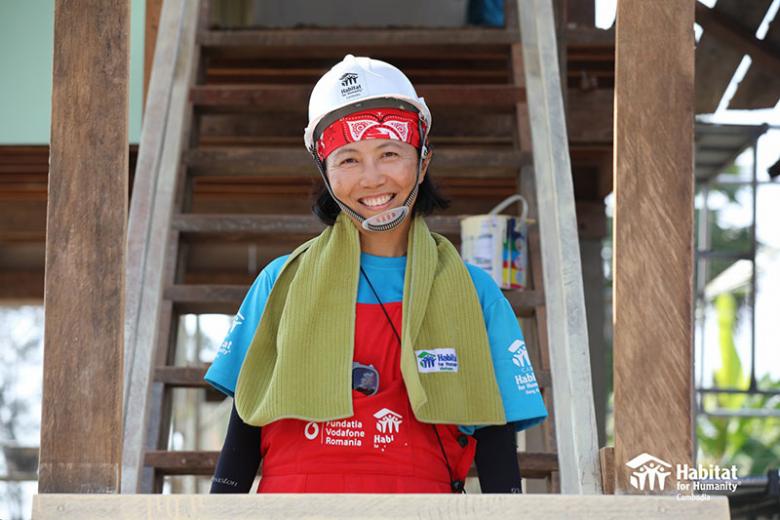 Other volunteers such as Siyath Sok also made their presence felt. Cambodian-born, his family settled in Canada after fleeing from the Khmer Rouge. In 2006, he and his parents were in Cambodia for two months to visit their relatives. When Siyath saw his relatives' stark living conditions, he wanted to encourage more Cambodians like him to volunteer in their country of birth.

After a volunteer stint with Habitat, he invited his wife and parents-in-law to join him at the Cambodia Big Build 2019. "This is the truest form of experience you can have to help provide a decent home. I want them to know the joy of watching your brothers and sisters feel proud of what they have," he shared.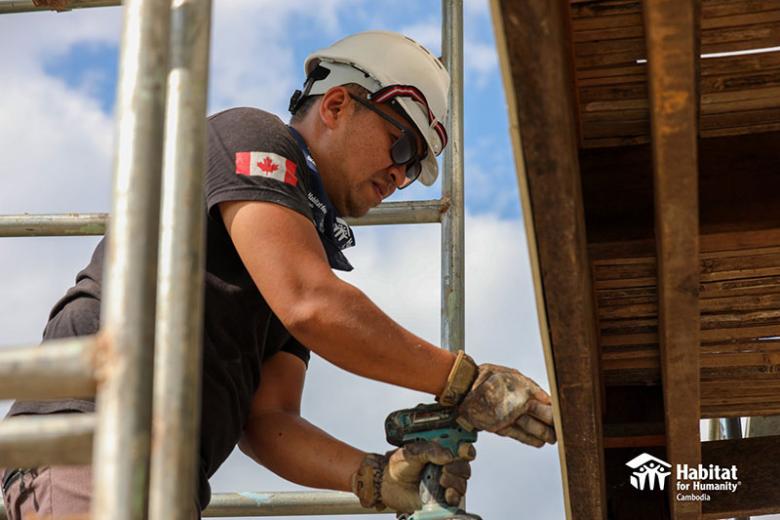 For experienced volunteer and school principal Helena Pina-Vaz, the 2019 Cambodia Big Build stood out for a reason. Her team mates comprised the mothers of her students who responded overwhelmingly when she invited them to the build.

"It is a special experience to have these ladies with me. We feel like we are representing Europe. Right now, there are already parents back home sending me messages that they want to be part of the next build in Cambodia. Hopefully, next time, we will have more teams of volunteers from Portugal," said Helena who also serves as the national director of Habitat for Humanity Portugal.

In addition to volunteers and future homeowners, skilled workers played a key role in ensuring the success of the Big Build. Peanh Chhai has been working with Habitat for Humanity Cambodia since 2010. From installing toilets, he has progressed to building entire houses in various Habitat projects in Cambodia.

Interacting with international volunteers has also improved his language skills, opened his eyes to other cultures, and broadened his perspective. "Do not only limit yourself to one thing. In building, do not only focus on the bricks, for example, think of the whole house. Be hardworking and self-disciplined. Try to learn something new. Today, you are skilled worker; tomorrow, you could be someone else," said Chhai.

Volunteer Kirsten Valentine, 22, took his advice to heart. Trained in construction technology, the new graduate from the United States was a pillar of support to her team. When it came to mixing mortar, she assured her team mates, "I got this." After the Big Build, Kirsten landed her dream job of site supervisor based in Florida, United States, in December 2019. She hopes to return to Asia and help improve the living conditions of vulnerable families.

Coming from all walks of life, Habitat's supporters continue to contribute their time and resources to ensure that everyone has a decent place to live. Since 2003, Habitat for Humanity Cambodia has enabled more than 70,000 families to build strength, stability and self-reliance through decent, affordable shelter. Beyond building homes, Habitat Cambodia supports families through technical expertise in safe and affordable house designs; water and sanitation programs; innovative approaches to housing integrating market development, housing finance and housing support services; advocacy for secure land tenure; and pro-poor housing solutions. Learn more at habitatcambodia.org or follow us on Facebook at Habitat for Humanity Cambodia.