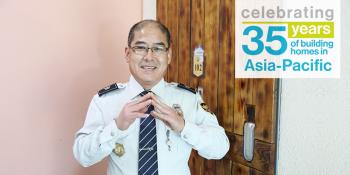 Jung-bae remembered the landscape well when he was building his new home in the west of South Korea. All around him were rice fields. He was among 16 families who partnered with local volunteers to build decent, affordable homes during the 2002 Korea Blitz Build. "We all worked very hard even though our feet constantly sank deep in the mud," Jung-bae, 54, said.
All the 485 volunteers slept in the local town hall, according to Jung-bae. During the weeklong build in Cheonan city, South Chungcheong province, the families worked hand-in-hand with the volunteers to install wooden structures and plaster board on the walls. They also filled insulation material in the interior walls, fitted water-resistant sheeting on the exterior walls and installed roofing sheets. To Jung-bae, it was hard work yet very rewarding. "Just think about it – there was nothing but rice fields here. But we built our houses in this place!"

During the build, his wife Gun-ae, now 44, had to put in almost 500 hours of her labor in his stead as he was suffering from acute asthma. "After living in this house, my asthma is almost gone now. This village is located at the foot of a mountain and the temperature is three to four degrees lower than Cheonan city. There is a lot of snow in winter but the air is clean and good."

After his health had improved, he started volunteering as a citizen police officer and directed traffic on busy roads. Having served for seven years, he is now the vice chairman of the citizen police with Cheonan Southeast Police Station.

Before moving into their Habitat home, his family of four used to rent a room in the neighboring province of Gyeonggi-do. He considered the 300,000 Korean won (US$280) monthly rent as money down the drain. It was different when he was repaying the loan for his Habitat home. With each repayment, his sense of ownership grew. "I really like that."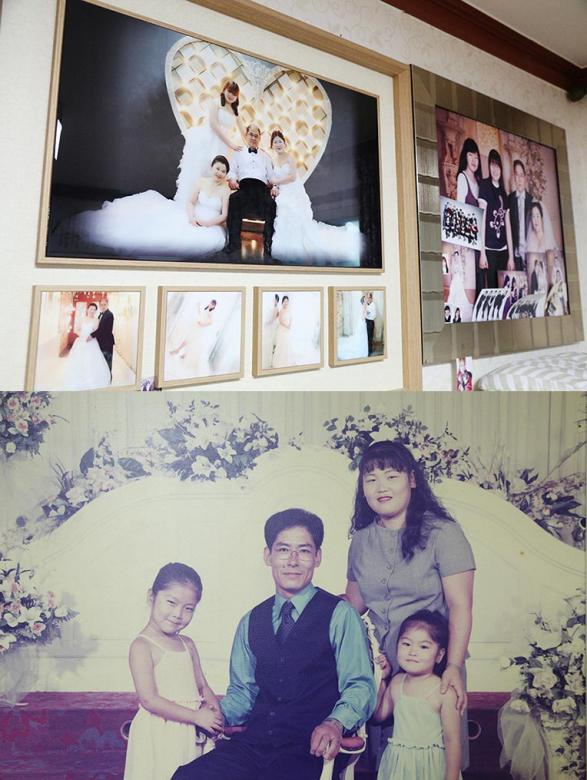 It has been more than 10 years since Jung-bae moved into his home. Family portraits, taken every decade, lined the wall. Another tradition is also retained. "Whenever my family gets together in winter, we have a barbecue party. Sometimes my daughters bring their friends home or we invite other homeowners who have remained our friends since we moved in," he said. Such occasions were precious memories that he would not have if he had continued to rent a place.

The village where Jung-bae lives is called the Village of Hope after Habitat Korea held a naming contest. When the Habitat homeowners first moved in, the nearby Mokcheon Elementary School was on the verge of closing down due to dwindling student numbers. With the enrolment of the children of Habitat homeowners, Mokcheon could continue to operate until now.  

The children who were once elementary school students are now in high school or in college. "Most of the children have grown up well," said Jung-bae. His eldest daughter Ji-yeon, 24, is an office worker while his second daughter Ha-yeon, 22, is a university teaching assistant. "My ultimate goal in life is to see my two daughters get married to good men from decent families."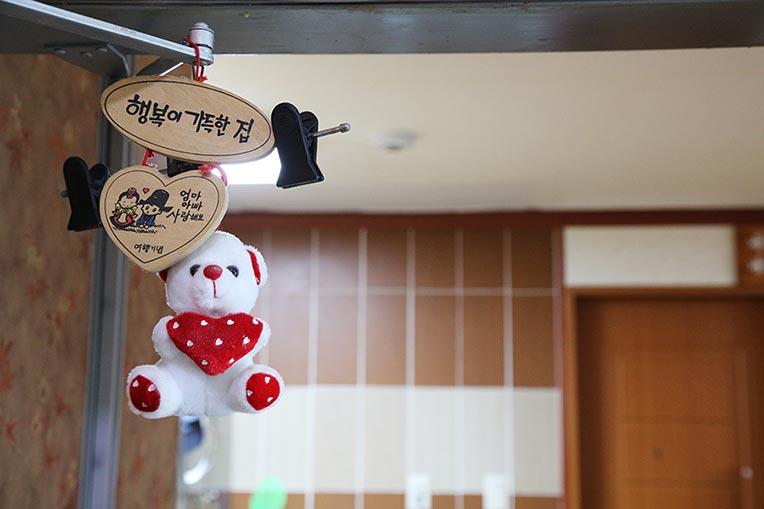 While his daughters now live on their own for easier commute to work, they have made their presence felt. A gift from younger daughter Ha-yeon hangs on the door. It says in Korean: "Home sweet home. I love dad and mom."

Find out more about Habitat's work and our supporters through our e-newsletter, Asia-Pacific Update. Subscribe now.