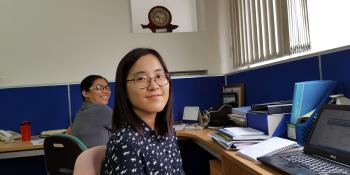 Working toward a common purpose
Su Jeong Kim was looking for a career stepping-stone when she applied to Habitat's international volunteer program. What she got is a life lesson on what can happen when people work toward a common purpose — and a love for noodle soup and motorbikes.
Habitat's international volunteer program places volunteers like Su Jeong in one of the countries where we work for durations of six to 12 months or more. Some volunteers use their construction skills as builders and site assistants. Others apply their professional skills in social media, grant writing, volunteer coordination, research and other administrative roles.
For Su Jeong — who is from South Korea and holds a graduate degree in international development and cooperation — volunteering with Habitat Vietnam has been a way to pursue her interests in sustainable urban development and human health. "Habitat is trying to improve the living standard — economic, social and environmental — of the community," she says.
"Before my internship with Habitat Vietnam, I was interested in partnerships among different stakeholders in development work. During my internship, I have experienced what really goes on in the field. I have learned that cooperation and communication among stakeholders is not always easy, but it's very important."
"All these people are getting together with one purpose, to help improve the conditions of the places that people call home."
— Su Jeong Kim, international volunteer for Habitat for Humanity
Su Jeong has translated documents and worked on ways to strengthen the relationship between Habitat Vietnam and Habitat Korea. She also has worked to identify Korean companies doing business in Vietnam that are interested in supporting Habitat's work and volunteered on house builds sponsored by Korean businesses.
While the work has been interesting, Su Jeong also has enjoyed learning a different culture. "All of the motorbikes on the street were kind of a shock when I first arrived but now I am a lover," she says. "And though the Vietnamese language is not easy, I am trying to learn it better to understand the culture. I really like Vietnamese food — bún thịt nướng (rice noodles with grilled meat), phở (noodle soup) and bánh xèo (fried pancake)."
Her year with Habitat also offered Su Jeong the opportunity to travel much of the country. "Da Lat is my favorite area," she says. "It's the city of flowers and fruits."
The best part of her experience, she says, has been meeting people, some of whom will be lifelong friends. "All these people are getting together with one purpose," she says, "to help improve the conditions of the places that people call home."
Ready to apply? Learn more about Habitat's longer-term international volunteering opportunities and how you can join dedicated individuals like Su Jeong to help improve and strengthen communities around the world.