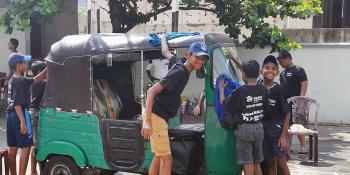 Youth gearing up for housing cause
MANILA (March 31, 2020) — While the coronavirus disease (COVID-19)  is changing the way we live and work, hundreds of youth across Asia-Pacific remain committed to contributing to the cause of housing.
Young people are finding creative ways to engage with Habitat for Humanity despite the recent suspension of international volunteer builds. Habitat took the proactive measure to minimize the risk of COVID-19 transmission among volunteers and in the communities it works.
With guidance from Habitat staff, local youth supporters of the ongoing 2020 Habitat Young Leaders Build campaign have turned planned volunteer activities into online initiatives. In China, volunteers have been using popular social networking sites WeChat and Weibo to highlight the need for adequate housing. Meanwhile, volunteers in Hong Kong, who used to help Habitat with street fundraising, are now doing so online. To raise awareness about housing needs, those who had gone on volunteer builds previously are sharing video blogs about their experiences.

In March, young supporters in Korea will amplify the call for adequate housing for children and youth in particular by sharing their childhood photos on social media. The campaign will run until April 20 and those who take up the 'latte challenge' will also help raise funds. Habitat Korea's partner organizations will donate 100 won(8 U.S. cents) for each post.
Following the launch of the 2020 Young Leaders Build in early December, youth volunteers had worked on several builds in the region including in Cambodia, India and Indonesia.

Between late February and early March, a 14-member team from Japan's Doshisha University built homes alongside two Myanmar families in Thanatpin, Pegu. The week-long activity was the third Asia Build organized under the Young Leaders Build.

Having previously helped build a house in China, Taichi Kuroiwa decided to volunteer in Myanmar after learning of the opportunity from his school friends. "Volunteering gives us many experiences," said the 20-year-old student. "I helped the future homeowner and worked with the locals. I learned special things that changed my viewpoint. I grew in my knowledge about the lives of real people in Myanmar."

His teammate Kanami Takemoto, also 20, was a first-time volunteer who signed up after talking to her friends from school. She said: "When I first saw the family and their house I would help to build, I felt sad." But she perked up. "Our team did not only build houses. We met and shared in the lives of the homeowners whom we are building alongside. After the house is finished and the family has moved in, my wish is that they will be safe in the Habitat house."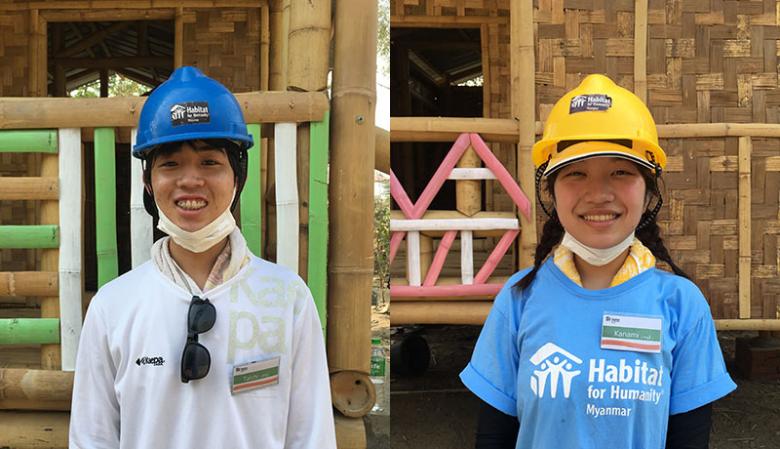 Other youth-focused activities have also taken off:
Australia: Habitat signed up a student ambassador, David Lee, who will be in charge of raising awareness of upcoming volunteer activities among university students in Melbourne and encouraging their participation.
Bangladesh: Members of Swapner Alo Kishori Club, one of the winners of the advocacy grants under the 2019 Young Leaders Build, are keeping up their work of reaching out to young women in the slums of Dhaka.
Cambodia: Habitat has continued visiting schools to raise awareness among students about the link between decent housing and poverty alleviation as well as other community issues. Local celebrity Vy Yaro has also committed to help Habitat for Humanity Cambodia build houses alongside families in need of decent housing.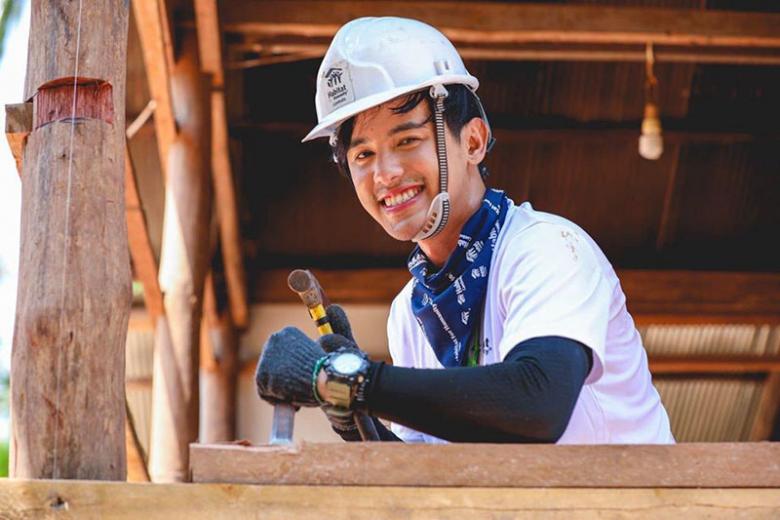 India: Habitat is maintaining its partnerships with schools to raise awareness about the issue of housing, disaster resilience, sanitation and hygiene among young people. Students and other local youth volunteers were among Habitat supporters at the Anthony Miller and Cecilia Melin Legacy Build in February. Together with Habitat for Humanity India's staff and the Women Build India committee members, they worked on two

houses

in Karjat, Maharashtra. Anthony Miller is a volunteer leader serving as a member of Habitat's Asia-Pacific Development Council while his wife Cecilia Melin is chairperson of Habitat for Humanity Japan's board.
Indonesia: Local volunteers from Jakarta Intercultural School and UKRIDA University worked on building houses in Sentul and Mauk  at the start of 2020. Volunteers and staff also held awareness-raising activities in public schools in Sentul.
Korea: Volunteers from the country were in Cambodia and Indonesia in January to help local communities build houses and school infrastructure.
Nepal: Young leaders from Habitat Nepal's

partner organization, Mahuli Community Development Center, helped organize a community clean-up in Saptari district in the southeast.

Philippines: Youth are invited to blog, make a short video, compose a song or draw comics to be recognized as a #YouthLegacyBuilder and be featured on Habitat Philippines' social media accounts. Visit habitat.org.ph/hylb2020/ for guidelines on how to join.
Singapore: Youth volunteers spruced up the homes of older people and vulnerable groups throughout December and January.

Sri Lanka: students from S. Thomas' Preparatory School have initiated the 'Brick by Brick' project. They aim to raise 1.3 million Sri Lanka rupees (US$6,760) to fund the construction of a home and plan to volunteer for a Habitat build. On February 22, the students washed vehicles in their first activity. To date, they have raised about 250,000 rupees (US$1,300).
Vietnam: Habitat club members from the Canadian International School raised funds through a merchandise sale.
Under the campaign, the regional initiative HYLB Leadership Academy empowers young people to lead themselves and others and contribute to sustainable communities. Since the launch of the Leadership Academy in December 2017, more than 14,000 young people have been trained in Cambodia, India, Indonesia, Nepal and the Philippines. Among them, 398 youth have now been certified as volunteer facilitators.
Putting their training into use, the youth have mobilized their networks to implement 15 community projects between June to December 2019. Among them is Nepali youth leader Nita who rallied a whole community to raise funds and eventually build a home with Dhamosari, a vulnerable neighbor.
In a recent video of highlights produced by Habitat Nepal, some Leadership Academy participants shared how they could contribute to sustainable development. The Leadership Academy schedule includes the training of new partners in the Philippines as well as an inaugural session in Bangladesh. These activities are expected to be launched once the suspension of volunteer activities has been lifted and master trainers are able to travel.
All volunteer activities are currently on hold. However, young leaders can continue raising awareness in their networks and share their experiences of working alongside families in need of decent housing on Facebook, Twitter, and Instagram.