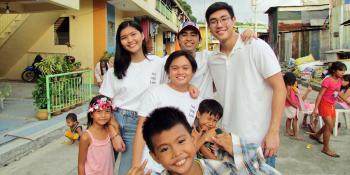 Throughout the COVID-19 pandemic, Michelle Valeri Tantra, 20, has continued to support Habitat in Indonesia. "My purpose in life is not only to work for myself but also to give back to the community by helping others, especially during the pandemic," she said.

A third-year student at the Chinese University of Hong Kong, she has been studying online from her hometown in Jakarta after the coronavirus outbreak in 2020. In the second quarter of 2020, she volunteered as the chief campaign officer for Habitat Indonesia's temporary shelter project for medical workers. Her role was to find accommodation where frontline workers could safely rest before resuming work.

Michelle said, "Home is where I feel at ease, comfortable, and safe. The healthcare staff are unable to enjoy those, knowing that they might bring the virus to their loved ones when they come home every day.

"It makes me happy to be able to assist frontline healthcare workers, helping them get temporary homes as they fight the coronavirus and put themselves at a very big risk. My effort may seem small but small acts are needed to make a big impact. That's why I continue to help little by little, hoping that it would eventually be a big impact to those who are in need."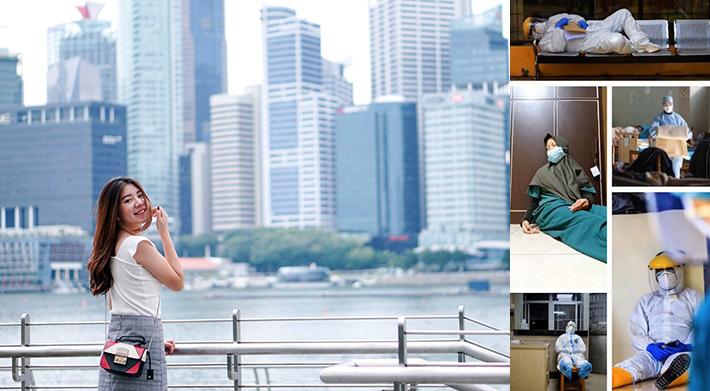 To support the campaign, Michelle donated earnings from her own home-made pasta business to Habitat. As of March 2021, she has also raised over 10 million rupiah (nearly US$690) on social media for Habitat Indonesia's COVID-19 response.

As a member of the Indonesian Students Association, she organized a competitive gaming activity, or e-sport known as PUBG in June 2020, which attracted over 100 participants and raised 3.5 million rupiah. "It warmed my heart that one of the winning teams donated all of their cash prize to help the healthcare staff," she said.

Michelle hopes to inspire and encourage other young people to support healthcare workers and vulnerable communities during the pandemic. "If my friends and I can do it, I believe many people can do it as well. It is very crucial for us to help each other, especially at this time."

Kitchy Dy, 21, and her fellow members of the Habitat campus chapter based in Philippines' Ateneo de Manila University are also motivated to help. "Habitat stood out because their mission is so strong especially in the context of Philippine where the homeless and poverty housing are so prominent."

While volunteering opportunities are limited due to restrictions to prevent the spread of the coronavirus, Kitchy said it is crucial to continue contributing to the community. "We had to adapt to change during the pandemic. Our fundraising efforts kept going and they are generally easier to do online. We also worked with seven other chapters to gather experts to speak on the importance of decent housing."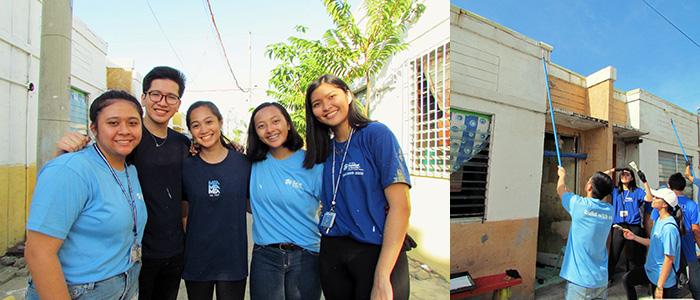 So far, Habitat for Humanity Blue Chapter—a nod to the university's colors—has raised over 300,000 pesos (over US$6,200) to provide relief and sanitary items and other aid to vulnerable communities. The campus chapter members would typically participate in construction activities during the weekends and use social media and school platforms to raise awareness of housing needs. "With effective storytelling, effective education efforts, and letting people know that it (housing) is an important issue, there are tangible ways to support it," said Kitchy.

The campus chapter also focuses on helping communities reduce disaster risks and build resilience. Key speakers are invited to equip Habitat homeowners with knowledge about preparing for potential disasters in their communities.

Throughout the Asia-Pacific region, young volunteers like Michelle and Kitchy are contributing to Habitat's COVID-19 responses, in support of the regional #HabitatYLB movement and Habitat's global Homes, Communities, Hope +You campaign. Now in its tenth year, the Young Leaders Build 2021 campaign will mark its peak on April 24 with a volunteer conference. Register for the conference at https://bit.ly/YouthfromHome. Follow the campaign on Facebook, Twitter and Instagram.