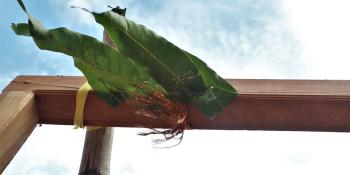 Displaced during the 30-year civil war in Sri Lanka, the families who partnered with Habitat in the EU-funded project are able to provide a secure, comfortable home for the future generation.

Once Ushathevi and her family had to keep fleeing the shelling that came down like rain in Sri Lanka. Now she can rest under the shade of mango trees in her home garden. It is a luxury that her grandchild can also enjoy.

Her family was the first to build their home in Vilawedduwan village, Batticaloa province, in 2017 with compressed stabilized earth blocks, an appropriate construction material that provides thermal comfort. They were among nearly 1,070 families who have built such homes by late November 2020 through the European Union-funded "Homes not Houses" project in eastern and northeastern Sri Lanka. The project is implemented by Habitat Sri Lanka and World Vision Sri Lanka.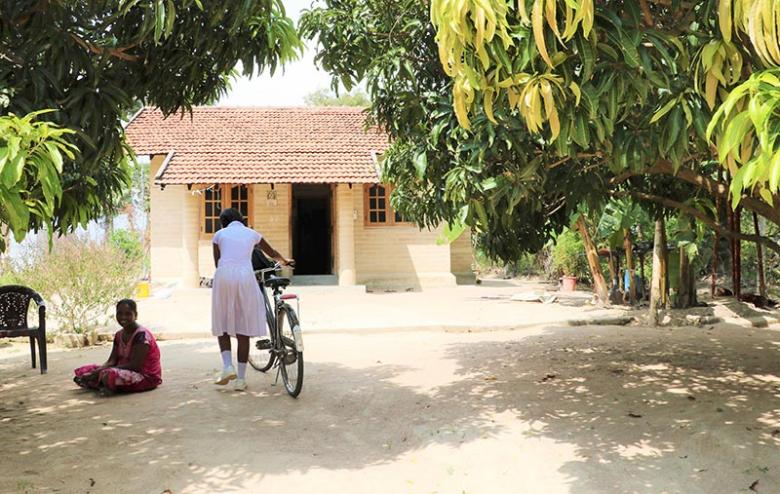 When Ushathevi and her family opened the doors to their new home in 2017, they finally closed the chapter on years of displacement and uncertainty due to the 30-year ethnic war in Sri Lanka. After a decade of moving from one refugee camp to another, a secure home of their own meant they could put down roots and plan for a brighter future.

Since moving into a permanent, secure home three years ago, their family income has at least doubled to 1,000 Sri Lankan rupees (over US$5) a day with yields from her garden of fruit such as oranges and mangoes as well as crops of beans and peanuts. They have also added one bedroom to accommodate the eldest son Akash and new daughter-in-law.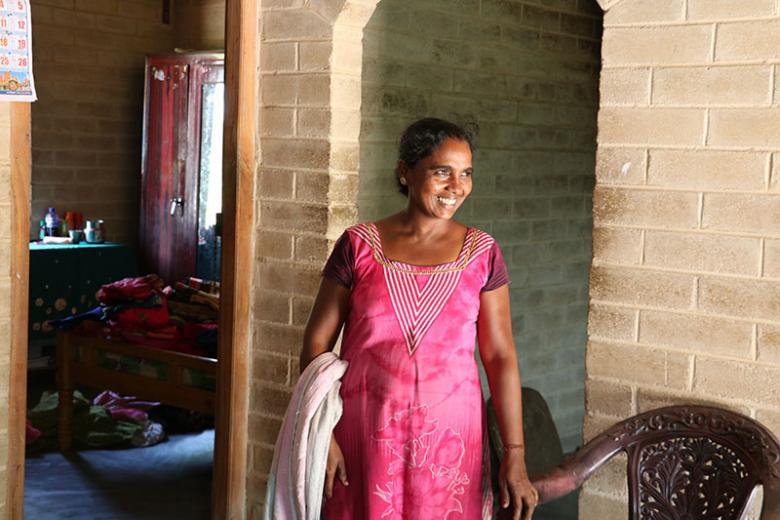 In the same village, Anjalithevi is nurturing a new life in her family after becoming a homeowner in 2018 through the EU project. She gave birth to her second son Sarwin, now 12 months old, in 2020. "My children love their bedroom where it is spacious and cool. They don't use a fan even during the day," she said. "I'm extremely happy that the children are growing in a healthy environment."
Over the last two years, her husband Allimuththu's income has improved. As a carpenter, he used to earn between 250 and 1,000 Sri Lankan rupees daily from working with hotels, schools and small shops. By providing carpentry work needed for the homes that Habitat Sri Lanka is building under the "Homes not Houses" project, his earnings has more than doubled to between 1,500 and 2,500 Sri Lankan rupees daily. "We want to improve our carpentry business. I also hope to invest in a new sewing machine so I can earn some income," Anjalithevi said.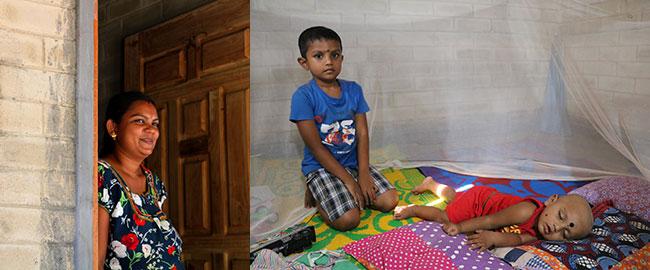 As of November 30, 2020, Habitat Sri Lanka has completed 1,959 out of 2,366 new and repaired homes under the EU-funded project. Another 293 houses are in the process of being certified as completed. Due to the COVID-19 pandemic, the physical inspections by the District Secretariat that are necessary for certifying the house completion have been delayed.

Work on the project was also paused for a few months to prevent the spread of COVID-19 in accordance with the Sri Lankan government's regulations. Habitat Sri Lanka, through reallocated funds donated by the EU, provided a one-time cash grant of 12,000 Sri Lankan rupees each to 1,986 future homeowners to tide them over.

For Yogendra, a 43-year-old housewife, moving into a decent house in 2018 in Vilawedduwan village has helped her family to cope amid the COVID-19 pandemic. "The biggest impact was the fact that our family could sell eggs and make a living even during the lockdown."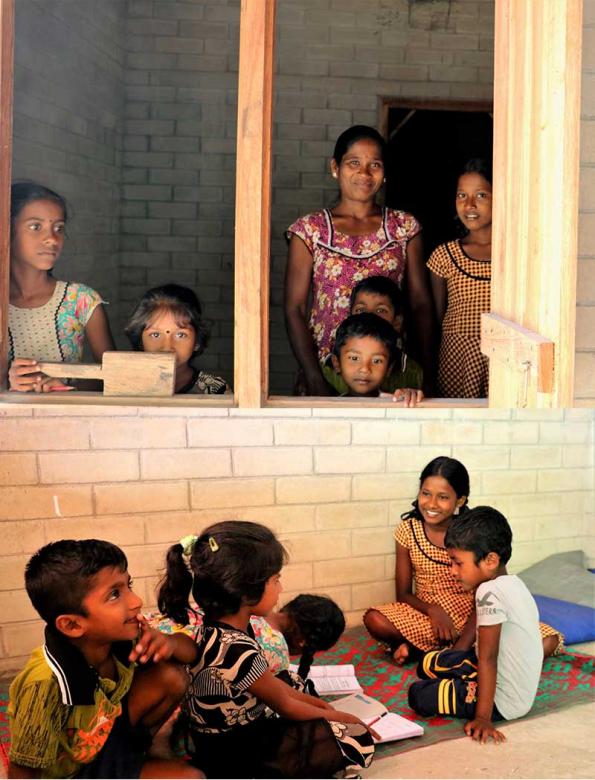 Her daughter Thenuja, 14, appreciates their Habitat home for a different reason: more space to gather neighbors' children together for a time of learning. Their old home was simply too small to accommodate the children who needed tutoring from Thenuja. In the afternoon, it can get too hot for the children to sit outdoors.

An aspiring teacher, Thenuja conducts daily study classes in their living room that is cool and comfortable. "My little brother is the naughtiest but he still pretends to study," she quipped. As an encouragement, she shared: "Everyone must educate themselves fervently, so that they may live useful lives for their home, community and country."